Fully Understand Acer Password Reset
Why I decide to discuss the topic about "Acer Password Reset" with you is because there are many issues related to forgotten or missing Acer password. I can understand degrees of frustration when you forgot Acer password. In this article, I'll provide a high-level overview of common password types, what you can do to secure your Acer computer with these passwords, and how to reset Acer password if you forgot it. In this article we'll discuss three types of passwords:
BIOS Password and HDD Password
Windows Password
Web and Application Passwords (Email, Instant Messenger, etc.)
Part 1. What is BIOS Password and How to Reset Lost Acer BIOS Password?
A BIOS password and a Hard Disk drive (HDD) password add an additional level of security before a user is allowed to load the operating system. Both of them can also be a liability due to the fact that if you, the owner forget the passwords, the computer won't boot up and there are very few options from the end user side to reset them. Personally, I don't suggest using these passwords unless you have a specific intention, such as you need to prevent someone not involved to access this computer.
If you forgot Acer BIOS or HDD password, contact your local Acer Service team to inquire about pricing and service options.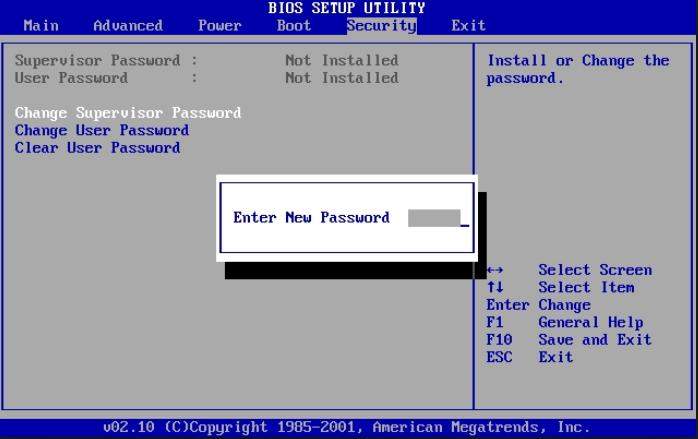 Part 2. What is Windows Password and How to Reset Windows 8/7/XP/Vista Password on Acer Laptop?
Windows password is a great tool for you if you share a computer with others. It is tied to an account used to access to operating system and store a settings and configuration and maintain personal data.
If you forgot Windows Password for Acer computer, you should ask a third-party software program for help to perform Acer password Reset. Here I recommend Windows Password Key. It is an Acer password recovery tool to help Acer users reset forgotten password for Windows administrator and other user accounts on all popular Windows OS, like Windows 8/7/XP/Vista.
The steps of Acer password recovery for administrator and user accounts are the same. Here I take the steps of how to reset Acer administrator password on laptop for example.
Step 1: Download and install Windows Password Key on any available PC
Step 2: Insert a USB Flash Drive into a USB port on the available PC and specify the USB burning drive from the pull-down list. Click "Burn" button.

Step 3: Insert newly created Acer password reset disk to your locked Acer laptop. Go to BIOS setup to set USB as the first boot device.

Step 4: Then Windows password key fully loads under WinPE. Follow the wizard to do the reset: Select Windows installation- > Click "Reset" and then "Reboot".
Part 3. What is Web and Application Password and How to Reset Web and Application Password for Acer Computer?
Passwords used on the Web or other Applications such as email, instant messaging, Facebook, Twitter or online services are controlled by the company that provides the software or web interface. These providers have lost password features that will help you retrieve or reset your password. However, you can try a piece of software on cnet.com to recover lost web and application password:
http://download.cnet.com/Password-Recovery-Bundle-Professional/3000-18501_4-75812966.html..
Related Articles
comments powered by