Top 5 Ways to Reset Password on HP Laptop
Annoyed by losing Windows password on HP laptop? Forgot HP Laptop password? On any given day, you've got dozens online passwords to remember as you read emails, send tweets, and order groceries online. You've bound to confuse them. However, to reset your HP laptop login password is a simple process and can easily be avoided.
Read this article if you unfortunately forgot Windows login password on your HP computer, or need to protect yourself in case this happens.
1. Reset Password on HP Laptop Windows 10/8 Free online
For Windows 10/8 users, if you use a Microsoft account login, you can get back into Windows by resetting your Microsoft Account online. If that doesn't describe your situation (you're using Windwos 7/XP/Vista, or you're using a local account), move on to the next idea.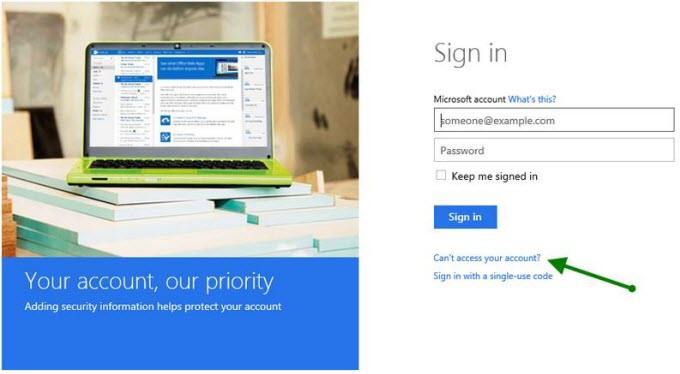 2. Reset Password with Created HP Password Reset Disk
Windows features a built-in function letting you to create a free HP password recovery disk. However, you should create it before you lost your password (Haven't created? Resort to Windows Password Key).
If you have locked your HP computer with a wrong password, you'll receive a message that says your user name or password is incorrect. When this message appears, click "OK". Click "Reset password", and then follow the instructions.
Insert your password reset disk to the computer. In the password reset wizard, reset your password step-by-step follow the prompts.


3. Use Windows Password Key to Crack HP Password
It seems that every method above is not so perfect. Is there an ultimate way to reset password on HP laptop without disk? Definitely yes. Windows Password Key is especially designed to help HP computer users reset forgotten password for administrator and other user accounts on Windows 10/8/7/XP/Vista.
Click through to learn how easily it is to reset your forgotten HP password:
Free Download
Buy Now($39.95)
Step 1: Download, install Windows Password Key on an workable computer. Insert a CD/DVD or USB flash drive. Launch this software and click "Burn" to burn a HP password reset disk.

Step 2: Plug in the newly burned disk to your locked HP computer. Set BIOS to make this computer to boot from CD/DVD or USB. It will reboot.

Step 3: After it fully loads, Windows password key appears. Follow the steps to reset HP laptop password.
We list some of hot HP computer models for which you can reset Windows password by using Windows Password Key.
| | | | |
| --- | --- | --- | --- |
| HP Pavilion 23 | HP Envy 23 | HP 2000-2b09WM Fusion E-300 | HP Pavilion g6-2210us |
| HP Pavilion g series | HP ENVY 5530 | HP Envy M6 | HP Envy dv6-7210us |
| HP 2000-2b20NR | HP ENVY 14-3010NR Spectre | HP Pavilion DV 7 | HP Pavilion 20 |
| HP Spectre x360 | HP Pavilion x360 | HP Envy X360 | HP Envy 13 |
You can also use Windows Password Key to factory reset HP laptop without password. Simply use the Remove Windows Password feature to remove your laptop password and then factory reset your laptop as you usually do.
4. Have another Administrator Account to Reset Your HP password
If you have multiple user accounts and at least one of those has administrator privilege. You can reset standard user account password. Need to reset Windows administrator password for your HP password, turn to Windows Password Key.
Warning: If you use an administrator account to reset your HP password, you will permanently lose access to any email messages or encrypted files that are on that account.
5. Reinstall your HP Computer
This is the last choice that you really don't want to try. We list it here because it's a certain fix for a lost HP password problem. A clean install of Windows will erase your hard drive and time consuming.
Additional Info: How to Create a Secure Password for Your HP Computer?
After cracking your lost HP password with Windows Password Key , you should change a new password which is easy to remember and hard to guess by others. A strong Windows computer can protect your computer from spying eyes. How to create a secure password? Click through.
1. No personal Information

Never choose a password that has anything to do with your personally, like your name, your name of your spouse or children, your pets, or your favorite sports teams.

2. No real words.

You shouldn't use any actual word that can be found in a dictionary. It's quite easy to be cracked by password software.

3. Mix Character types

Passwords are almost case-sensitive. So use both upper and lower case letters. To really make it complex, be more creative than just capitalizing the first letter. For example, do "paSswoRd" instead of just "Password". Better yet, throw in some numbers and special characters to substitute for letters, and do "[email protected]".

4. Use a passphrase

Take your favorite line from a movie, song, or book and convert it to a passphrase. If you like the scene from Hamlet, take the line "To be, or not to be" and convert it to "2BoN2b". It has upper case and lower case letters, as well as special characters. It is not a word appearing in any dictionary, yet it is simple for you to remember.
That's all about how to reset administrator password on HP laptop. So, if you are troubled by "how do I reset my password on my HP laptop", try to use Windows Password Key to reset or remove the password instantly.
Free Download
Buy Now($39.95)
Related Articles
comments powered by