Top 6 Ways to Fix Acer Laptop Black Screen
You own an Acer laptop and it suddenly stopped turning on? In spite of repeated efforts, if the Acer laptop shows black screen and doesn't buzz a bit to turn on, you might need serious help. But, don't worry, we are here to ease off the burden and get the issue taken care of. In this article, we are going to explain, how to fix the Acer Aspire black screen problem with ease.
Hard Reboot Your Laptop
When your Acer laptop stops turning on or any friend of yours asks 'my Acer laptop turns on but the screen stays black, what to do?', then, what options do you have to resolve this issues? Most problems with your Windows systems get fixed with a hard reboot and here we are going to do exactly that.
1. Disconnect all peripherals such as power, storage, printer attached to your laptop. Follow the user manual to drain the excessive battery from a fixed battery on your laptop. You can hit 'Start' or power button for long to discharge the battery in few models.
2. Now, connect the laptop to external power supply and hit the 'Start' button to usually boot the laptop. The Windows warning screen will show 'Windows was not shutdown normally' and then you will see the option 'Start Windows Normally'. Highlight the option and click it to start your Acer computer as usual.
Check Your AC adapter
In case your laptop battery has been discharged and has minimal charge to allow you turning on the laptop, chances are you will stop at the black screen. To avoid this, ensure to connect your laptop and AC adapter in proper order. There should not be any damage to the male connector on the AC adapter or the female connector of the laptop. Unless both of them get connected properly, your laptop won't get charged or turn on.
Power off your laptop and connect it to a power adapter. Press and hold down the Windows + B keys on your keyboard and then press the Power key for a second. Then, let go of all the keys you held down. Your screen will go black for about forty seconds and then you'll hear a beep sound. You will then be on the BIOS screen from where you can revert to the working BIOS version.
Test Your Laptop with An External Monitor
Alternatively, you can use an external monitor to check your laptop, whether the display has been gone down. Here is how.
1. Make sure to turn off the laptop prior to making the connection, as there are chances of hard disk crash, or data loss.
2. Take a compatible external monitor and connect your laptop with it using appropriate cables.
3. Now, turn on your Acer laptop and tap on the monitor button on your laptop (if you have it) keyboard. Pressing it will move the display to the external monitor. The key will be found among the function keys (F keys) on your laptop.
4. For some laptops, it auto-detects the external monitor avoiding any key press.
Perform a Clean Boot of Your Laptop
Performing a clean boot can resolve the Acer Aspire black screen (before signing into Windows PC) problem for once. Here is the detailed guide for that on a Windows 10 system
1. Click on the 'Windows' + 'R' keys together to open the 'Run' box and then type 'msconfig' followed by tapping 'OK'.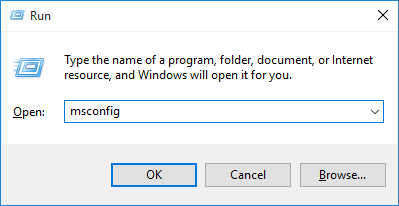 2. Go to the 'General' tab and pick 'Selective Startup' and uncheck 'Load startup items' check box.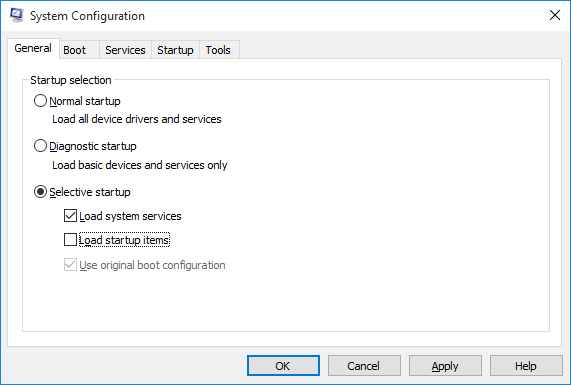 3. Now, hit the 'Services' tab followed by 'Hide all Microsoft services' check box and choose 'Disable all'.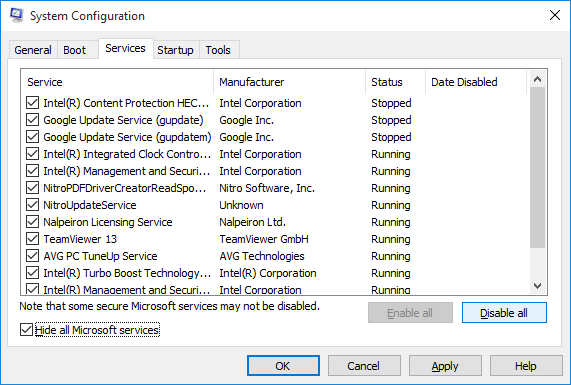 4. Tap the 'Startup' tab followed by 'Open Task Manager'. From the 'Startup' tab, right click all items one by one and press 'Disable' and then 'OK'.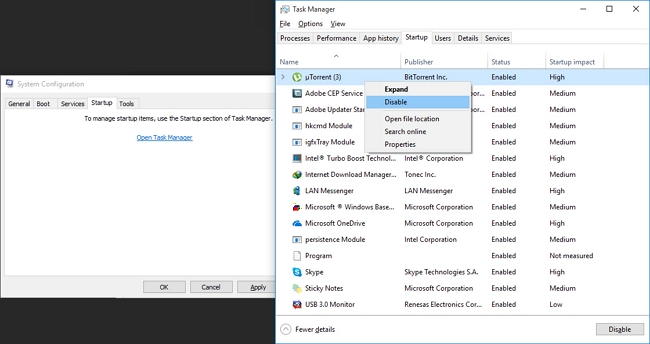 5. Hit 'Restart' at the end.
6. Once the issue gets fixed, follow until step 3. Instead of 'Disable all' choose 'Enable all'.
7. Now, press 'Startup' > 'Open Task Manager' > 'OK' > 'Restart'.
Reinstall Graphics card Driver
Acer Aspire black screen can also be fixed by reinstalling the graphics card drive, if the card driver has been corrupted. You can boot your computer into Safe Mode and then try reinstalling the graphics card driver.
1. Disable fast startup
Disabling fast startup should do the job for you and your black screen issue will be gone. Here's how to do it.
1. Download the certified or recommended driver for graphics driver and then uninstall the existing corrupted one.
2. Disable the anti-virus on your PC and then sign in using local administrator mode.
3. Hit the 'Start' button on Windows and type 'DEVMGMT.MSC' in the search field and press 'Enter'.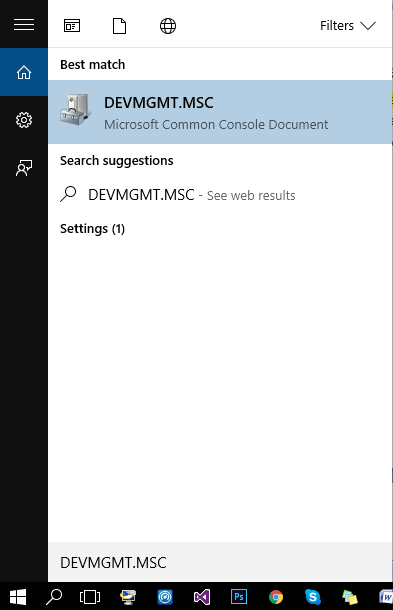 4. Now, the 'Device Manager' will show up. Go to 'Display Adapters' and right click on the graphics card model to select 'Properties'.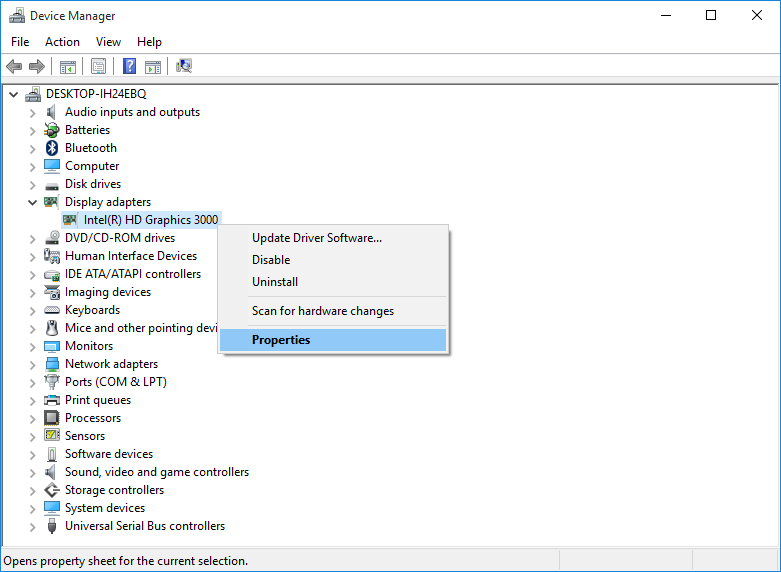 5. Tap on the 'Uninstall' button under the 'Driver' tab and select the option to remove the driver software followed by 'OK'.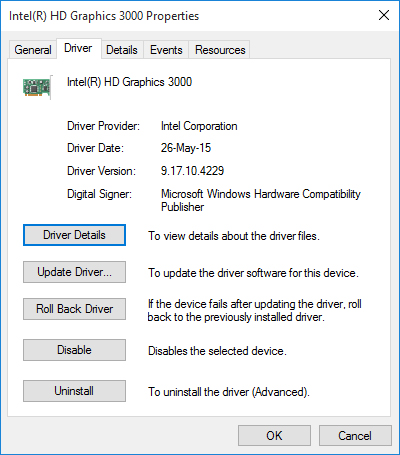 6. Restart your computer once uninstalling has been done and prevent attempts of auto-reinstalling the driver. The system should have 'VGA Driver' for your graphics card, you need to remove any other existing graphics card driver following the previous steps, until you have VGA driver only.
7. Now, install the downloaded graphics card driver and then reboot the Acer laptop.
Fix Acer Laptop Black Screen with Windows Boot Genius
When Acer laptop shows black screen even after trying the above mentioned tricks, you can always go for Windows Boot Genius for booting the problematic laptop and fix it using the 'Windows Recue' feature. This software has amazing features to fix a plethora of computer boot errors by burning bootable ISO image on a USB or CD/DVD. You can repair computer that crashes, freezes, or reboots, fix blue or black screen in Windows after login, boot, or update.
Buy Now($19.95)
Let's now understand how to fix Acre laptop black screen issue with Windows Boot Genius:
Step 1. Grab your copy of Windows Boot Genius from its official website. Install the software and launch it over your working computer. Now, plug in a clean USB device into it.
Step 2. Select the 'USB Flash Drive' option from the 'Windows Boot Genius' window and hit Burn afterwards. Upon completion, plug out your USB drive.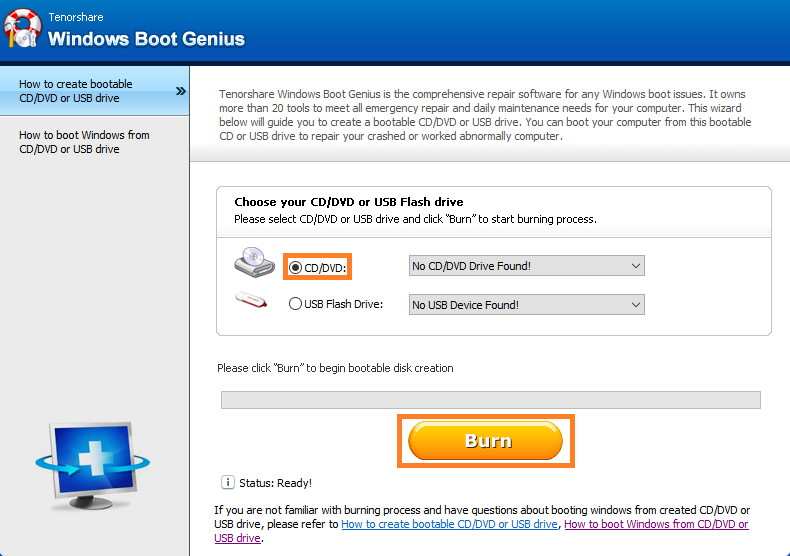 Step 3. Next, plug in your recently burned bootable USB drive into the problematic computer and then reboot it. Hit on 'F12' key to enter the 'Boot Menu'. Select the 'USB drive' as boot media and hit 'Enter'.
Step 4. Now, Windows Boot Genius will come up on your screen. You need to hit on the 'Windows Rescue' tab from the top and then select the 'Crash before loading bar' option available under the 'Solution Center' section.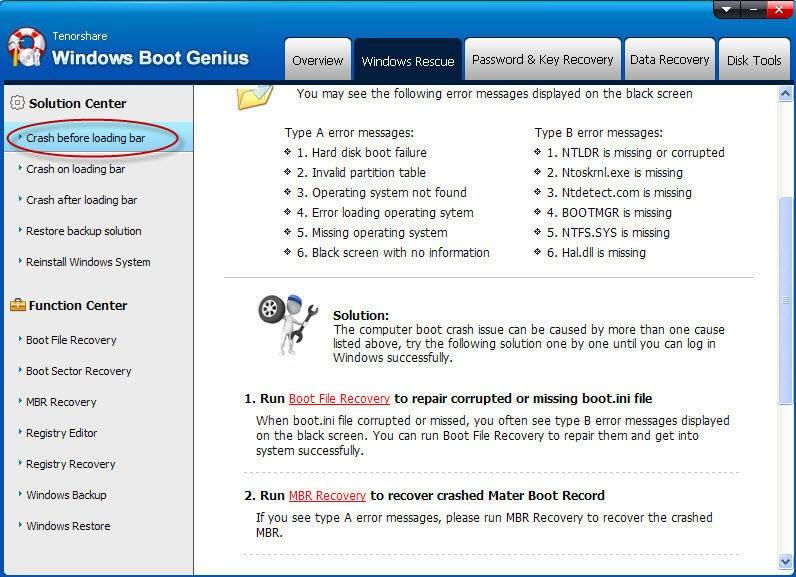 Lastly, follow the onscreen steps to get your Acer laptop black screen issue resolved.
With this article, we conclude that Windows Boot Genius is a wonderful; program for performing a varied range of exercise on Windows PCs. From fixing black screen on a system to repairing the system, backing up and restoring data or cloning partitions or erasing data, no tool can match up with Windows Boot Genius.
Buy Now($19.95)
Related Articles
comments powered by