Top 4 Free Windows 10 Password Recovery/Reset Tool
"I get locked out of my Windows 10 computer. And I know some password recovery tools can find the password. Here I want to know if there are some free Windows 10 password reset tools. Waiting for your solution."
Forgetting the newly created login password for your Windows 10 computer can be depressing. But there is no need to be too desperate since you can easily get some free Windows 10 password recovery tools here. Each of them can be effective to get your computer accessed. However, some of them have some requirements and incomparable disadvantages. Just figure out your situation and choose the best one to perform.
Top 1: With Created Password Reset Disk
Microsoft allows its users to create a password reset disk at the very beginning of setting the login password. This is Windows 10 password reset disk. Once you forgot Windows 10 password, you can insert this reset disk to reset the login password. It's considered as the best free Windows 10 password reset tool. However, if you haven't created this disk before, skip this method.
Step 1: Insert the reset disk into your Windows 10. After entering the wrong password, the "Reset Password" will appear, click it.
Step 2: Follow the instruction in "Password Rest Wizard" to reset the forgotten Windows 10 password.


Top 2: With Other Admin Account
If you have shared your Windows 10 with other user who has another admin account, you can enter the PC with this account and recover the forgotten password. However, this option will make you lose any e-mail messages or encrypted files on that account permanently.
Step 1: Open Control Panel after clicking Start button.
Step 2: Open "User Accounts", then click User Accounts and Family Safety -> User Accounts.
Step 3: Click the Manage another account link. All the other users on this computer will be listed.


Step 4: Select the account whose password you want to recover. Then click "Change the password".
Top 3: Use Free Windows 10 Password Reset Tool
A free password recovery tool for Windows 10 can easily recover lost or forgotten Windows 10 password. There are so many freeWindows 10 password removal tools on the market. Instead of try them one by one, I recommend Windows Password Key which is trustworthy by many users. It can easily recover Windows 10 administrator password (user password as well) and fully support various brands of desktops, laptops including Dell, HP, IBM, Sony, Lenovo, ASU, etc.
After downloading this tool, install and run it on any workable computer. Then get the detailed guide on how to perform this free password recovery tool. Moreover, it can easily crack Microsoft account password.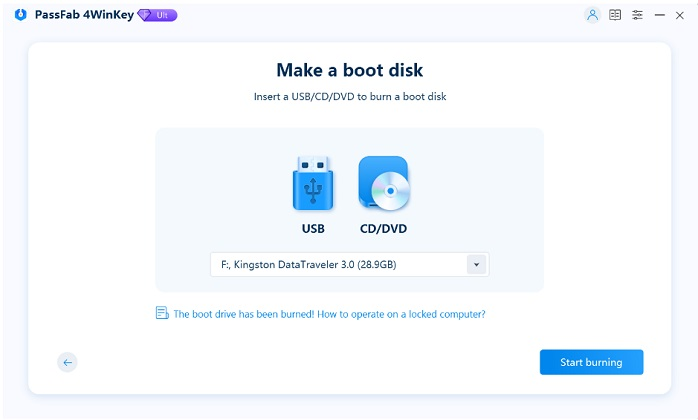 Watch the Video on How to Use Windows Password Key
Top 4: Reinstall Windows 10
Actually reinstallation of Windows 10 must be the last choice for you to crack forgotten Windows 10 password, but it works! If you don't want to try because it will erase the files and folders on your hard drive, skip this and give a new consideration of free downloading Windows password recovery tool.

Sum up, there are 3 tools introduced for you to recover Windows 10 password for free. Still, a highly recommended Windows 10 password reset tool is included. Just choose the best for you to crack the forgotten one.
Related Articles
comments powered by