How to Break Windows 8 Password
You may appreciate the wonderful experience the Windows 8 system gives you. It allows you to set picture password and PIN code in addition to traditional text-based password to make your computer safer. Besides, more kinds of password also give you more chances to reset Windows 8 password when you forget one. This article will show you how to recover Windows password with the aid of Windows 8 picture password and PIN and provide you more methods of Windows 8 password breaker.
Method One: Login the locked PC with picture password or PIN to break forgotten Windows 8 password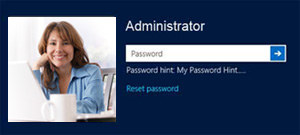 If you want to break Windows 8 administrator password or user password when you forget it, you can use picture password or PIN code for help. The premise is that you have set a picture password or PIN code therefore you can access to your PC.
Here's how: Restart your locked PC and in "Sign-in option", choose picture password or PIN to login. After you enter your PC, go to "Control Panel" and "Users" to change the forgotten Windows 8 text password.
Method Two: Use Windows Password Key to break password Windows 8
Using Windows Password Key, you can break Windows 8 login password safely and quickly once you forgot it. You even don't have to reinstall Windows.
Here are the instructions to break Windows 8 password:
Method Three: Use Windows 8 password reset disk to break Windows 8 password
Windows 8 password reset disk is good to reset Windows 8 password if you have created one before you forgot Windows 8 password. Actually, few people would remember to do so when they can enter to their PC.
If you have a password reset disk at hand, do as follows to break Windows 8 password.
1. Insert the password reset disk into your locked computer.
2. When enter an error password, a message will pop up saying "the user name or password is incorrect". Click OK and Windows will start the Password Reset wizard.
3. Follow the wizard to create a new password.
Without any doubt, as Windows password breaker, Method Two is the best one because unlike other two methods, it has no premise if you want to break password for your Windows 8 system.
Related Articles
comments powered by