5 Trustworthy Free Windows 7 Password Recovery Tool
Imagine losing your Windows 7 administrator password and not having the means to retrieve it. Would you want to have to reinstall? Not in your life! In such a tricky situation, a Windows password recovery tool may be your only recourse.
Let's take a look at 5 best Windows 7 password recovery and cracking tools. I recommend that you choose one of these if your situation allows for it.
1. Reset Password Disk
There is one Microsoft-approved way to reset Windows 7 password free. That's Windows 7 password reset disk. It could ready come in handy if you ever forget your account password. With it, you can easily reset your Windows 7 password and get right in to your PC.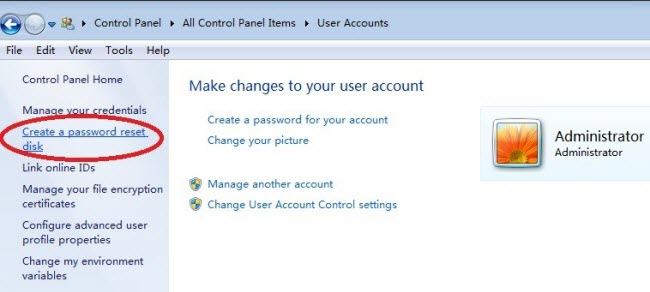 Pros:
Provided by Microsoft.
You only need to create this password reset disk for your Windows 7 logon password once. No matter how many times you change your password, this disk always allows you to create a new one.
Cons:
Unfortunately, if you've forgotten your Windows 7 password and can't get into Windows, you won't be able to create a password reset disk, let alone recover lost password. See free Windows 7 password recovery program alternative at the bottom.
Anyone who possesses this disk will be able to access your Windows 7 account at any time, even if you change your password.
A password reset disk can only be created for local user accounts. If your computer is on a domain, a system administrator can reset your domain password.
2. Ophcrack
Ophcrack is one of the most popular free Windows 7 Password Unlocker. Fool-proof operation, automatic password recovery, and overall speed put Ophcrack outstanding.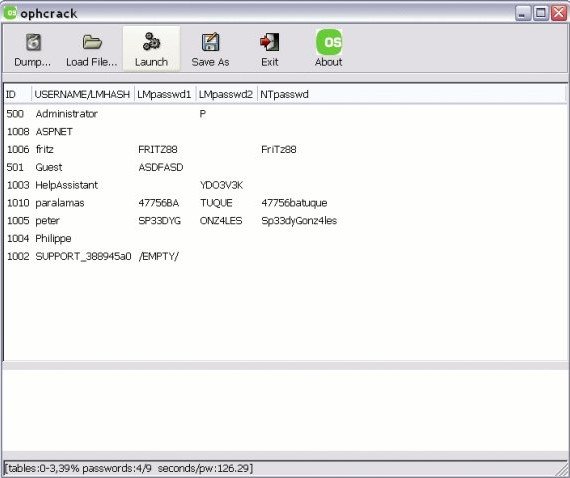 Pros:
Recover password automatically using the LiveCD method.
No need to install software
Don't need to know any existing passwords.
Cons:
Some antivirus programs mistakenly identify Ophcrack as a Trojan or virus.
649 MB LiveCD ISO image must be downloaded.
Passwords greater than 14 characters can 't be cracked.
3. John the Ripper
John the Ripper is a very popular free Windows 7 password reset tool that can be used to find Windows 7 account password.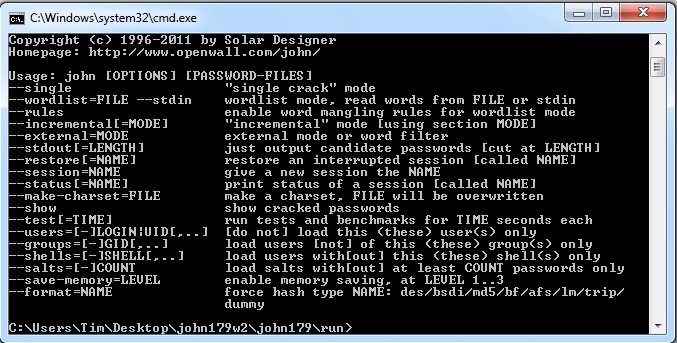 Pros:
Users can make a custom wordlist file.
Users can specify permutation rules.
Cons:
While the password recovery application itself is free, the wordlists used by John the Ripper to discover passwords do cost and are required for the software to work.
John the Ripper is operated at the command line making it a password cracking tool reserved for the very advanced user.
4. Offline NT Password & Registry Editor
Offline NT Password & Registry Editor, free Windows 7 password reset disk, erases your Windows password instead of recovering it.
Pros:
Very fast password cracking tool.
Program's ISO image is much smaller than those of other password recovery tools.
Cons:
It requires some seemingly difficult command line work.
5. Windows Password Key
Windows Password Key requires payment but this password recovery tool is by far the best Windows 7 Password Reset USB! It can recover both administrator and standard user password for local account and domain account.
It precedes the free Windows 7 password reset software I list above since it doesn't have any shortage. If anything, you should pay a few dollars. There are three editions of this tool you can free download: Standard ($19.95 USD), Professional ($29.95 USD), and Enterprise ($39.95 USD). Till now, I have found the Windows 7 Password Recovery coupon PASS-EPID-HKPC for the program Windows Password Key Crack. You can download it right now and then use it to free reset lost Windows 7 password.
The biggest difference is that the Enterprise edition can even recover domain admin password. The professional and the Standard versions only work for local account password. The standard version only supports the CD/DVD method, not USB flash drive.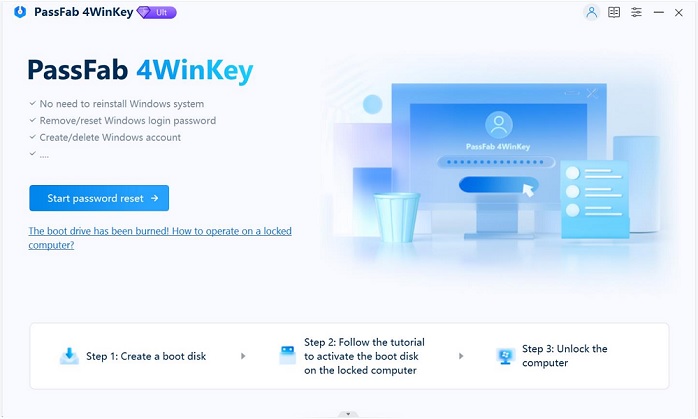 There will come a time when you need to crack a password -- and when that time comes, you'll be glad you have a recovery tool available. Get familiar with one (or more) of these tools so you won't have to resort to reinstalling an OS when a simple cracker will solve the problem.
Related Articles
comments powered by