How to Hack a Forgotten or Lost Windows 8 Password
When you forgot or lost your Windows 8 password, you're left with an expensive and useless brick unless you have your Windows 8 password reset. There are many methods telling you how to reset password, but not all of them work for you. Now, In this article we share the top 5 ways on how to bypass Windows 8 password efficiently. We hope our tips will do some help for you.
Part 1: How to Hack Windows 8 Password Online without Any Software
Since Windows 8, many people choose to use Microsoft account for logging into Windows. If you forgot your Microsoft account password, you can easily change Windows 8 password online in following step:
Visit Microsoft's password reset website on any browser on any computer or device.
Type your Microsoft account in the account filed and then the verification code. Click "Next" to move on.
You can either select to email you a reset link or send a code to you phone to reset your password.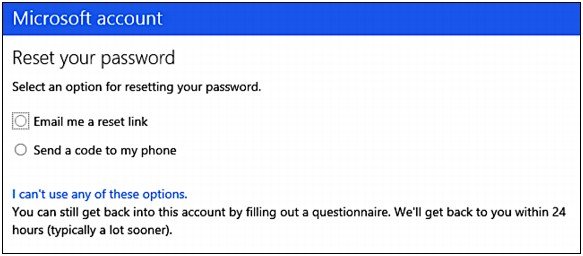 Part 2: How to Hack Windows 8 Administrator and User Password with Windows Password Key
If you are looking for a straightforward and easy way to reset Windows 8 local admin password. Here I recommend you Windows 8 Password Key. This Windows 8 password hacker empowers you to find any of the lost Windows 8 passwords instantly, including admin password and standard user password. Besides, it also supports Windows 10/7/XP/Vista and Windows server.
Now I'd like to show you how to perform Windows 8 password hack manually with Windows Password Key.
Part 3: 3 Other Methods for Windows 8 Password Reset
Method 1: Try the Password You Usually Use
Sometimes, you may just mix up your computer password with other passwords. You can try the password you usually use for other devices or services like:
Phone passcode.
Email password.
Password for your Facebook or twitter.
Login password for other computers.
…
Method 2: How to Hack Windows 8 user password with another Accessible Admin Account
If you forgot your user password and there is someone has administrative privilege, you can have him to help you hack Windows 8 user password. So you may sign in to your computer with another admin account to hack Windows 8 user password.
You have to be cautious in using this method because it will make you permanently lose access to any e-mail messages or encrypted files that are on that account.
Method 3: How to Hack Windows 8 password with Picture Password/PIN
Windows 8 provides more secure options such as Picture Password and PIN. If you have created one of them, you can use it to hack Windows 8 login password: Start your locked PC and select the targeted user account. Choose picture password or PIN to access Windows 8, and then change your user password in "PC settings".
After reading this article, you must have a clear idea about how to hack Windows 8 login password. Windows 8 Password Key always works and is your best choice.
Free Download
Buy Now($39.95)
Related Articles
comments powered by