Laptop Buying Guide: How to Choose the Right Laptop for You
When you decided to buy a new laptop, it's a bit tough to decide which one you should buy. There are hundreds of laptop models to choose from and prices ranging from under $200 for netbooks to over $2,000 for high-end laptops.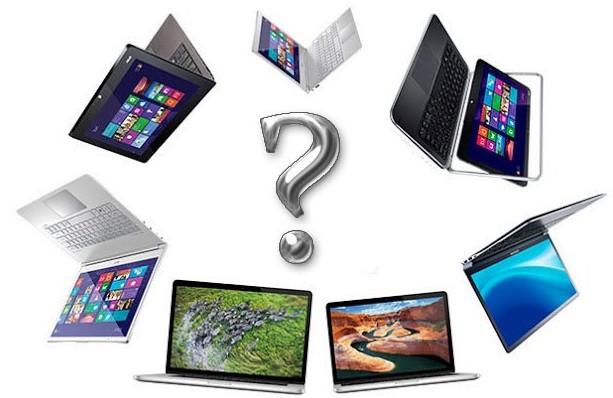 How to Select the Best Laptop for your need?
1. Windows OS or Mac OS?
If your budget is enough, it's not easy to decide to choose Windows laptop or Mac laptop. Here are overview of each platform's strengths and weaknesses. They should help.
Windows laptop: Generally Windows notebooks are affordable and offer a much wider range of design choices from more than a dozen major vendors. Microsoft and its partners also allow you to buy notebooks with touch screens, letting you transform from notebook to tablet mode. Windows PCs offer more software choices.
Mac laptops: Apple's MacBook Pros and MacBook Airs can also run Windows, which makes these laptops attractive for their versatility. For industrial design, the touchpad and display quality, Mac laptops outclass most Windows machines. However, Apple's laptops are much pricier. Blu-Ray, touchscreen, TV tuners are not available on the few variants Apple offers.
2. Choose the Right Size
Then you should figure out how portable you need you laptop to be. So consider the size it should be.
11 to 12 inches: The thinnest and lightest laptop around have 11 to 12 inches screen and typically weigh 3 to 3.5 pounds. However, at this size, the screen and keyboard will be cramped for some users.
13 to 14 inches: Provides the best balance of portability and usability. Laptops with 13 to 14 inches screen usually weigh between 3.5 and 4.5 pounds providing general sized keyboard and screens.
15 inches: As the most popular size, 15 inch laptops heavy at 5 to 6.5 pounds, but also cost the least. If you're planning to carry your laptop around often, it is good deal for you. Some 15-inch models have DVD drives.
17 to 18 inches: If your laptop stays on the desk all day every day, a 17 or 18 inches laptop is idea because it provides you high-voltage quad-core CPUs, power-hungry graphics chips and multiple storage drives. It's especially useful if you need to play high-end games or do workstation-level productivity.
3. CPU, Hard Drive, RAM, Graphic chip
Like it or not, you still have to pay at least some attention to specs and components.
Don't settle for less than an Intel Core i3 CPU or AMD A Series. Power users and gamers should settle for no less than Core i7 system, preferably a quad-core chip.
RAM: Even the cheapest notebooks have 4GB these days so don't settle for less. If you can get a system with 6 or 8GB, you'll be better prepared for high-end applications and lots of multitasking.
Hard Drive: A fast drive is more important than a large one. A 7,200-rpm hard drive is recommended. 320GB should provide more than enough space even if you have several movies and games on your hard drive.
Flash Cache: While not as fast as an SSD, a flash cache will help boost load and boot times while allowing you to store all your data on a large hard drive. You can select to use 8, 16 or 32GB flash caches.
Solid State Drives (SSDs): These drive lets you enjoy faster boot times, faster resume times, and faster application open times even though they cost quite a bit more than traditional hard drives and come with less capacity (usually 128 to 256GB).
Display: If you have the option, choose a laptop with a higher pixel count 1600 x 900 or 1920 x 1080 —always go for the highest res you can get. You'll see more of your favorite Web pages, multitask better and have a better movie-watching experience. Full HD panels (1920 x 1080) cost about $150 more than your typical display, but are worth the splurge, especially on larger screens.
Graphics Chip: A discrete graphics processor from AMD or Nvidia will provide better performance when it comes to the most-demanding games. Plus, a good GPU can accelerate video playback on sites, as well as speed up video editing.
4. Hybrid or Traditional Notebook?
Hybrid laptop that double as tablets don't provide as good of a slate experience as dedicated tablets or as strong of a notebook experience as clamshell-only devices. It's not suggested to use such a kind of laptop.
5. The Brand Matters
You should consider the manufacturer stacks up to the competition in terms of design, value and selection, performance and other criteria. In 2013 Best and Worst Laptop Brands report, Apple placed first, followed by Lenovo, ASUS, HP, Samsung, Sony, Dell, Acer and Toshiba.
No matter what model you selected at last, if you lost your Windows login password, you can try Windows Password Recovery to recover it. It's efficient and easy.
Related Articles
comments powered by