How to Downgrade from Windows 8 Pro to Windows 7 for Free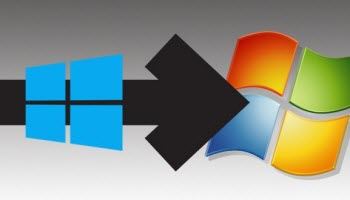 If you are not fond of Windows 8 but want a new laptop that comes with Windows 8 preinstalled, it's possible to switch back to Windows 7 without having to reformat.
If you buying a PC loaded with Windows Pro, the version of Windows designed for business, you can utilize "downgrade rights" to downgrade it to Windows 7 for free. And individual users will have to jump through a number of hoops to downgrade their Windows 8 Pro systems.
How to Downgrade Windows 8 Pro to Windows 7 with "Downgrade Rights"
Before starting, you need to note several tips:
Upgrade copies of Windows 8 Pro don't include downgrade rights.
You can only downgrade to Windows 7 Professional or Windows Vista Business, not Windows XP.
After downgrading, you can reinstall Windows 8 at any time.
Here is how:
Check the manufacturer's website for Windows 7 drivers for your computer to ensure the computer actually supports Windows 7.
Create a recovery drive that contains a copy of your PC's recovery partition. This will allow you to restore the original Windows 8 system if you wipe the recovery partition.
Enter your computer's UEFI settings screen and enable Legacy boot option.
Insert the Windows 7 Professional installation disc (Downgrade rights are intended for business, who will likely have a disc and key on hand).
Restart your computer into the Windows 7 installer. You can find it provides the legitimate Windows 7 Pro key already.
After Windows 7 finishes installing, the online activation will fail because your product key is already in use. If you don't see an "activation failed" message, you can press Start, type Activate, and click Activate Windows. You'll need to activate by phone. Call up the phone number displayed in the activation window and explain that you're exercising your Windows 8 Pro downgrade rights. Have your Windows 8 Pro key ready; you'll need it to prove your PC has downgrade rights.
After explaining this, you'll be given a long, single-use activation code. Enter that activation code into the window and your Windows 7 Professional installation will be activated.
Now, you have a Windows 7 computer. When you are using Windows computer, you may encounter this or that kind of problem, such as forgetting Windows login password. If so, try Windows Password Key to recover lost password. It can recover both administrator and standard user passwords in Windows 8, 7, Vista and XP.
Related Articles
comments powered by