4 Ways to Reset Forgotten Windows 7 Password
Unsurprisingly, it would happen to most of us that we sometimes forgot Windows 7 password on our PC. Never be an ant on a hot pan. There are still some workable solutions for us to reset the lost password and help us regain access to Windows 7. Let me specify those methods on how to reset Windows 7 password in 4 parts.
Part 1: Use a Windows 7 password reset disk
When you create a user account on PC, Windows 7 allows you to create a password reset disk in order to help you reset password afterwards when you forgot Windows 7 password. If you don't have a foresight to create this disk before you lost password, then refer to part 4. Here is a simple guide to reset Windows password using this password reset disk.
Step 1: Insert the Windows 7 password reset tool to your PC, click "Reset password" and click "OK" in the pop-up window.

Step 2: Select the password reset disk, click "Next", and then type your new password to complete the procedure.
Part 2: Try an administrator account
Want to reset Windows 7 password without disk? If you are lucky enough to get someone who has an administrator account or a user account which has the administrator privilege on your PC, then you can try to use the password to sign in your PC for Windows password reset. However, the most important thing you should know is that this method brings big risks: your account will lose access to its encrypted files, e-mail messages, and the stored passwords for websites or network resources, etc. If you don't want any data loss, refer to Part 4.
Part 3: Reinstalling Windows 7
No matter what famous brands of PC you are using, the last thing they tell you when you forgot Windows 7 login password is to reinstall Windows system to reset Windows 7 password free. Yet, this method would cause all data loss in the disk C. If you prefer no any data loss, keep reading the next content.
Part 4: Use Windows Password Key
Windows Password Key is the fastest and easiest tool to help you reset lost password for administrator and other user accounts on any pop brands of PC, like Dell, HP, IBM, Sony, Lenovo, Asus, Samsung, etc. It can reset forgotten password on Windows 7 with 100% recovery rate and without any data loss.
Here is a simple tutorial to reset Windows 7 administrator password (other user account password reset is the same).
Step 1: Download and install Windows Password Key on any available computer.
Step 2: Insert a bootable CD/DVD or a USB flash drive on the computer. In the pop-up window, select "Reset Windows local account password", choose your CD/DVD or USB flash drive, and click "Burn".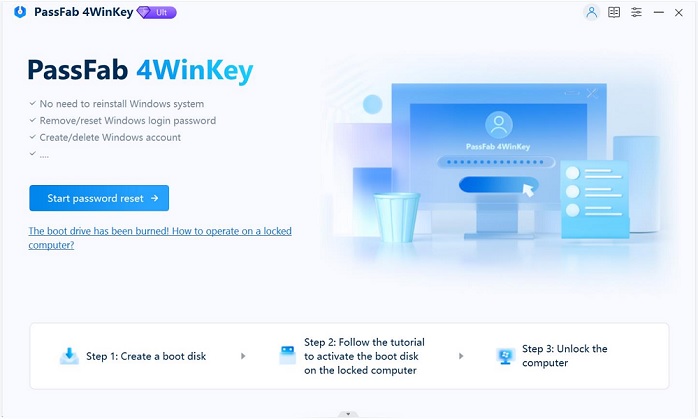 Step 3: Start you PC and insert the newly created CD/DVD or USB flash dive on the PC.
Step 4: After Windows Password Key initializing, choose the Windows installation, select administrator account, enter a password, click "Reset" and "OK" in the pop-up windows and click "Reboot".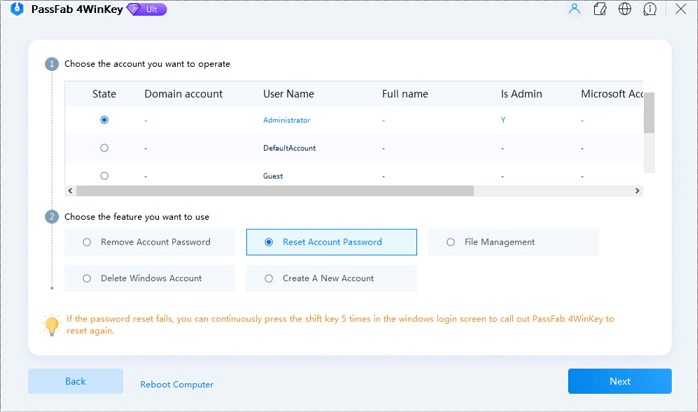 Now you are successful to reset password on Windows 7. After restarting you PC, you can log into Windows 7 with your password. Windows Password Key can fully support all famous brands of PC as follow shows and other computers.
| | | |
| --- | --- | --- |
| Acer Aspire | Gateway | Asus VivoBook |
| Dell Latitude | Dell Inspiron | Alienware |
| HP Pavilion | HP Envy | Compaq |
| Lenovo Thinkpad | Lenovo Ideapad | Samsung |
| Sony | Toshiba | Etc. |
Related Articles
comments powered by