Password expired? How to Change Windows Server 2008 Domain Password
We're facing some troubles to change Windows 2008 domain password. The password expired and we're prompted to change the password, after changing it, we get error message and access has been denied.
It is the tricky problem when our password expired. We had changed the password, but the system doesn't recognize both the new and old password any more. When facing such problems, take it easy, two ways to change Windows Server 2008 domain password will show you below.
Change Windows Server 2008 Domain Password with The Installation CD
1. Insert the original Windows Server 2008 installation DVD. Boot up the server using the install DVD, use the "Repair your computer" option when setup starts. Gain access to the command line.
2. Make a copy of Cmd.exe and rename it Utilman.exe. Using Command move Utilman.exe Utilman.exe.bak and copy cmd.exe Utilman.exe. Press O or Y to accept that and restart your Computer normally.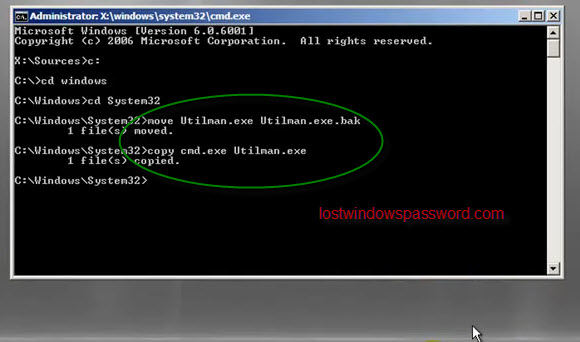 3. At the user logon screen, press a combination of Windows KEY+U, then the CMD.exe will appear. Type net user "Username""new password"; then it will shows you the command completed successfully.
4. Exit out of the command line and try logging in with the new user and password.  Please don't forget to rename back Utilman.exe ->Cmd.exe and Utilman.exe.bak-> Utilman.exe after getting back access.
Change Windows Server 2008 Domain Password With Windows Password Key Enterprise
Don't have a Windows Server installation CD or the operation is too difficult to understand? Don't worry, here is another simple buy practical way to reset Windows 2008 domain password.
1. Prepare a blank CD/DVD or just USB device. Login any available computer that you can access to. Download Windows Password Key Enterprise and install it in that computer. This program is aim to reset windows server domain password due to password expired or losing the password.
2. Run the program and choose reset Windows domain password- Work with Active Directory accounts and burn the ISO image file to the blank CD/DVD or USB device.
3. Insert the newly created disk to your server, but make sure the computer can boot up with the disk. Restart your computer and keep pressing F2 before windows loads, move to the Boot tab and change the CD-ROM to first if want Windows boots from CD/DVD, If USB Flash Drive, change the Removable Devices to the first.
4. Restart the computer and you will see the program works, click "Reset" button you will default change windows 2008 domain password to 123456.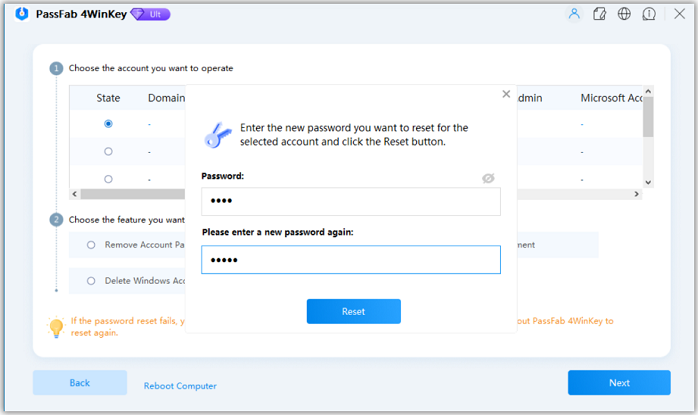 Restart the computer and use the newly password to log in your domain. Remember to change windows 2008 domain password to a complex one.
Related Articles
comments powered by