How to change windows 7 password
To protect our personal data on Windows 7 system, password security is very important. A good login password is the first line of defense against those who want to gain access to our computer to get any important data. Changing windows 7 password on a regular basis is necessary.
Here is how to easily change login password in Windows 7
1. Click "Start", then choose "Control Panel".
2. In the Control Panel, Click "User Accounts and Family Safety".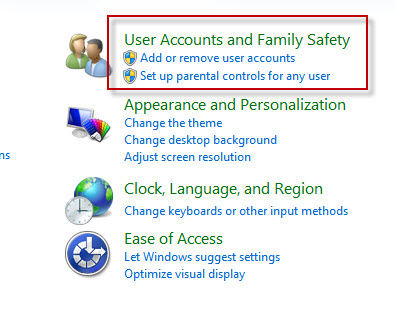 3.  Under the User Accounts, you can find" Change your Windows password", click it.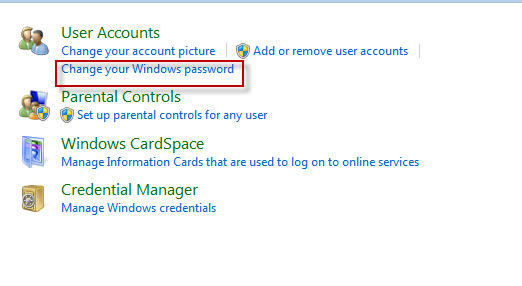 4. This will take you to your User Account windows if you already have a password, click " Change your password" , Or you need to create a password for that account.
5. a. Type the current password in the first text box then type a new password and confirm. Don't forget to type a password hint to let you remember that password.
  b. If you do not have a password for that account, just type the new password and confirm.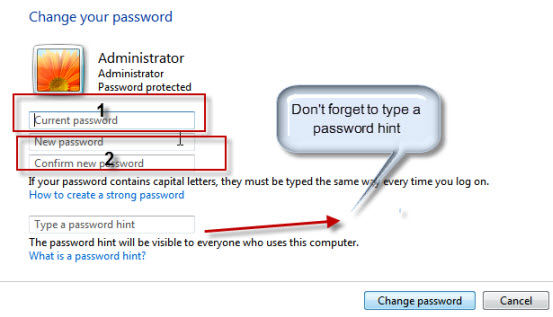 Then the password has been altered. Be aware that the password hint will be visible to all other computer users, when creating a password hint; it should not be easily guessed.
Special tips for you:
Creating a strong password is important to help you have safer online transactions and thus protect your personal data. An ideal password is long and has letters, punctuation, symbols and numbers.
1. The length
2. The variety of the characters in your password
Important
Changing password all the times in one hand can protect your personal data; on the other hand, you will have forgotten windows 7 password one day.
Facing that problem, First try your best to remember that password or use the password hint to guess the password. If you have created a Windows 7 password reset disk when creating the password that would be better, just use the disk to Reset Windows password.
If everything failed, get a blank CD or just a USB Flash Drive. Login any available Computer and download the famous program Windows Password Recovery, burn the ISO image file to your CD or USB, Then insert the disk to your computer to reset the password to blank. I am sure your will get back into your system within 5 minutes.
Related Articles
comments powered by