Top 3 Approaches to Reset ASUS VivoTab Password
"How to reset the password on an Asus VivoTab 8 (M81C). If you did not create a password recovery disk? I cannot get pass the Windows login screen and I forgot the password."

Most of Windows PC users know that once lose login password on ASUS PC, we are able to reset. However, at this time, it is a tablet, how to do that? In this post, we will share some tricks about how to reset Windows 10/8.1/8 password on ASUS VivoTab 8/Note 8 with you.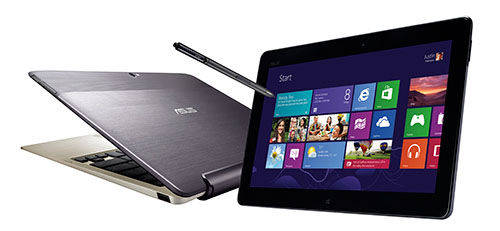 Approach 1. Reset Password on ASUS VivoTab Smart Tablet by Factory Resetting
Just like reinstalling system in ASUS laptop once we can't remember login password in it, factory resetting the ASUS VivoTab tablet is one of the methods to rescue VivoTab.
Step 1. Connect power supply and boot the Windows system into log in screen.

Step 2. Tap on power button and force system reboot for 3 times, the VivoTab tablet is going to enter recovery mode. Click "See advanced repair options" button.

Step 3. Now you need to choose the "Troubleshoot" option.

Step 4. At this time, you need to choose "Reset your PC" option in the Troubleshoot menu. And then click "Next" button.

Step 5. Choose "Fully clean the drive" option under the "Reset your PC" menu.

Step 6. Confirm that you have backed up everything and are ready to reset the tablet. Click "Reset" button to finish the process.
Approach 2. Bypass ASUS VivoTab Password with External Keyboard
If you are able to take advantage of any external keyboard via USB or Bluetooth, then this is another nice measure to get help.
Step 1. Find out a keyboard via USB OTG cable or Bluetooth and connect it to the VivoTab tablet. Make sure that they are matched to the tablet successfully.

Step 2. Boot Windows system to the login page, and then tap on Power icon on the bottom of the screen. You will see "Sleep, Shutdown and Restart". Press and hold the "Shift" key on the keyboard and then select "Restart" on the screen meanwhile.

Step 3. At this time, the bypass steps are the same as Step3-Step6 in Approach 1.
Approach 3. Recover Forgotten ASUS VivoTab Password with Windows Password Key
The last but not least way is to make use of Windows Password Key to reset ASUS VivoTab tablet password. This is a well-known program to reset or remove login password in Windows system.
Step 1. Download, install and launch the tool from another machine.
Step 2. Use a CD/DVD/USB to burn a bootable disc. Then take it to your locked tablet.

Step 3. Press F12 quickly to enter and change smart BIOS settings to boot from your drive.

Step 4. Then you will see Windows Password Key interface. Just choose one account to change ASUS VivoTab password.
Now you have successfully unlock ASUS VivoTab 8/Note 8. So that's how you can use to rescue your ASUS VivoTab. Just feel free to use the tablet again as usual. By the way, welcome to share your experience about using ASUS VivoTab in life.
Free Download
Buy Now($39.95)
Related Articles
comments powered by