Top 4 Options to Recover Windows 10 Password on Asus ZenBook Laptops
Forgetting computer password is frequently heard since most of us have experienced this problem more or less. The Windows 10 administrator password on Asus ZenBook is like a two edged sword, offering protection from other accesses to personal data, while at the same time, you are not allowed to visit your laptop supposing you can't remember the password. Don't be frustrated. We have prepared 4 useful methods here about how to reset password on Asus ZenBook laptop Windows 10.
Method 1: Bypass Asus ZenBook Password Windows 10 Using Windows Password Key
The reason why I put Windows Password Key in the first place is very simple: it's incredibly effectual and easy to operate! Even a windows 10 computer rookie can easily change or remove Asus ZenBook local password following the specific guide below. Moreover, you can choose to delete the existing computer accounts or create a new account as you like.
Free Download
What you will need to unlock Asus laptop forgot password is:
1. A blank CD/DVD or USB flash drive
2. Another accessible computer with Windows Password Key software installed
Now let's see how to use it as below.
Step 1: Install and launch Windows Password Key on another available computer and then insert your portable storage device. By default the software will provide the ISO image file.
Step 2: Choose your CD/DVD/USB accordingly and click Burn to create password reset disk Windows 10 for Asus ZenBook. Eject the device when finished.

Note: To burn the Windows 10 reset disk, your USB flash drive will be formatted with all data erased. That's why we recommend you to use a vacant USB.

Step 3: Plug in the newly created reset disk and reboot your locked Asus computer. Press "ESC" on ZenBook series to enter Boot Menu. Select your USB/CD/DVD disk in the menu directory as the first boot device and hit Enter to continue.

Tips

: The Asus boot menu key may vary from different computers and windows OS. Usually you will see an instruction on the bottom when setting up your ZenBook. If you still have no idea about how to enter boot menu on your Asus laptop, please refer to

common Asus boot menu key for Windows 8/8.1/10

.

Step 4: Select your Windows installation and the account to remove or change password on Asus ZenBook Windows 10.
There you go. After that please remove the USB drive and you can restart your Asus ZenBook with just created password now.
Method 2: Recover Microsoft Account Password Windows 10 Online for Asus ZenBook
If you are using Microsoft account to sign in Asus ZenBook laptop with Windows 10, things will be much simpler. Go to Microsoft password recovery website on any computer with internet connection. Choose "I forgot my password" from the list and enter your email address or phone number bound with your account to verify the identity. After that, create new password for Microsoft account for Windows 10 to regain access to your Asus ZenBook notebook.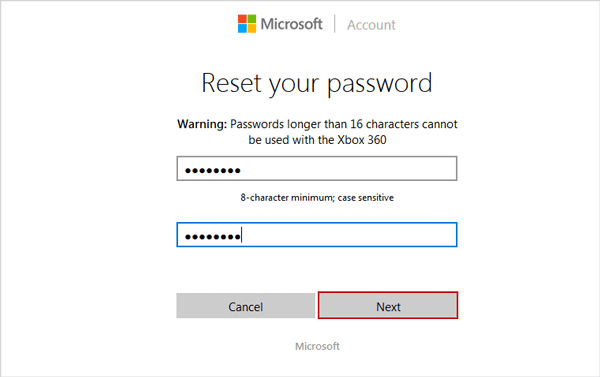 Method 3: Change Login Password in Windows 10 Asus ZenBook with Administrator Privilege
If there are more than one user sharing your Asus laptop and luckily one of them is configured as the administrator account, he/she is able to reset local account password Windows 10 for you in Control Panel. Simply go to Control Panel > User Accounts > Manage Another Account > Change the Password, and you can try to restart the computer and use the new password to successfully log in.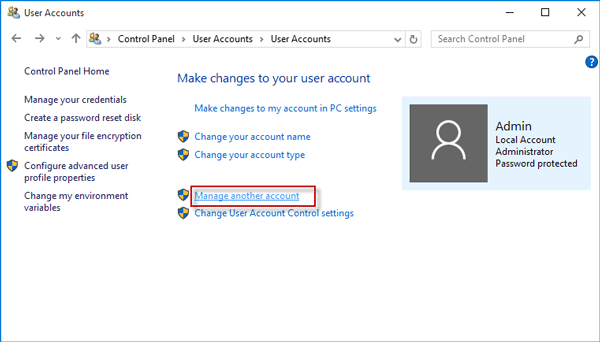 Method 4: Use Built-in Windows 10 Password Reset Disk
Microsoft designs a feature in Windows OS including the latest Windows 10 that users can save the login password information to a USB flash drive. If you are farsighted enough to create a password reset disk BEFORE you forgot Asus laptop password, it's time to make good use of it. However, add a fact that it only works with a local account on your ZenBook notebook instead of a live ID. Alternatively, you can try Windows Password Key to pre-burn a password recovery disk, which can also remove Microsoft account password.
Hope you have a better understanding about Asus ZenBook laptop password recovery now. And these methods also apply to other PC brands, like Lenovo, Dell, HP, Sony, Acer, etc. If you find the post helpful, please kindly help promote it by clicking Share button below.
Free Download
Buy Now($39.95)
Related Articles
comments powered by