How to Reset Windows 10/8.1/8 Lost Password on UEFI-based Sony Computer
"I have set login password on my Sony pre-installed with Windows 10 but I forgot it and there were on other workable administrator for login, unfortunately. So is there any way that I could bypass password or recover Windows 10 lost password for my UEFI-based Sony computer?"
-Jessica
Actually there are lots of Windows users like Jessica who remissly loses or forgets password with UEFI-based computer. Probably many readers don't know what UEFI is at all. UEFI is something that has been applied with Windows 8, which stops you from accessing the hard drive when booting to CD or USB and therefore prevent you from using traditional tools to reset your Windows password.
What to do if you accidently forgot or lost Windows 10/8.1/8 password on UEFI-based Sony Laptop? If it is real no way to reset Windows lost password? The answer is definitely no. In fact, you just need a professional password reset tool for Windows password reset on computer with UEFI. Windows Password Key is a word leading Windows password recovery tool that can reset lost administrator and user password on any Windows computer without reformatting and reinstalling system. Download and have a try on recovering password on UEFI-based Sony VAIO with Windows 10/8.1/8.
Note: Before recovery, you are supposed to prepare for a blank CD/DVD/USB to burn bootable drive. Then download and install the program on any accessible computer. Run the program and burn bootable CD/DVD/USB. Don't worry, it will be much easy following the next steps.
Step1. Insert prepared bland CD/DVD/USB to accessible computer. Run the program and select "CD/DVD" or "USB Flash Drive". After that, click Burn to move on.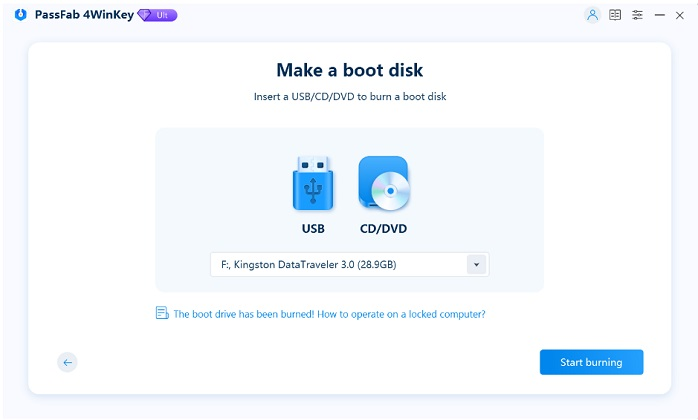 Step2. Insert newly created CD/DVD/USB into your protected computer and start it. Then press Assist on your Sony to enter VAOCare Rescure Mode Boot screen. Choose Start BIOS setup [F2] to get into system BIOS.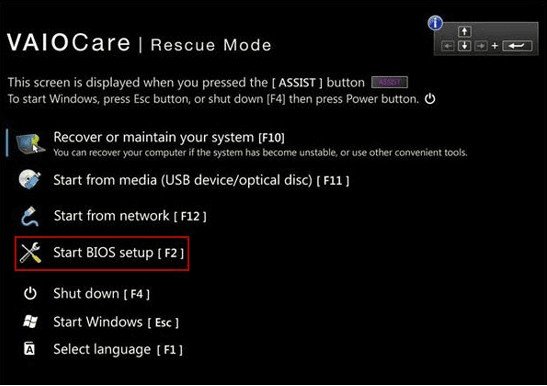 Step3. Select Boot tab and Boot Mode option. Next press Enter to change boot mode from UEFI to Legacy. Go to Security and disable Secure Boot and save changes. Restart Sony and press Assist to enter VAOCare Rescure Mode Boot screen again. Select Start from media (USB device/optical disc)[F11] to start your Sony from USB drive.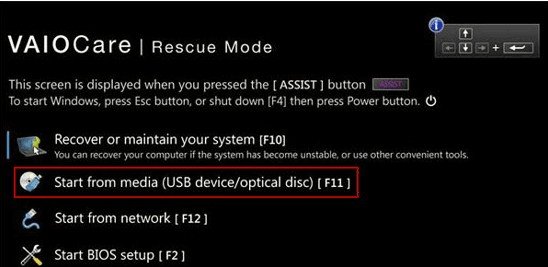 Step4. Your computer will boot from USB and select Windows installation and click Next. Then click Remove Windows Password and then Next. Click Next again to make confirmation. Then your password will be removed successfully.
Tips: If you still want to set password on your computer, you can click Create a new admin account to make it.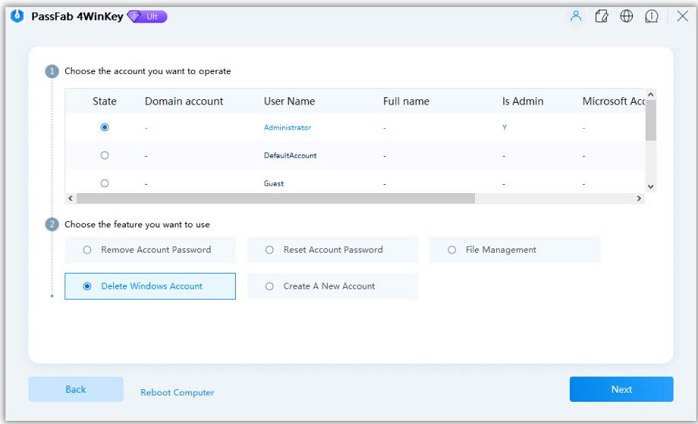 Now you have succeeded in resetting Windows 10/8.1/8 password on UEFI-based Sony computer. If you have any question, you can leave it in the comment section. We will reply as soon as possible.
Related Articles
comments powered by