How to Restore a Gateway Laptop to Factory Settings
"Hello,
I have a gateway computer that's filled with spyware, no pop up killer gets rid of it. cant restore using the system restore cause it doesn't work. I can't remember how to factory restore our Gateway computer. Anyone know how to?"
- From CCM Forum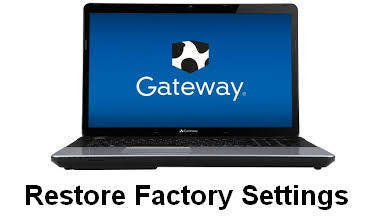 When computer and laptop have problem on them, things could be complex for users to get their device factory restored. For a normal user, people will find it hard to keep their Gateway laptop safe when factory reset. In fact, the whole process can be extremely easy and users can even restore Gateway laptop to factory settings without password.
Solution 1:Restore Gateway Laptop to Factory Settings in Windows 8/8.1 without Password
If your Gateway laptop is in Windows 8/8.1 system, then you don't even have to use password, you can just read the following steps to get your Gateway NV5/4/JM30 laptop restored.
Step 1: Start your Gateway laptop, click on the Power key while holding the Shift key, then select Restart. And you will see the following options after your laptop restart. You are required to choose "Troubleshoot".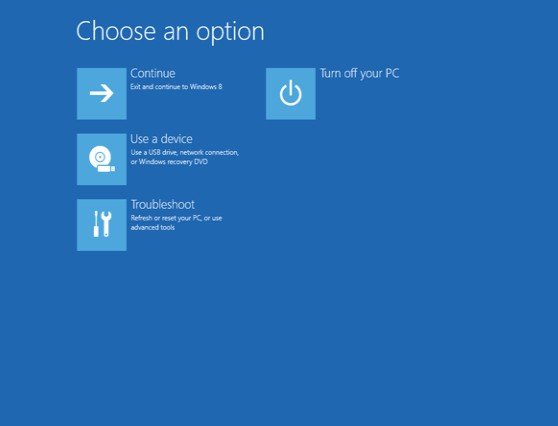 Step 2: Under "Troubleshoot" list, you will see new options, click "Reset your PC".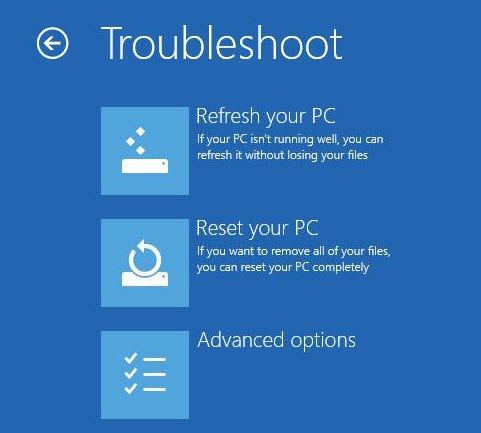 Step 3: At the "Reset your PC" screen, click "Just remove my files" and then click "Reset".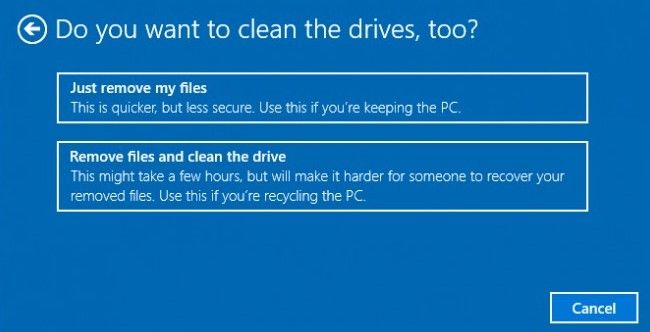 When your Gateway laptop restart again, all the files and data will be wiped. This solution can be very useful and easy to operate.
Solution 2: Restore Gateway Laptop to Default Settings with System Recovery Tool
This solution is based on the situation that you can get access to your Gateway laptop that you need to follow the route:
Start >> All Programs >> Gateway Recovery Centre >> System Recovery.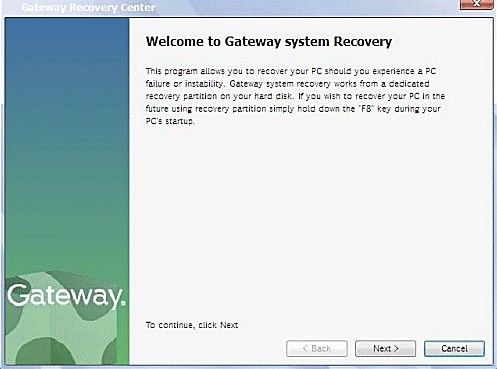 Click it and laptop would automatically enter system restore interface.
Solution 3: Restore Gateway laptop in Windows safe mode
When start Gateway laptop, you should keep pressing "F8" when you see "Gateway" logo appear on the screen. Then you need to choose "Restore Computer" in the pop-up window, and system restore window will appear.
You can just follow the default setting to get your Gateway laptop restore to factory settings.
Now you can pick up one of these solutions to get your Gateway NV5/NV4/JM30/UC/MX1000 laptop restore to factory settings without password.
The Bottom Line
If you are only forget password that you could not be able to start your Gateway laptop, then you are high recommend to have try by using Windows Password Key, the world's best Windows password recovery software, to recover lost/forgotten Windows password to log in.
Free Download
Buy Now($39.95)
Related Articles
comments powered by