Top 3 Ways to Download Dell Inspiron Driver for Windows 7
Dell driver is a significant application to Dell computer. With this little software, Dell laptop users are able to communicate with hardware or devices, like the monitor, video card and Dell printer etc. A Dell computer usually has sound drivers, audio driver, webcam driver, printer drivers, display screen drivers and video driver, etc. If your Dell drivers are lost or broken, it is because they won't work normally or there will be something wrong with it. In that case, where can we get/download Dell driver for PC? Here we are going to take the Dell Inspiron as an example and discuss the top 3 ways to download Dell Inspiron drivers for Windows 7.
Top 1: Driver Scape
Driver Scape is a Windows driver download center. It collects device drivers from official websites. All of the device drivers from Driver Scape are arranged by brand name and by device variety, so you can easily find the driver you need. Diver Scape has a large number of drivers, contains Sound Drivers, Printer Drivers, Scanner Drivers, Video Drivers, Motherboard Drivers, USB Drivers, Monitor Drivers, Mobile phone Drivers, Bluetooth Drivers, Keyboard Drivers, Mouse Drivers, etc. It supports all Windows systems, including Windows 10/8.1/8/7/XP.
Download Dell Inspiron Driver from Driver Scape

Top 2: Drivers
It is said that drivers.com is the world's leading drivers site. To mention it, you can not only download Dell Insprion from this site, but also update driver and fix computer driver problems with it. What's more, it supports Windows and Mac platform, supports all computer brands.
In order to use Dell Inspiron driver in Windows 7, you need to download the Dell Driver Update Tool from drivers.com and then install and open it from your computer. Then click the "FREE SCAN" to search for outdated drivers or lost drivers.
Download Dell Inspiron Driver from Drivers

Top 3: Driver Talent
Driver Talent is a program that does well in downloading, updating and fixing Windows drivers. It enables you to download right driver and install it, update old driver to the new one, download drivers for another personal computer, backup and restore drivers, save and uninstall drivers, etc. What's more, it supports Windows/Mac platform and multilingualism (English, German, French, Japanese, Russian…). The only disadvantage is that it is not a freeware.
Download Dell Inspiron Driver from Driver Talent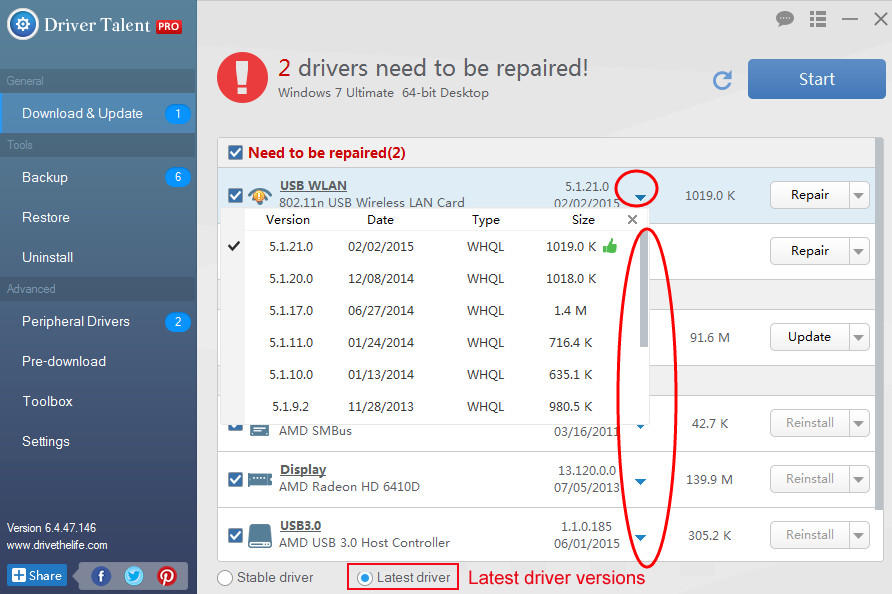 Additional Tips You Should Know:
Last but not least, if you forgot password of Dell Inspiron in Windows 7, you can make use of Windows Password Key to reset the login password of that computer. This is a professional and well-known program to solve all the login accounts' password problem in computer. What's more, no matter what Windows system is, this Windows password recovery application is able to reset/remove the local or Microsoft account password instantly. You can't miss it.
Yes, that's all about the top 3 ways to get Dell Inspiron driver in Windows 7 personal computer. Hope they are helpful information to you and welcome to share more ideas with us. We will try our best to introduce better solutions to you.
Related Articles
comments powered by