Find Lost Windows 7 Password in 3 Steps
"I just lost Windows 7 password for my laptop after I upgraded my PC to Windows 7. Are there any effective ways out there? I need my laptop now and I must get the password to access to it. Somebody suggests me to reinstall Win 7 system, but I don't think that's a smart way—data loss, everything would be missing! Anyone can help me, please!!!"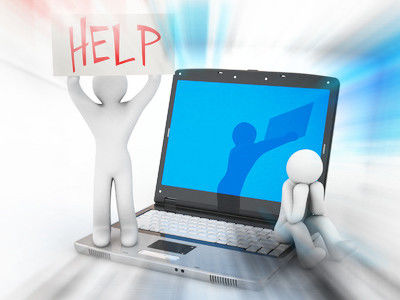 It is quite a frequent occurrence to lose computer password nowadays. On the one hand, we have lots of passwords for various accounts ranging from email, files to personal bank accounts etc, so it's hard for us to remember all of them. In these situations, we may lose our Windows 7 password by forgetting it; on the other hand, hackers are so aggressive today that an easy and fragile password can be illegally broken within seconds!
Now you must be thinking about a way to keep your password strong but at the same time not easily to be forgotten. Well, for sure we can find such ways. And I bet the following article will quite meet your needs.
1. Change lost Windows 7 password in 3 steps:
Step1: Start your computer and press "Ctrl+Alt+Delete" twice when you see Windows Login screen.
Step2: Type Administrator in username box and leave the password column blank. Then hit "Enter" to log on.
Step3: Now you successfully accessed to Windows 7 system. And then you can change the lost Windows 7 password as usual, from: "Start->Control Panel->User Accounts".
You may feel surprised at how the lost Windows 7 password can be changed without knowing its original password in this way. This is because in each Windows operating system, there is a built-in Administrator account without password protected and hidden but having highest privilege over the computer by default. So many computer users may not notice of it since they cannot see it from Windows login screen or User Accounts. If you haven't done any change for this defaulted admin, then you can try this way. If not, then move to below.
However, I highly suggest you to set a strong password to this built-in admin for the sake of security after you change the lost Windows 7 password.
2. Remove lost Windows 7 password directly in 3 steps:
Different from way 1, this way you will have to download a Windows Password Recovery Software, such as Windows Password Key Standard and find another accessible computer as well as an empty CD or DVD. Generally, using this way to remove the lost Windows 7 password is the most effective way. Almost all kinds of Windows passwords can be removed no matter how they got lost. Now, follow the steps:
Get Windows Password Key Standard now
Step1: Create a Windows 7 Password Reset CD/DVD.
Step2: Change BIOS Settings.
Step3: Remove Lost Windows 7 Admin Password and other kind of Passwords within 2 minutes.
(Note: click here for detailed user guide for Windows Password Key.
Related Articles
comments powered by