Guide For You If Forgot Windows 7 login Password
"Forgot Windows 7 login password "is a common dilemma when using Windows 7 system. A strong and unique password is essential to protect our system, but you tend to forget Windows 7 standard account or admin account password. What to do if we are locked out of computer? The following will tell you tips about Windows 7 password forgot.
As my experience, there are some effective solutions for Windows 7 password reset.
Option 1: Use Windows 7 Password Reset Disk.
Option 2: Use Windows Password Key to Bypass Windows 7 Password
Option 3: System Repair Disc
Option 4: Using Windows 7 default Administrator account
Option 1: Use Windows 7 Password Reset Disk.
That should be the first one to solve the problem when you realize you forgot Windows 7 password. Your own password reset disk is one backup for your logon password you can restore to get back lost password. The only requirement of this article is creating Windows password reset disk before password forgotten.
1. When you enter the wrong login password, Windows displays a message that the password is incorrect. Click OK to close the message.
2. Click Reset password, and then insert Windows password reset disk.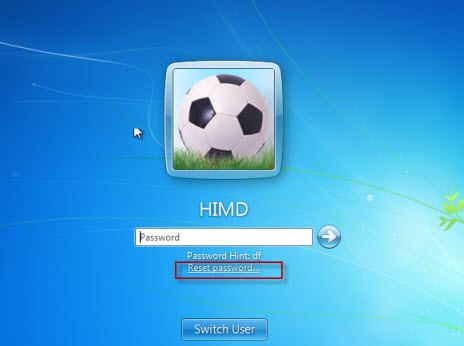 3. Follow the steps in the Password Reset Wizard to create a new password.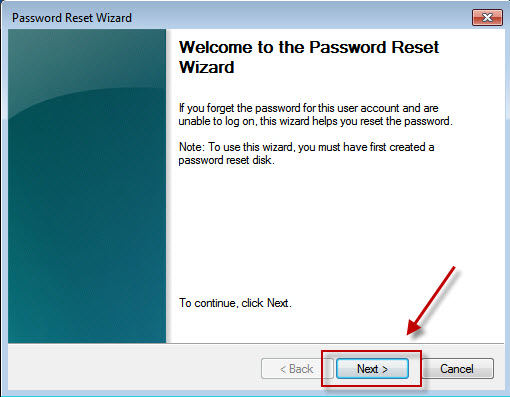 Option 2 : Using Windows Password Key to Bypass Windows 7 Password (Recommended)
If you didn't create the disk in the past, you can DIY a password reset disk through Windows Password Key and boot computer from the password key disk. This trick will help you reset forgotten Windows 7 admin password and regain access to your PC within 5 minutes without losing any data.
Step 1: Log in any available computer that you can access to and allows you download. Download and install this application Windows Password Key in that computer.
Step 2: Run and burn the program to a blank CD/DVD or USB flash drive.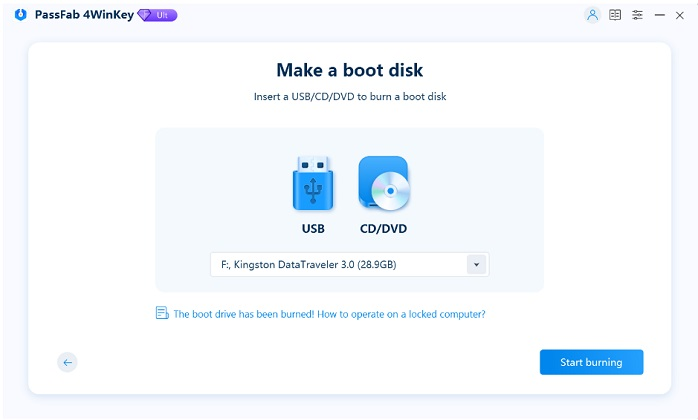 Step 3: When finish, insert the disk to your locked Computer and make your computer boot it from the disk by changing the BIOS setup, then you can follow the instruction to reset your password. It's 100% recovery, so I'm sure you'll enter your system with that account.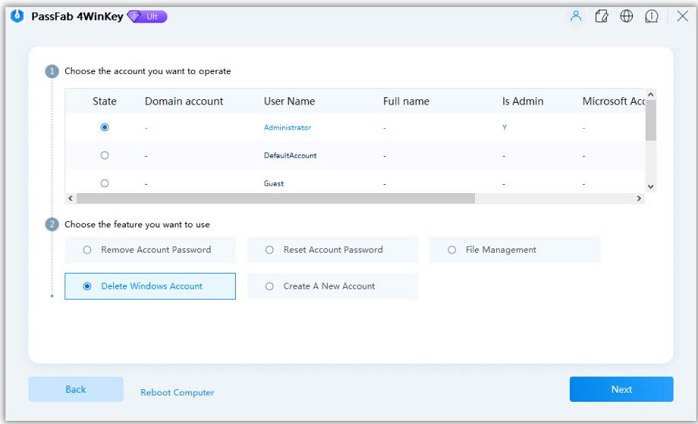 See the YouTube tutorial about how to reset forgotten Windows 7 password efficiently
Option 3: System Repair Disc (Cause Data Loss)
This two options above are the most used methods when people really can't remember Windows 7 password. However, but you can also take a look at other methods, the below guide shows you another two efficient tips to reset Windows 7 password without disk.
In addition to Win 7 password reset disk, System Recovery Options is another Windows feature that allows you to recover password. If you have a system repair disc, you can use it for your Windows 7 password reset, but have a risk in data loss.
Option 4: Using Windows 7 default Administrator account
Windows 7 OS has a built-in administrator account which is created during Windows installation without password, and disable by default. You need to enable that account before losing your other admin account password. Or in this tip your built-in administrator account won't appear in the screen.Suppose we have lost Mosoh account password.
1. Start your computer and press "F8" while the computer boots up. The Advanced Boot Options screen appears.
2. Scroll down to "Safe Mode with Command Prompt" and press "Enter." Your computer starts in Safe Mode with Command Prompt.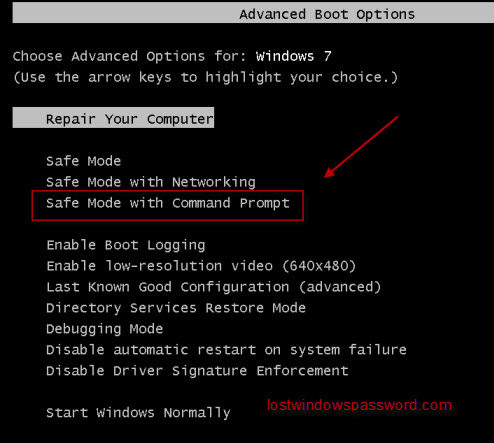 3. Select the Administrator account that appear in the screen, then enter command prompt.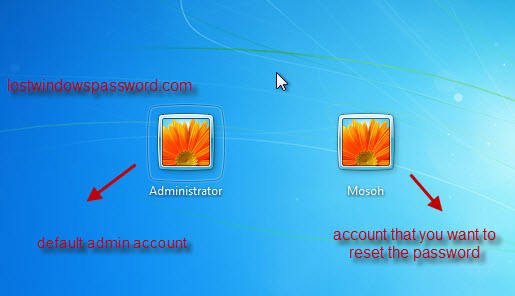 4. Type: "net user Mosoh 123456" and press "enter" button, it will show you a message that "the command completed successfully".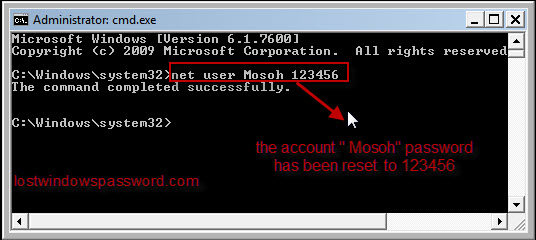 5. Restart your computer, then you can log in as Mosoh with the password 123456. You can go to control Panel to change your account password if necessary.
Forgot Windows 7 password isn't a troublesome matter if you pick up a good way. The above two tricks will help you a lot. If you have any other problems on Windows 7 password recovery, please leave a message at the comment area and we will see what we can do for you.
Related Articles
comments powered by