2. System Cleaner: Drastically scan and cleanup system junk files in 1-click
System Cleaner is equipped with 5 powerful features. You can remove registry entries, useless files, download history and so forth from your computer. Here you can pick anyone to clean up your computer based on your demand.
Registry Cleaner: Remove invalid registry entries off your computer
Step1. Launch the program and click System Cleaner and then click Registry Cleaner on the left of the interface. Click Scan to scan invalid registries on your computer.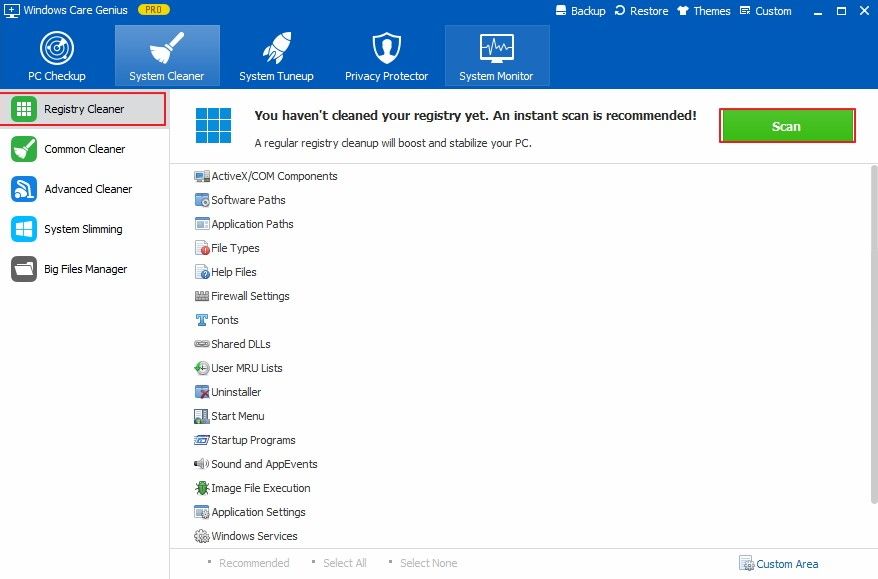 Step2. After scanning, all the registries would be displayed. Click Clean to delete the all with one click.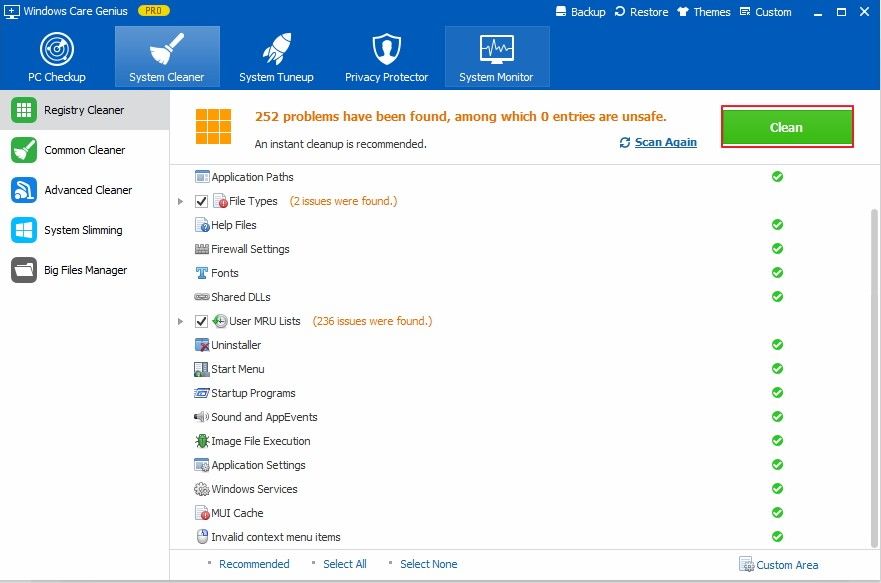 Common Cleaner: Erase useless files and traces in computer
Launch the program > click System Cleaner > tap Registry Cleaner on the left of the interface > click Scan to detect junk files and traces > click on Clean to cleanup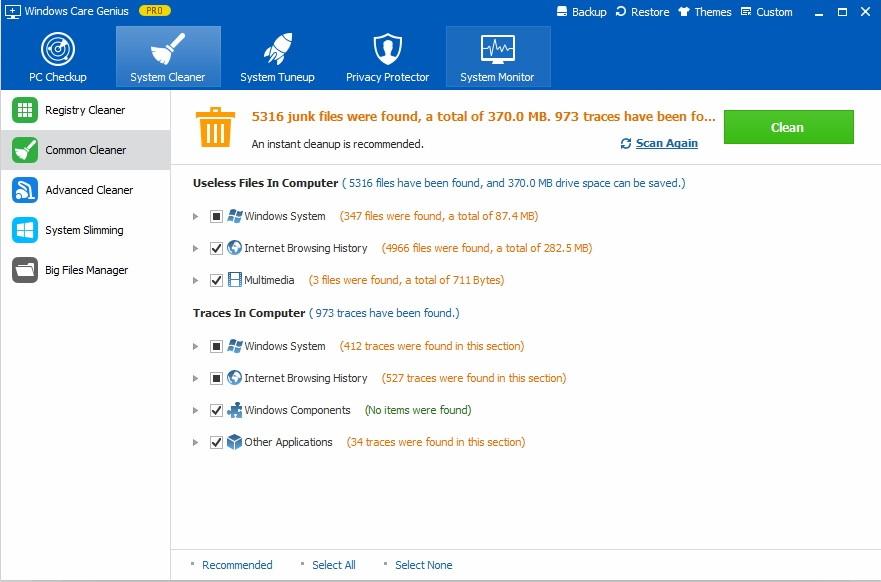 Advanced Cleaner: Clear junk files on specific drives
Start the program > tap System Cleaner > click Advanced Cleaner > choose hard drive you wan to clean in Scan Location > click Scan > tap Clean to finish
Tips1. Appointed files, invalid shortcuts and empty files with specific attribution can be deleted in Advanced Settings.
Tips2. You should know what specific extensions you choose stand for, otherwise, you'd better click Recommended options.
Tips3. Find empty files take effect only once. If you still want to find empty files, you have to select this option again next time.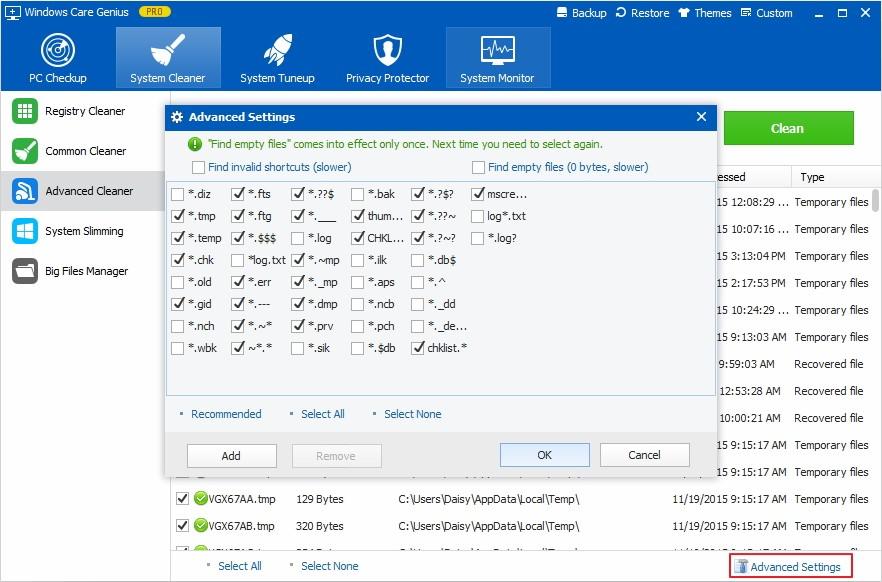 System Slimming: Remove unnecessary files on system drive
Run the program > Click System Cleaner > Select System Slimming > wait for awhile, all files such as downloaded files, installer baseline cache, IME, help files, wallpaper files, sample music will be displayed > tick items you want to delete > click Slim Down and then click Yes to make confirmation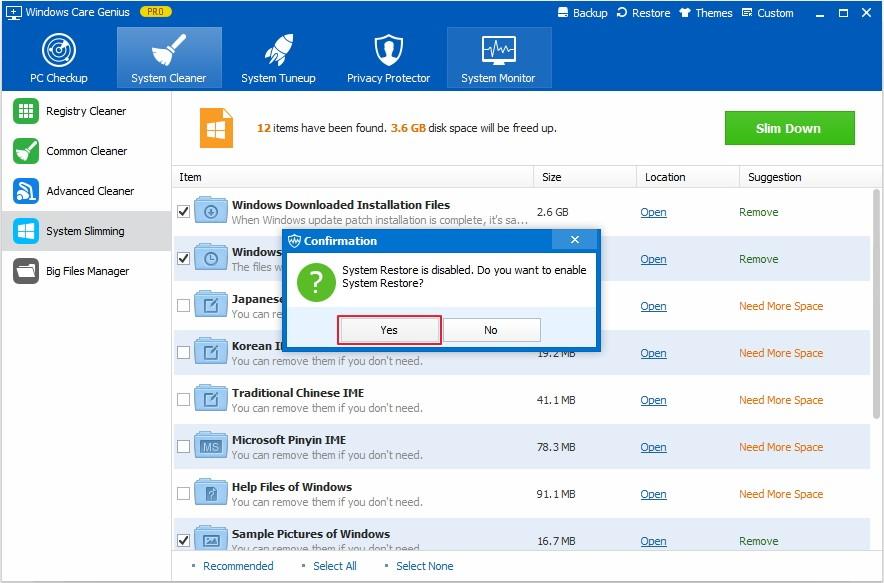 Tips:
Windows downloaded installation files: It is safe to delete these files after you succeed in installing Windows update patches.
Windows installer baseline cache: The files were created by Windows installer service, and they can be removed.
IME (Input Method Editor): A program from Windows that allows you to enter Asian text in programs by converting your keystrokes into Asian characters.
Wallpaper: An image used as a background or desktop on a computer screen. However, currently most users use their customized pictures as their desktops or backgrounds.
It's safe to delete the wallpaper files of Windows if you are one of them. But it's dangerous if you use Windows default wallpaper as your desktop.
Sample music/pictures/videos/media: It's safe to delete if they are not occupied by other programs.
Big Files Manager: Find and clean bulk files on hard disk
Step1. Run the program and click System Cleaner in the interface and then select Big Files Manager. Unfold Scan Location and tick any hard drive you want. Tap Search and your computer will be detected automatically.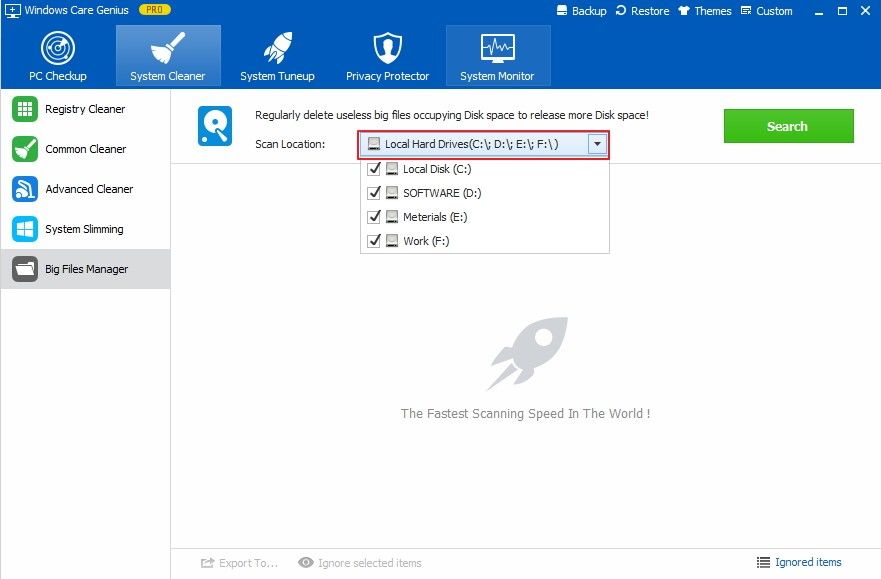 Step2. Tick the useless junk files at the left-hand small box and click Delete to finish operation.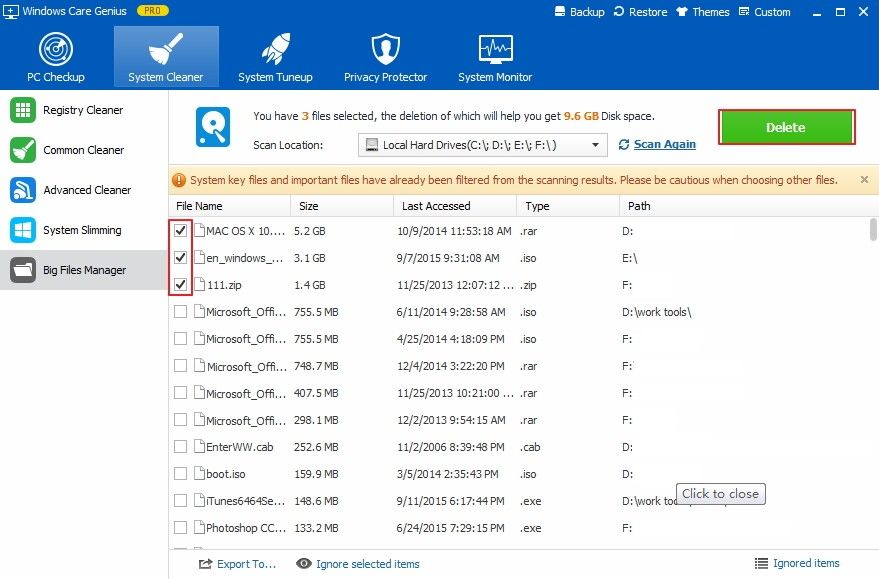 Tips:
Export to: You are allowed to export all the entries to your computer as Text files (*.txt) when you want to carefully check or analyze scanned-out entries. Click Export to to save files as your pleasure.
Ignore this entry: If you want to save some entries and don't want to remove it, you can click Ignore this entry and it will be moved to Ignored items list. Vice versa you can remove the entry in Ignored item by getting into list and selecting and click Remove.