Top 5 Best Laptops of the Year
Have you decided which laptop to buy lately? If it's getting long in the tooth, it's probably as heavy as it is slow. Fortunately there's no better time to look for a more portable and modern machine than during the holidays. You'll impress family and friends when you whip out your new laptop at holiday gatherings.
Thanks to the performance and efficiency of Intel's Core-branded processor platform, Ultrabooks are gradually gaining in popularity. These machines provide great performance and long battery life, despite weighing less than 4 pounds. They're also a traveler's best friend—slim and light, with quick boot times owing to built-in solid-state memory drives.
And here in this article we have list 5 best laptops; hopefully will help you with your laptop purchase decision.
Apple MacBook Air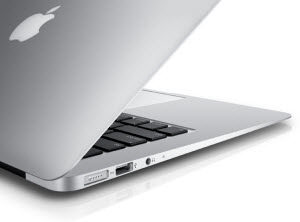 The 13-inch MacBook Air has new Intel CPUs, better battery life, and an improved 720p Webcam, and finally adds USB 3.0 ports, while shaving $100 off the price from last year's models. This year's MacBook Air opts for gradual improvements rather than anything revolutionary, but lowered prices continue to make it the go-to mainstream recommendation for any MacBook owner-to-be.
The improvements in this year's 13-inch Air are far less dramatic than last year's, both from a features and performance standpoint, but the Air is truly the go-to MacBook now, and even more affordable, although its price is still higher than that of most Windows ultrabooks. Because of that and its excellent performance, the MacBook Air remains the MacBook of the current batch we'd most recommend.
Want a MacBook that's easily portable? This is it. Want a back-to-school MacBook? This is the one. And, until the $2,199 Retina Display MacBook Pro drops in price, the $1,199 13-inch Air remains the MacBook for the masses. It's lighter, it performs better than ever, and it's less expensive, and in head-to-head tests with the 2012 13-inch MacBook Pro, the Air performed very closely, and had better battery life: nearly 45 minutes better than the 2011 MacBook Air.
Acer Aspire S7-391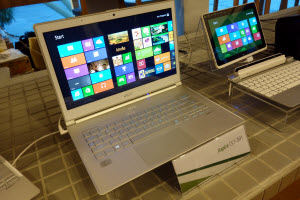 The Aspire S7-391 offers solid performance, despite weighing a mere 2.8 pounds. Couple its light weight with a svelte chassis that is just 11.9mm wide and yet is demonstrably rigid, and you have an Ultrabook that could double as a ninja star.
This Windows 8 machine features a 13.3-inch touchscreen covered in Gorilla Glass 2, a pair of 128GB SSDs in RAID 0, and a Core i7-3517U processor. The S7 achieved a score of 72 on our brand-new WorldBench 8 benchmark suite, which is expressly designed for Windows 8. You can pay $1649 for a 13.3-inch Ultrabook with a 1920-by-1080-pixel display, a Core i7-3517U processor, and Windows 8.
Vizio CT15-A2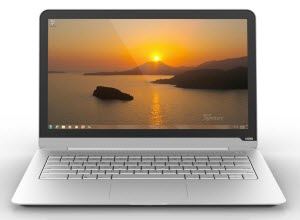 The CT15-A2 is the 15.6-inch version of the 14-inch CT14-A2, which impressed us last August with its sleek, minimalist design. Though the 14-inch model is no longer available, you can pick up the 15.6-inch model for the same low price—despite its extra screen real estate.
The keys are shallow, but large and easy to locate even for the clumsiest fingers; and the accompanying touchpad supports multitouch gestures. In our WorldBench 7 benchmarking gauntlet, it earned a mark of 81 for overall performance, keeping pace with some of the highest-rated Ultrabooks, at for a much lower cost.
You need $1199 in order to buy a 15.6-inch Ultrabook with a 1600-by-900-pixel display, a Core-i7 processor, and Windows 7.
Asus Zenbook Prime UX31A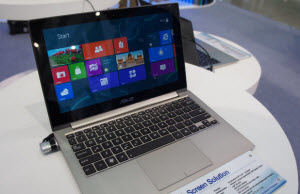 The UX31A upgrades last year's UX31E with a new touchpad and an Intel Ivy Bridge CPU. It rivals other top-rated Ultrabooks in overall performance, and sports a beautiful full HD IPS display with an excellent antiglare filter to reduce annoying reflections.
The UX31A demolished our demanding WorldBench 7 benchmark suite with a score of 150, meaning that it was 50 percent faster than our baseline desktop system. When you factor in thoughtful extras such as an SD Card reader that supports the latest SDXC high-capacity cards, and a USB-to-ethernet adapter, the newest Zenbook prime is a home run.
You can get a 13.3-inch Ultrabook with a 1600-by-900-pixel display, Core i7-3517u processor, and Windows 7 Asus Zenbook Prime UX31A laptop with $1449.
Lenovo IdeaPad Yoga 13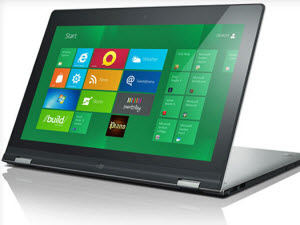 The aptly named Yoga 13 is the most flexible machine we've seen. It bends, swivels, and downward-dogs to perform dual duty as both a Windows 8 tablet and Ultrabook.
The keyboard, trackpad and bezel-less 13-inch multitouch screen are all top-notch and comfortable to use, making Microsoft's new OS easy to navigate by touch, keyboard, or mouse. Lenovo managed to squeeze an Intel Core i5-3317U CPU, 4GB of RAM, and a 128GB SSD into the Yoga, which achieved an overall mark of 60 on our new WorldBench 8 benchmark suite. Whether you need a laptop or a tablet—or maybe just something to prop up and watch a movie on—the economically priced Yoga 13 won't disappoint you.
You need $1099 for a 13-inch Ultrabook with a 1600-by-900-pixel display, a Core i5-3317U processor, and Windows 8.
These are just some of the best laptops of the past 2012. With the increasing development of technologies, a lot more laptops with advanced technologies will come to our life. Just wait for them to come!
Related Articles
comments powered by