Microsoft pushes Windows 8 and Bing to school to take on Google
As part of the actions of pushing into the education market, Microsoft made two big announcements that to bring Windows 8 and its search engine Bing into K-12 school around the US.
Currently, 10 K-12 schools and 24 K-12 school districts around the country have signed up to use Windows 8 operating system, Microsoft proudly revealed this. Microsoft even boasted itself by taking a quote from an official (Chris White) at the Somers Central School District in New York, who said iPads "could only take us so far" and "weren't great in front of the classroom."
The second announcement is an initiative called "Bing for school". Microsoft said Bing for Schools is customized to make Binging a more appropriate experience for children. For instance, it can filter out adult content, ads by default, and prevent students from changing that setting to allow it back in. And Microsoft will include "lesson plans" on the homepages and students or school administrators can also add special learning features and enhance privacy controls.
The following picture is a search result of Bing for Schools: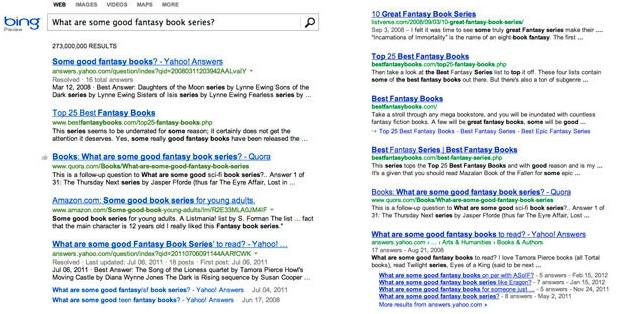 By pushing Bing for School, Microsoft is hoping that it can steal a little piece of the pie of search market which is dominated by Google's search engine as well as in the take a hold in the education market.
The battle is not only between Microsoft and Google, but also Apple. All these big three are chasing after the education market, because in 2009 the government spending in education ranked second, just behind that in healthcare. And according to a government report in 2011, $625 billion is spent annually on K-12 students, about half of the $1.3 trillion spent annually on education.
Let's look at what they have done respectively. Apple was one of the first to design computers specifically for education with the iMac, and recently it focused its effort on the iPad. Google has pushed its Chromebooks as educational tools. And Microsoft, pushes its search engine Bing for school and will also offer substantially discounted Surface RT tablets to educators—a 32 GB Surface RT tablet for $199, for example, versus its standard price of $499.
Microsoft has done a lot of things to promote the "Bing for schools" project. Not only for more convenience and more customization for students users, but also equip the educators Surface RT tablet with a relatively low price.
Further specifics like screenshots of the new experience of Bing search hasn't been released because Microsoft hasn't finalized the details of the Bing for schools program. The company did say, however, that the within the particular school's domain, students can be controlled in their Bing search.
Related Articles
comments powered by