Windows 8 Tablets – a New Market for Hardware Manufacturers
Samsung and several other Intel and Microsoft partners were preparing for an Intel-hosted event at the San Francisco Museum of Modern Art this Thursday (27 September) to showcase upcoming Windows 8 tablets and hybrid laptops that use Intel's dual-core, 1.8GHz System-on-a-Chip (SoC) formerly code named Clover Trail. Hardware manufacturers like Samsung, Hewlett-Packard, Dell, and others are coming out with tablets and hybrid tablet-laptops built around the x86 SoC and running Windows 8, with the intention to win the lion's share of the new tablets market.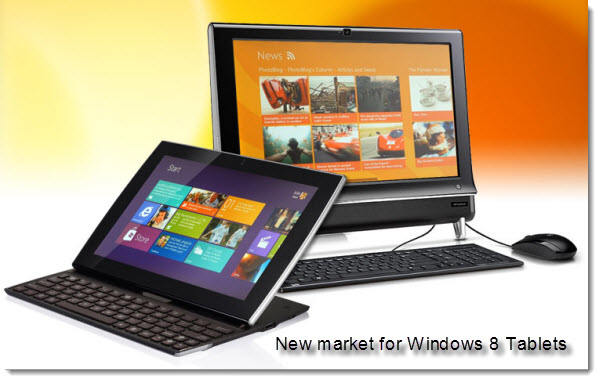 The fresh generation of Atom chips from Intel, which is due to release in the same time with the release of Windows 8 on October 26, provides electronics manufacturers with another chance to compete for the market. Windows 8, Microsoft's next-generation, touch-optimized operating system, is designed to work equally well on both tablets and desktop computers. Offering tablets with detachable keyboards that integrate smartly into a device's design is intended to make this do-over a success, creating devices intended to appeal to both to consumers and business users.
In the event, Samsung demonstrated the latest version of its Slate tablet, a grayish device with a bright touch screen measuring 11.6 inches at the diagonal. It comes with a pressure-sensing stylus called the S-Pen, and will sell with an optional detachable keyboard that uses magnets and latching hardware to stay in place. Unlike most of the devices shown at the event, the Slate had a price and release date: it will be available on October 26, the same day Windows 8 launches, for $749 with the keyboard and $649 without.
The rising Taiwan PC maker Asus displayed the Vivo Tab, along with an optional keyboard containing a battery that can add up to nine hours to the tablet's overall battery life. The tablet, which has an 11.6-inch screen, will also go on sale on October 26. Asus was one of the first to experiment with convertible tablets, with a model called the Eee Pad Transformer, initially released in 2011. Spokeswoman Xi Min Sam said that 80 to 90 percent of people who bought the Transformer tablets bought the detachable keyboard, too, with the intension of extending the functionality of a tablet.
Other products on display included hybrid laptops with detachable tablets like the Acer Iconia W510, Dell Latitude 10, and HP Envy x2, all due out in the Windows 8 release timeframe, as well as a standalone tablet Lenovo called the ThinkPad 2 that could also be released by Oct. 26 and another standalone from ZTE called the V98 that is said to come ready in January.
Analyst said "Tablets from HP and Dell will initially play very well in the enterprise space, a market which Apple is trying hard to penetrate. Intel-based tablets provide a much stronger value proposition than an iPad to enterprise IT, in that to the enterprise, they 'look' like a Windows PC. They're deployed, managed, and have the security that IT is already familiar with".
What do you think of the Windows 8 tablets? Will you pay $650 for a Samsung Wintel tablet powered by Intel's newly unveiled Atom Z2760 chip? You still have time to make a decision. And by October we will know which hardware manufacturer brings us the most surprise and could be the king of Windows 8 tablets.
Related Articles
comments powered by