How to reset Windows XP password ?
There's no reason for losing Windows XP password, it's not your fault. You do enter the right password, but the machine doesn't recognize it any more. Forgetting Windows password occurs many troubling problems, much works waiting for us but we can't enter the computer without password.
Knowing how to reset Windows XP password is quite useful, in this article, I will show you several way on Windows password reset. If you have forgotten Windows XP password or maybe you never know the password as someone has changed it? There's hope, don't miss it.
Scene 1: Forgot user password, but have default administrator .
When we first install Windows XP system, there is a default administrator account with blank password. If you don't reset password before, just follow the tip bellow.
Start system and press F8 key when Windows is starting up. Then select Safe Mode with Command Prompt and enter. Choose Administrator, the default password may be blank if you don't set the default administrator password before. Then you will enter into doc Command as following.
Type "net user Melisa 12345 /add" (Melisa is the locked account name and 123456 is the new password set on this account).Then you will see the Command Completed Successfully.
Restart the system and use Melisa as account name, the password is 123456,log in. Click Start, Control Panel, User account, select Melisa and then you can change the password to what you want.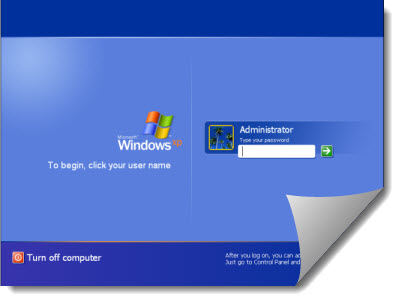 Scene 2: Forgot Administrator password, but have user password
In this situation, log in your user account to reset Windows XP password. First we should know that in Windows XP, passwords stored in the SAM file which located in "C:\WINDOWS\system32\config\SAM". Now you may know how to do. Just change the SAM file as following.
Step 1:Login to a Computer that has Windows XP system which administrator is blank. Copy the SAM file to USB of CD.
Step 2: Turn to your pc and then log in your use account. Insert USB or CD to your computer and then copy the SAM file to C:\WINDOWS\system32\config\SAM to change it.
Step 3: Start the system and then you can log in as Administrator with password blank.
But this method won't 100% work. Just have a try. Or you can use your password reset disk if you have made before, just see following tip.
Scene 3: Only one administrator account, but forgot the password.
If you are in this situation, it will be more difficulty to reset Windows XP password. But take it easy, there are many ways still waiting for you.If you have created password reset disk before, just reset your Windows XP password as following.
Step 1: Start Windows and click your username when you get to the Windows XP logon screen. Type the password wrongly.
Step 2: Press Enter and you will see the error message about "Did you forgot your password?……
Step 3: Click use a password reset disk. The Password Reset Wizard starts. Then follow the instructions and reset a new password.
If you don't have password reset disk, don't worry. I will show an easy one which can help you 100 % reset Windows XP password, works in all of three situation list above. I am sure you will log in your computer soon.
Windows Password Key is a powerful Windows password reset software to help you reset windows password. You need to prepare a bank CD or just 2GB USB Flash drive.
Step 1: Login any available Computer which allows you to download things.
Step 2: Search Windows Password Key and download it from its official website.
Step 3: Install the program in that pc and run it. Burn the ISO image file to CD or USB.
Step 4: Turn to your locked PC and then insert the disk or USB to reset your lost Windows Password. Just follow the instructions, it is very easy to use.
Related Articles
comments powered by