Windows 8.1's Little Changes Bring Huge Improvement
Windows 8 was Microsoft's milestone step toward a new era of touchscreen computing. Mircosoft has made Windows 8.1 consumer and enterprise previews officially available to download. This update fixes some of the annoyances, and adds some interesting new features. We've rounded up its release date, new features and price.
When Windows 8.1 will be Released?
The software giant has confirmed that Windows 8.1 will be launched at 4am PDT (12 noon GMT) on the 17 October and will be available through the Windows Store as a free download. Microsoft also confirmed that new devices running Windows 8.1 will go on sale beginning on18 October.
What are Windows 8.1 Features that Make it Disable?
Better support smaller tablets: The start screen adapts to smaller form factors to work better in portrait mode. The virtual keyboard has been redesigned to suggest words as you type. Windows 8.1 recognizes gestures, letting you pick the word you want by stroking the space bar.
Start button: The Start button returns to the desktop, more or less. If you're in Desktop mode – the part of Windows 8.1 which looks and works like earlier Windows, the Taskbar will sport a Windows logo where Start button has lived. However, Microsoft isn't completely rolling back Windows 8's removal of the old approach to Start. It's a lot less jarring than before, making the new Start screen feel like less of an intruder on desktop PCs.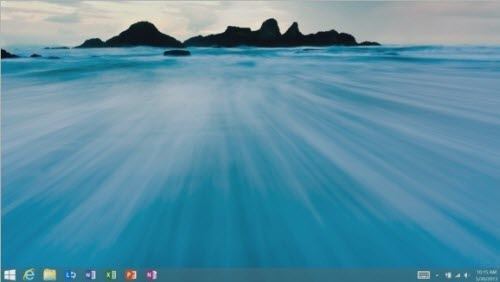 Directly Boot to Desktop: Windows 8.1 allows you to bypass the Start Screen. The new Start Screen has proven controversial, with many users bemoaning the fact that they can't skip straight to the more mouse-and-keyboard friendly desktop of old.
More Lock Screen and Start Screen Options: Besides picture password, Windows 8.1 allows multiple images to be pulled from the local storage or SkyDrive galleries, device's camera, or answer Skype calls. The Start screen now has more tile size and background colors, as well.
New Apps: Windows 8.1 includes a new photo editing tool built directly into the OS. Bin Food & Drink features recipes and shopping lists and uses the webcam to recognize gestures to flip through pages. Xbox Music has been redesigned, featuring free music streaming and a personalized radio player that creates playlists based on your preferences. There will be a new Mail app in the final version. It will feature the same "Sweep" tool from Outlook.com that lets you automatically clean up newsletters and other messages.
Aggregated Search: Bing now powers an aggregated search system from the web, your files, SkyDrive and elsewhere. Overall, the entire search and All Apps View experience has been significantly rejigged to help mouse-and-keyboard users.
Snap Views and better multi-monitor: You can resize apps to any size you want, share the screen between two apps, or have up to three apps on each screen if you have multiple displays connected. You can have different Windows Store apps running on all the displays at the same time and Start Screen can stay open on one monitor.
The Windows Store: The new Windows Store UI is cleaner and has larger images of the apps, making it easier for you to find new and interesting apps. Currently installed apps can also auto-update in the background.
Save direct to SkyDrive, plus offline files: PSkyDrive will be integrated right into Explorer. Accessing your SkyDrive documents from the Desktop is very easy and surprisingly slick. More files and settings will now be synced/backed up by default, too.
No need the Desktop Control Panel: For touchscreen users, one of the biggest changes in Windows 8.1 is a massively beefed up Metro Control Panel. No longer will you have to fall back to the Desktop Control Panel to change a large number of system settings!
3D printing support: Windows 8.1 now has a 3D printing API, allowing you to print directly to 3D printers from the Charms bar.
Windows 8.1 Preview is available to download now. Some of you may encounter the problem like forgetting local account password in Windows 8.1. If this is the case, you can resort to Windows Password Recovery which can reset lost password within minutes.
Related Articles
comments powered by