Top 5 to recover Windows Vista password
In this busy sociaty, it's possible for you to forget Windows vista password, especially after you have just created a new one, or you haven't used the computer for a long time, or maybe someone has changed your password. When that happens, you need to recover Windows password. But how to do this easy and fast? There are top 5 options for you.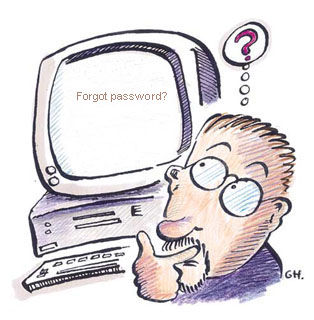 Using a program to automatically recover your lost vista password.
Many people said the only way to reset your lost vista password is just to re-install the systems. However, this is not the better one. The best way for you is finding a program to help you recover Windows password.
1. Ophcrack.
Ophcrack is an open source program that recovers passwords in a free way. Which is based on a time-memory trade-off using rainbow tables done by the inventors of the method. Just log in to a computer and downlod the tool from the website and follow instructions on how to erase windows vista password.
Ophcrack will locate the users on your Windows system and begin cracking their passwords. The process is automatic - you don't usually need to type or click anything. When the passwords are displayed on screen, write them down.
On most computers, Ophcrack can crack most passwords within a few minutes which means it doesn't guarantee your password can be 100% recovered. It's just 99% , anyhow, just have a try. The disvantage of the program is that, you may take a lot of time to download as it is very big.
2. Offline NT Password& Registry Editor
Works differently than most password recovery programs, this one just erases your Windows password instead of recovering it.
You need to burn CD created with the Offiline NT Password & Registry Editor ISO file, just like Ophcrack. For a few time, you can log in to your Windows account without entering a password at all.
3. Windows Password Key
Windows Password Key is designed by PasswordSeeker, A leading company in Computer software. It is the fastest, easiest to use tool to reset lost administrator and user passwords on any Windows system without reformatting or reinstalling your system.
This powerful Windows password recovery can help you recover windows vista password in a few minuters, unlike Ophcrack and Offline NT Password& Registry Editor, it is 100% recovery rate. Until now, there are over 8000000 satisfied users around the world.
In this method, you also need to burn the ISO image to your blank CD/DVD or just a USB Flash drive. And then insert to your locked PC to recover the password. I have persionaly it with Vista Home Premium and Uitimate, it works perfectly to reset the password.
Through manually operation to recover Windows vista password
4. Windows vista password reset disk.
Windows Vista provides another method to recover forgotten password by using "Reset Disk". If you created a Password Reset Disk before, you can use that disk to get past password in windows home Vista with the new password as follows.
Start Windows and click your username when you get to the Windows logon screen. Type the password wrongly. Click use a password reset disk.The Password Reset Wizard starts.Then follow the instructions and reset a new password.
But this method require you have create a password reset disk before losing Windows Vista password. You can create one as the below steps.
1. Single-click Start menu, Control Panel, and User Accounts.
2. Click your user account name.
3. Under Related Tasks on the left, click "Prevent forgotten password" to launch the wizard.
5. Using command prompt to enter Safe Mode.
If you don't reset the default admin password before, you can recover vista password through this way.
Press F8 when your Windows Vista PC is booting. You will come to the Advanced Boot Options. Then choose Safe Mode with Command Prompt and enter safe mode with the default admin account.Type "net user" and press Enter. The command prompt will show you all accounts on the Windows Vista PC. Type "net user Zhuismile 888" (Zhuismile is the locked admin account's name and 888 is the new password) and press Enter.
Now you have successfully created a new password on the locked admin account.
Related Articles
comments powered by