Top 6 Antivirus Software to Keep Viruses Away on Windows 10 - 2019
Keeping your computer protected from viruses and spyware is extremely important. There are a lost of antivirus software available in the market for Windows 10 PCs and here we have listed the best free antivirus for Windows 10. Once you have installed any of these software on your PC, you should be able to keep your PC protected from any kind of viruses that can harm your data and files. Let's check out these Windows 10 virus protection software:
1. Kaspersky Free Antivirus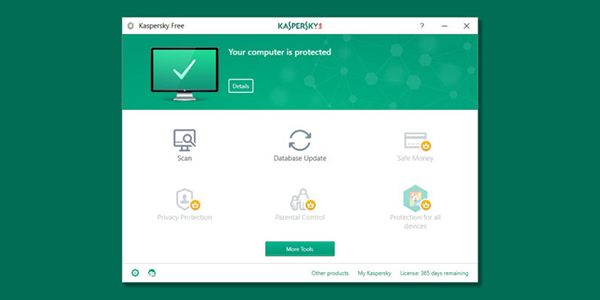 Kaspersky is a known name in the antivirus software industry as it has developed some of the best software that help you keep your PCs protected from harmful viruses. Kaspersky Free Antivirus makes sure the virus files can't be executed on your computer. In addition to that, it also blocks malware and spyware so that your PC is completely safe and secure from any threats.
Some of the features of Kaspersky Free Antivirus are:
It blocks dangerous files, websites, and more on your PC
It ensures your sensitive information is protected
It makes sure your PC doesn't slow down when the software is running
The price of the software is nothing. You heard it right. It is available for free to download and use on your PC.
The software can be downloaded from its official website: https://usa.kaspersky.com/free-antivirus
2. Bitdefender Antivirus Plus
Bitdefender Antivirus Plus comes with unbeatable cyber-threats detection technology that ensures your computer is always safe and secure from any potential threats. Having been in the industry for decades, Bitdefender will make sure to catch all viruses on your PC and help you get rid of them as soon as possible. It will also help prevent such viruses from infecting your PC again.
Here are some of the features that Bitdefender Antivirus Plus has to offer:
It can detect even those threats that cannot be detected by other antivirus software
It preserves your PC speed and doesn't use a lot of resources
It also protects your PC from ransomware
Offers support after you have purchased the product
While the software doesn't come for free and carries a fee of $39.99 a year, it's worth every penny as it really keeps your PC secure from viruses.
Download Link: https://usa.kaspersky.com/downloads/thank-you/free-antivirus-download
3. McAfee AntiVirus Plus
McAfee AntiVirus Plus is one of the best antivirus software for Windows 10 and has won several awards in the security industry. Not only does it help you keep your PC virus-free but it also advises you of any harmful websites using its SafeBrowsing method. It prevents dangerous downloads and phishing attacks on your PC.
Some of the features that the McAfee AntiVirus Plus offers are:
It helps you block unwanted programs, virus, malware, spyware, and more on your PC
It warns you about risky websites, so you don't fall into any traps
Comes with phone, chat, and email support
Works on multiple devices and not just on your PC
For a 10-device license, the software costs $54.99 a year fee. If you really care for your PC, you should get the software at its price.
Download Link: https://www.mcafee.com/consumer/en-us/store/m0/index.html
4. Webroot SecureAnywhere Antivirus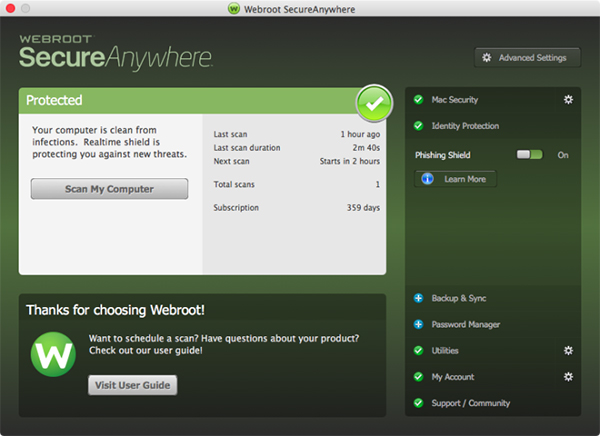 What makes Webroot SecureAnywhere Antivirus stand out of the crowd is its ability to help you secure your PC while being lightweight on your system resources. It relies on cloud for scanning your computer and thus allows you to retain the speed and resources on your computer. The software also helps rollback the ransomware attacks which may be helpful to those of you who are already a victim of these attacks.
Webroot SecureAnywhere Antivirus offers the following features to its users:
It protects your identity from being stolen
Secures your browsing sessions and provides real-time anti-phishing protection
Offers lightning fast virus scans
Also protects your webcam
If you have made your mind to get the software, it will set you back for $29.99 for a year. It's worth paying the fee if you're really concerned about the security of your data.
Download Link: https://www.webroot.com/us/en/home/products/av
5. ESET NOD32 Antivirus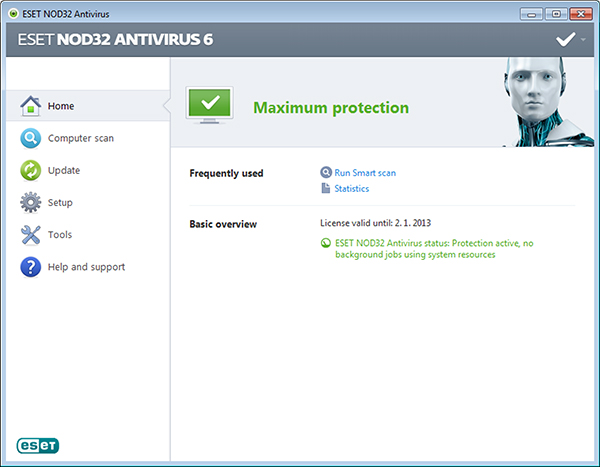 Viruses can be anywhere and sometimes they are also resting in the firmware of your PC. ESET NOD32 Antivirus helps you detect those viruses living in the firmware of your device and helps you get rid of them from your PC. With its intelligent scanning methods, it ensures nothing is left out when you scan your PC for any viruses.
Here is what the ESET NOD32 Antivirus has to offer to its users:
Not only viruses but it protects you from malware, spyware, rootkits, and more
It provides simple and reliable protection to your PC
It makes sure your the speed of your PC is retained while the software is running
The antivirus can be downloaded and used for free for 30 days. After that, you will be required to pay a fee of $39.99 a year.
Download Link: https://www.eset.com/us/home/antivirus/
6. AVG AntiVirus Free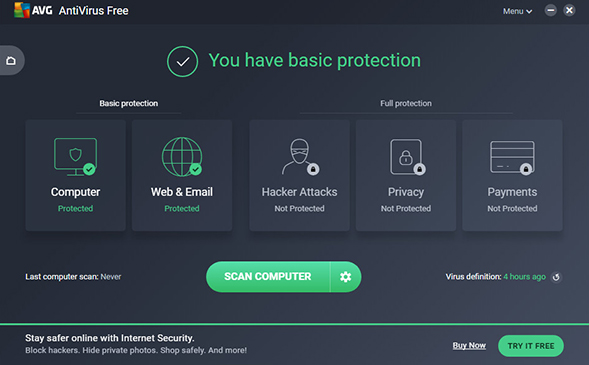 AVG AntiVirus Free has got an update recently which makes the software much easier to use and gives a refreshing new look that it did not have before. It protects your computer, your emails and browsing sessions, and even protects your privacy. It also offers real-time security updates on your computer.
You can expect the following features from this free antivirus:
It stops viruses, malware, spyware, ransomware, and more
Prevents downloading of suspicious files and email attachments
It also offers option to scan your PC for performance
As mentioned before, it is a free antivirus for Windows 10 and works on other versions of Windows as well.
Download Link: http://download.cnet.com/avg-antivirus-free-2014/3000-2239_4-10320142.html?part=dl-avg_free_ww&subj=es&lang=en
With viruses being the first issue for PC users, the second common issue amongst the Windows users is them forgetting passwords for their user accounts. When a password is forgotten, you cannot log-in to your account and thus cannot access any of your files. Fortunately, you have a tool called 4WinKey that helps you to recover the password for your Windows user account on Windows 10. Give it a try and you'll be amazed how greatly it works for you.
Now you know where to look for antivirus free download for Windows 10. Not only free but you also have some premium options in case you want to go for them. We hope this guide helps you choose a good antivirus software for your Windows 10 PC.
Free Download
Buy Now($19.95)
Related Articles
comments powered by