How to Get the Classic Start Menu Back on Windows 10 and 8 with Start Menu 8
Microsoft adopted a modern UI with Start Menu since Windows 8. If you find the Start Menu could not meet your expectation, you are not alone. Want to bring back the old start menu to Windows 10 and 8? Look no further, this is the perfect place to find your answer.
Steps to Bring Back the Start Menu (and Button) Back to Windows 8.1/8/10 with Start Menu 8
Follow my steps, I will explain how do I get the real Start Menu back on Windows 8. To make this happen, I need a freeware –Start Menu 8 from IObit. Start Menu 8 is an easy and user-friendly option to bring back the Start Menu you have always known and loved. Moreover, it enables you to use some of its features to further customize your Start Menu.
| | |
| --- | --- |
| Price | Free |
| Supported OS | Windows XP/Vista/7/8/8.1/10 |
| Size | 9.62MB |
| Update | Aug. 24, 2016 (Version 3.1.0) |
Step 1. Install Start Menu 8
The installation is as simple a child's play, as all you are required is to destination folder. Upon installation, you might be recommended to install some Windows SystemCare utility, an antivirus program. You can skip this if you do not need. The utility I currently use is Windows Care Genius, a tool that never fails to secure and optimize my Windows PC.
Step 2. Get the classic Start Menu back in Windows 10/8/8.1
Launch Start Menu 8 and you will find a pretty initiative interface with 6 options on the left. Go to StyleWindows Style. You could set the menu to Windows 7 Style or Flat Style. You can adjust the transparency as well.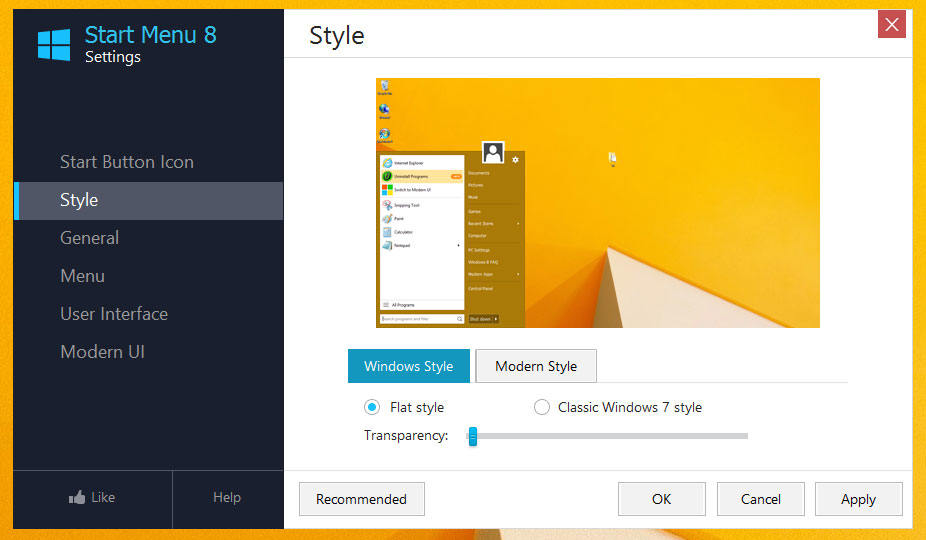 Step 3. Customize Windows 10/8.1/8 Start Menu
The other 5 options can be used for other customizations like select or add your Windows account picture, set hotkeys, choose frequently used programs and more.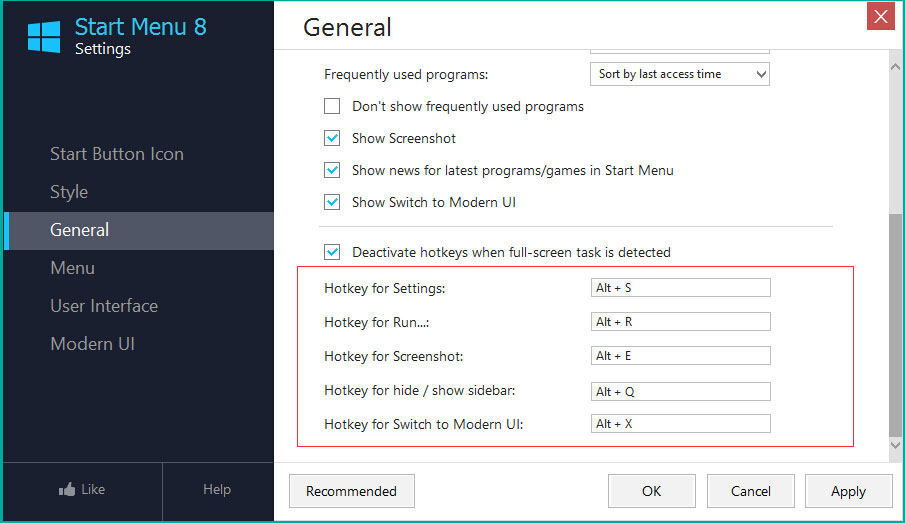 When you're done with the settings, wait for one minute. It will take some time before the settings take effect.
Alternatives to Start Menu 8
Some alternative programs that can help you in replacing the Metro Interface are – Classic Shell, Power8, Start10, and StartIsBack. If you want to know how tobring the Windows 7 Start Menu inWindows 10 and 8 with Classic Shell and other programs, check the post: Best5 Alternative Start Menus for Windows 10.
comments powered by