Have No Password Reset Disk When You Forget Login Password in Windows 10
"I carelessly forgot the password to login my Windows 10 PC after haven't used for a long time. Now I want to reset the password but don't have the password reset disk. Can anyone help me reset forgotten Windows10 login password without password reset disk?"
Usually, a Windows password reset disk can help you easily reset forgotten password. However, most of times, you are facing the dilemma that forgot the password and have no password reset disk. Here I recommend you a useful Windows Password Key to you to reset your Windows 10 login password without password reset disk.
Firstly, download Windows Password Key and install it into an available computer.
Part 1: Create a Windows 10 Password Reset Disk
Windows Password Key enables you to make a Windows 10 password reset disk even after you already forgot login password.
Step 1: Launch Windows Password Key on your PC.
Step 2: Inset a USB flash disk or a CD/DVD into your computer, click the "Burn"button to burn a password reset disk.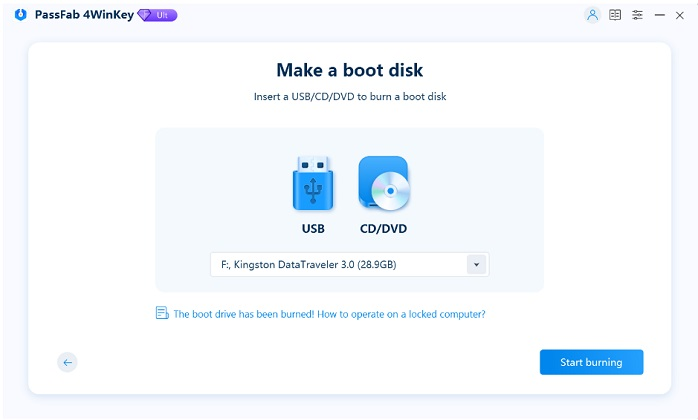 Part 2: Reset Your Forgotten Windows 10 Password
After you created password reset disk, Windows Password Key offers 3 solutions to solve your password issues. Insert the bootable disk into your locked computer; set the bootable disk as the first boot device in BIOS so that your computer will boot into the password reset procedure.
Solution 1: Reset or Remove the Password of the Login Account

After your PC boots from the disk, you will see the working interface of this software, choose your system and click next, the login account will be list out. Choose the account you forget the login password, check the "Change Windows Password" and "Next", input a new password, then eject the disk and restart your computer, you can login your computer by the new password.


Solution 2: Create a New Admin Account to Login System

With create new admin account function; you can also create a new admin account to login your system with Administrator privilege. Click "Create a new admin account", input the account name and password, restart your computer, you can login with the new account. It is useful when you need to login your system and even easier than the Account Management in Windows Control Panel.


Solution 3: Remove the Locked Login Account

If you do not need the locked account anymore, you can click the "Remove an admin account", next to confirm, then restart your computer, the locked account will disappear in the account list.


With this powerful tool, you can reset login password even if you have no password reset disk, and you will never worry about forgetting your Windows login password.
Related Articles
comments powered by