2 Ways to Automatically Bypass Windows 10 Login Screen
"How can I skip the login screen when booting into Windows 10? It is bad enough that it DEMANDS a login on a home personal PC. "
Normally, for the sake of computer and data security, Windows 10 system required a password to login. But in some occasions, when you are the only one who can access this computeror it's for home use, you may need the computer automatically bypass Windows 10 login screen.
By skipping Windows 10 login screen, you have no need to worry about forget the login password and it also save several seconds while the system startup. Here are 2 easily solutions that could help you disable Windows 10 welcome/login screen and automatically enter desktop. Follow me and I will show you the detailed tutorials.
Firstly, you should set the Windows 10 system login password to blank, or it will freeze at the login screen. Forgot or unable to remove the login password? Windows Password Key helps you to do that.
Solution 1: Automatically Bypass Windows 10 Login Screen
Windows system hide the login settings in Control Panel, you have to change settings in user account to do that.
Right click on "Menu" icon and choose "Run" app, then input "netplwiz" and hit "Enter", you will see a user account dialog.
In User tab, uncheck the option in front of "User must enter a password to use this computer". After you restart the computer, it will skip the Windows 10 login screen and directly get into system.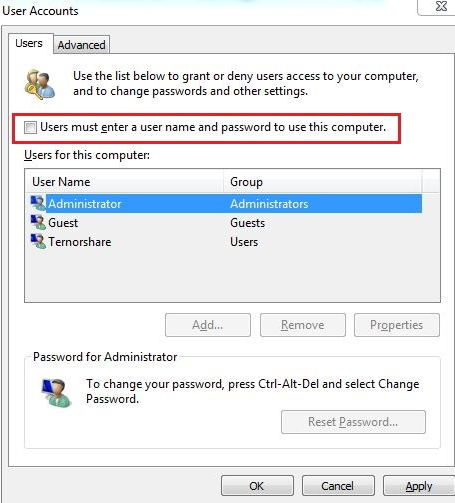 Solution 2: Disable Windows 10 Welcome Screen in Group Policy Editor
Windows Local Group Policy Editor is a powerful built-in program that could help you manage all of the settings in your Windows 10 system.
In Windows 10 Run box, tap in "gpedit.msc" and hit "Enter", the Group Policy Editor will popup. In left panel, please navigate to: Computer Configuration >Administrative Templates > System > Logon. Then double-click the "Don't display the Getting Started welcome screen at logon" in right window.




In popup window, choose "Disable" to disable Windows 10 welcome screen and click OK to continue, next time you restart the computer, your computer will automatically bypass Windows 10 login screen.


Everything done, you can enjoy a directly and fast Windows 10 startup. Next time if you need to protect the computer from others access, just setup a password, it will still skip the Windows 10 welcome screen.
Read More Win 10 Tips: Top 4 Free Windows 10 Password Recovery/Reset Tool
Related Articles
comments powered by