Top 5 Methods to Fix the Registry That Has Got Corrupt in Windows 10
If the Windows Registry has gone corrupted on your PC and you want to perform a Windows 10 registry repair, you have come to the right place. There are various reasons that cause the registry to go corrupt and if yours has been affected by any of the possible reasons, you may want to fix it as soon as possible so that your PC is back up and running.
Let's learn to fix registry errors Windows 10 using the following guide:
Method 1. Repair Registry with the SFC Command
SFC stands for System File Checker and it allows you to check for corrupted files and fix them on your Windows 10 computer. The Windows Registry can also be repaired using this tool and the following should guide you on how to do that on your PC:

● Open a command prompt window with admin privileges by right-clicking on the WinX menu and selecting the option that says Command Prompt (Admin).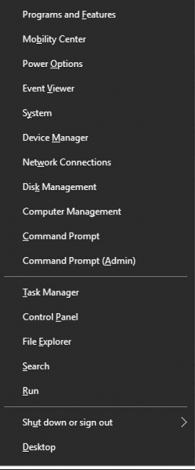 ● When the command prompt window opens, type in the following command and hit Enter.
sfc /scannow

The tool should scan your PC for any corrupted files and data and will offer you the option to fix them all using the same command prompt window. It is certainly the best registry fix Windows 10.
Method 2. Fix Registry with the DISM command
If you have tried the SFC method to fix corrupt registry on your Windows 10 PC but it didn't work for you, you may want to give a try to the DISM command which should help you fix the registry on your PC.
This command is similar in many ways to the SFC command and the following shows how you can run this command on your PC to fix the issue.
● Right-click on the Start Menu on your PC and select Command Prompt (Admin) to open a command prompt window with admin rights.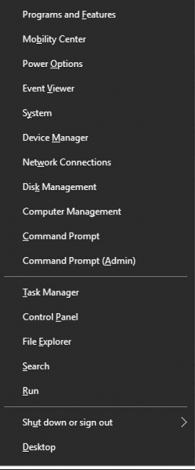 ● When the command prompt window opens, type in the following command and press Enter on your keyboard.
DISM /Online /Cleanup-Image /ScanHealth

Wait while the utility scans and fixes issues on your computer. When it's done, you will find that it has fixed your Windows Registry issues as well.
Method 3. Reset this PC
While this method is not highly recommended, it is something you need to do when the other methods do not work. You can reset your PC and this will reset your Windows Registry as well. What that means is that it will remove all the corrupted entries from the registry letting you have a smooth running PC.
● Open the Settings app on your PC and click on the option that says Update & security.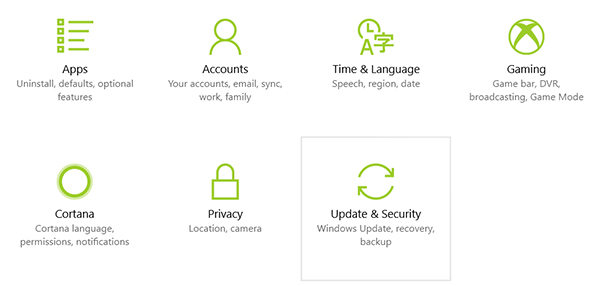 ● When you are on the Update & security screen, choose the option that says Recovery from the left-hand side panel. On the right-hand side, you will find a section titled Reset this PC. Beneath the section is a button saying Get started. Click on it to begin resetting your Windows 10 PC.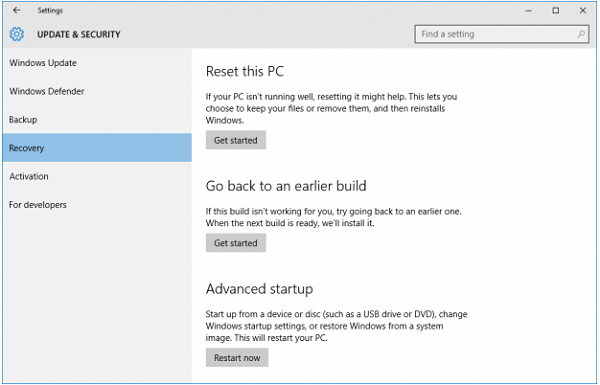 Instructions on what to do next will be shown on your screen. Follow them and you will have reset your PC in no time. This should repair the corrupt Windows Registry on your PC.
Method 4. Reinstall Windows 10
If there are any files causing issues with the registry and they keep on trying to corrupt your registry, you will be required to reinstall the entire Windows 10 operating system on your computer. This may lead to loss of data but you can always backup the data you need.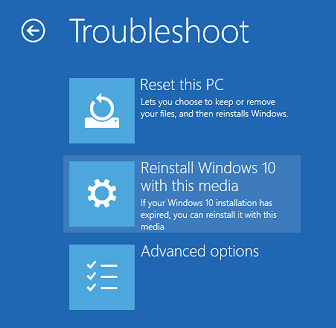 It's fairly easy to reinstall Windows 10 on your PC. Insert a bootable Windows 10 disk to your PC and boot your PC from it. Follow the on-screen instructions and a fresh copy of Windows 10 will be installed on your computer. However it may take a fair amount of time since it will re-configure your entire PC.
Method 5. Fix Corrupt Windows 10 Registry with Professional Registry Repair Tool
Nothing can help you as much as a professional registry repair tool can to fix the registry on your PC. There is a small software called Windows Boot Genius that comes preloaded with tons of features to help you fix issues on your PC including a feature that allows repairing the registry on your computer. It's one of the best options you can find in your search for Windows repair tool Windows 10.
With the tool mentioned above, you can restore registry Windows 10 and that will fix the corrupt registry issue for you. Let's see how you can use the tool to fix registry on your PC:
Buy Now($19.95)
● Download and run the software on your PC. Insert a blank CD/DVD/USB to your disc drive, select it in the software, and click on the Burn button to burn the program onto your disc.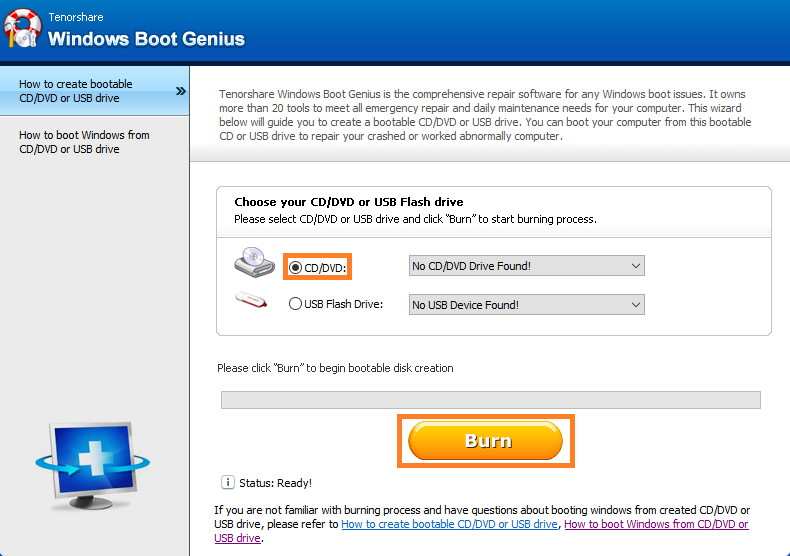 ● Boot your PC from the burned media to launch the program. Then, select Windows Rescue option from the top menu bar and click on Registry Recovery in the left-hand side panel.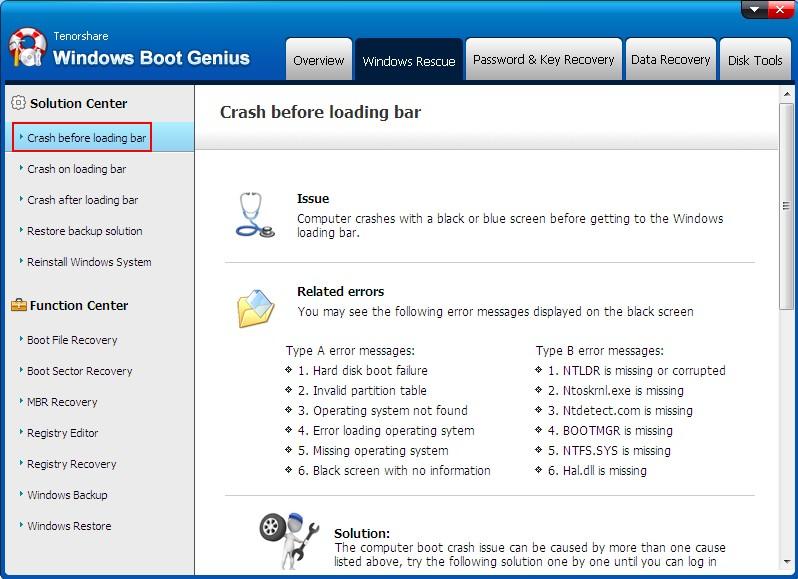 You will see instructions on how to fix the registry issue on your PC in the software. Follow the instructions and your issue should be fixed.
With the five methods shown above, you should definitely be able to fix a corrupt Windows Registry on your Windows 10 PC. In case the built-in options don't work for you, you can use the Windows Boot Genius as a third-party option to fix the issue.
Buy Now($19.95)
Related Articles
comments powered by