How to Fix Windows 10 Settings Does Not Launch 2017
"Windows 10 Settings not starting! Everything went well on the Win10 installation, but when I go to access the settings tab in the start menu, it just flashes briefly and then disappears. Everything else seems to work, any solutions?"
Can't launch Settings on Windows 10 has been discussed a lot for a long time. Some users complained that when they clicked on this feature, it crashes and freezes. Some people also said Settings not working on computer and redirected to the Windows store once launched it. Luckily here are we've gathered 5 useful solutions to help you fix Settings app not opening or working on Windows 10.
1. Launch Settings Using Keyboard
When cannot access PC Settings on Windows 10 after clicking the icon from the Start Menu, you can try to use Windows key and I key from the keyboard to open it. This worked for some users according to their feedback.
2. Try Microsoft Troubleshooter
Microsoft has been aware of this issue and classified it as emerging issue 67758. They also released the troubleshooter to help users get this problem fixed in a safe way. You can download it from Microsoft and then follow the steps to proceed.
Run the troubleshooter and click "Next".




Then you'll see a screen saying "Fix or work around emerging issue 67758", click "Next" to go on.




The tool will start scanning computer system and identify if any issues are found. When the scanning completes, follow the instructions fix all settings not opening on Windows 10 completely.
3. Install Updates
Microsoft releases new updates for Windows 10 to fix bugs from time to time. Make sure you have installed the latest updates when Settings not loading on Windows 10. The update does not restore Settings its already missing, but install the updates after running troubleshooter is an effective way to prevent this issue from happening again.
4. Add a New Admin Account
Use another admin account is also an alternative way to go when you cannot open PC Settings on Windows 10. Click "Start" and type "lusrmgr.msc". Open Microsoft Common Console Document. Select "users" and right click it, choose "add new user".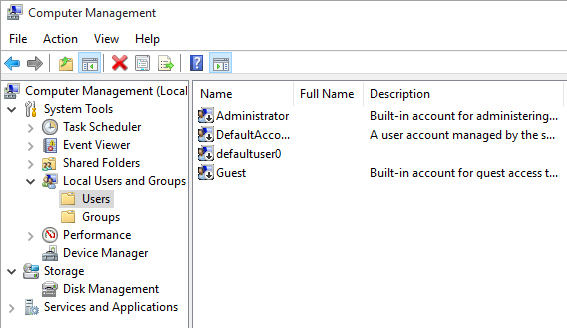 Alternatively, you can press "Ctrl + Alt + Del" and select "Sign out" to sign out of your account. Then sign in with the new account.
5. Reset Windows 10
Well, if none of the above methods worked for you, it's time to do a reinstallation on your Windows 10 computer. Remember to back up your current files before resetting. Check how to reset Windows 10 to factory settings.
Tips: If you forgot Windows 10 login password and have no previous reset disk, free to try Windows Password Key, professional password cracking and resetting tool to help you get access to your computer within minutes.
Free Download
The Bottom Line
This article has showed you how to fix windows 10 settings not opening with detailed steps. I do hope you have restored your Settings app back to computer successfully. If you have any further questions or enquiries, don't hesitate to contact us.
Free Download
Buy Now($29.95)
Related Articles
comments powered by