How to Recover Windows 10/8.1/8 Lost Password on UEFI-based Asus Computer
Forgot Windows 10 password and can't log in your UEFI-based ASUS computer? Want to unlock the Windows 8 administrator account without resetting your UEFI-based Asus PC to factory settings?
If you've bought an Asus computer with pre-installed UEFI boot mode, you'll find that you can't get it to boot from a Live CD as usual. That is because most of Windows computers use a new UEFI BIOS rather than the traditional BIOS. But don't worry, in this tutorial we'll show you how to easily recover lost Windows 10/8.1/8 password for UEFI-based Asus computer.
What Is UEFI-based Computer?
UEFI is short for "Unified Extensible Firmware Interface". It's an advanced interface standard of firmware for operating system compared to legacy BIOS, such as it supports fast PC startup, bootable GPT hard drive, larger capacity more than 2T etc. Almost all recent PCs are EFI/UEFI.
To specify if a computer is in UEFI mode, you can make use of the Windows Disk Management tool.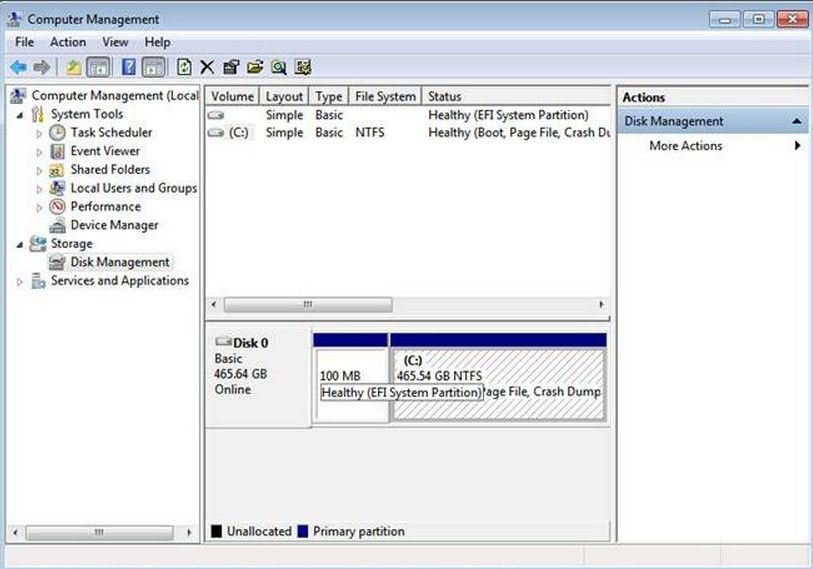 If the type of the hard drive where system partition resides is GPT, like the above picture shows (EFI System Partition), your computer is in UEFI mode. If it is MBR, your computer is the traditional BIOS mode
How to Recover Windows 10/8.1/8 Lost Password on UEFI-based Asus Computer
Windows Password Key is the professional PC password recovery software to find back Windows 10/8.1/8 lost password on UEFI-based Asus computer. The Windows password recovery process will be finished with no data loss or file damage at a fast speed. This tool supports to get back lost administrator passwords, user login passwords, Microsoft account password and etc.
Now take a look at the tutorial of how to perform Windows password recovery on UEFI-based Asus computer step by step.
Step 1: Download the program in any accessible PC (Not UEFI-based Asus computer). Then run the program and select Windows Password Key Enterprise to launch automatically.
Step 2: Select "USB flash drive" and specify the USB flash drive burning drive from the pull-down list as well as insert a blank USB flash drive. Click Burn button. Then click Yes to go on burning. Then Windows Password Key extracts the ISO image and copies the necessary files on a USB flash drive.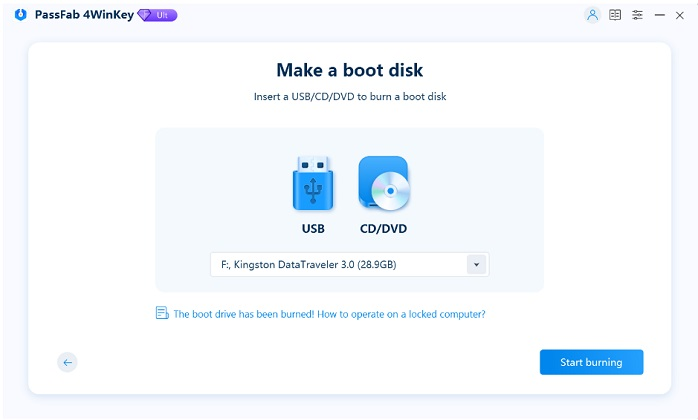 Step 3: Insert newly created USB flash drive into your Asus computer and set the BIOS to boot from USB.
1. Turn on Asus computer. As soon as Asus logo appears, immediately press Del/F2 to enter BIOS setup.
2. Select Boot tab, and press CSM (Compatibility Support Module) under Setup Mode and enable it.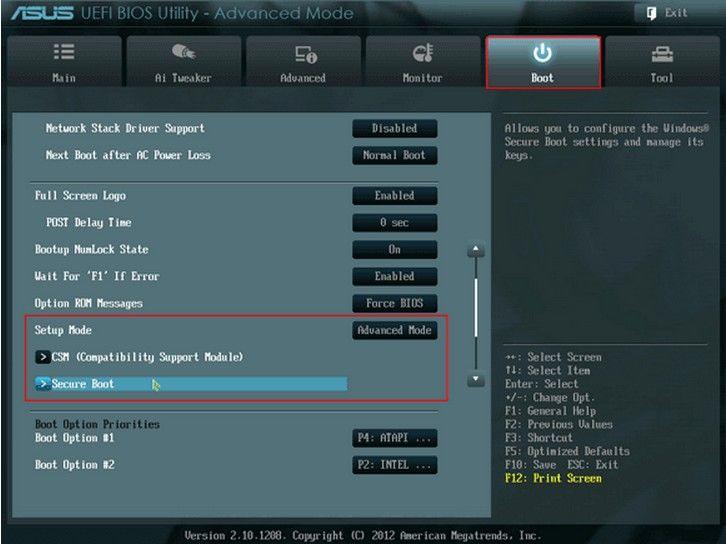 3. Next to it, change Boot Device Control to UEFI and Legacy.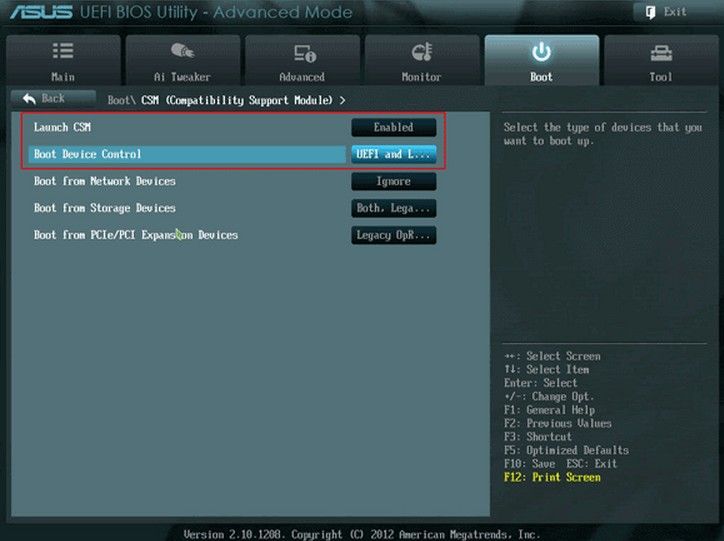 4. Turn back to Setup mode and select Secure Boot to disable it. Save changes and exit BIOS setup.
5. Power off your Asus computer and turn it on again. Quickly press ESC key to access Boot Menu. Choose your inserted USB drive and press Enter.

Or press F2 key to enter BIOS setup again, and set bootable USB drive as the first boot option.
Step 4: After the Asus computer successfully boots from the USB drive, Windows Password Key will open up and displays all of local user accounts and Microsoft account on your Asus computer. Select the user account you want to recover password then click Remove Windows Password and click to move on the next step.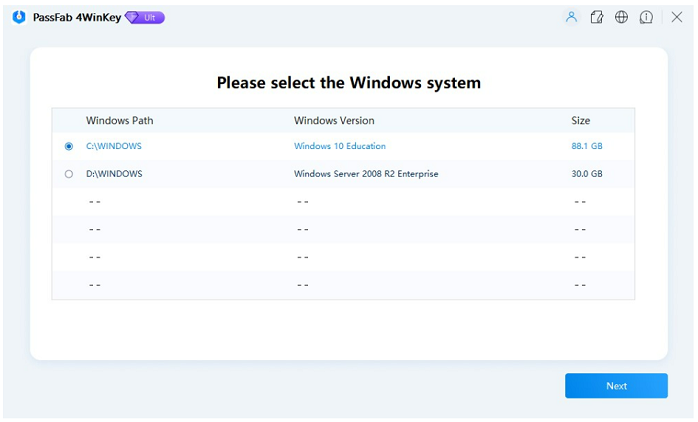 Step 5: Now, your Windows account name and password will list on the interface. Congratulations you successfully recover your lost Windows password on UEFI-based Asus computer.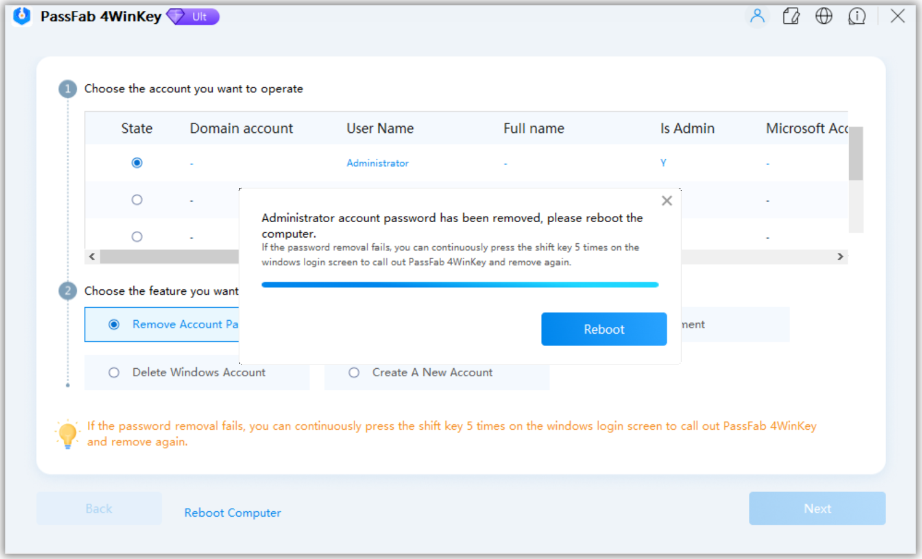 Tips: This tool is equipped with other 3 functions: Change Windows Password, Remove an admin account, and Create a new admin account. For more detailed steps, you can view the guide.
That's all. After all these steps, you will successfully recover lost password on UEFI-based Asus computer and then get access to your files on Asus computer.
Related Articles
comments powered by