Locked out of Windows 10 and No internet Access to Reset password
Problems:
"Hi, guys. Unfortunately, I locked out of Windows 10 and no internet access to reset password. I cannot figure out how to access the computer without password, and now I am wondering how to reset the password. Can you help me? "
Locked out of Windows 10 and cannot log in to your PC? And worse still, there is no internet access to reset password. Have you met such a problem? How did you solve it?
Solution:
As we know, Windows 10 operating system provides several ways to reset password, for example, pin code, another Admin account and Microsoft MSN account which allows you to create a Pin code then to reset password. But if these methods are not available, how to reset Windows password ? Here is the solution. When you cannot find any way to login to your PC, the best method is using the third-party software to reset your forgotten Windows 10 password offline.
In this article we will show you a professional password reset tool to reset Windows 10 password easily. Here we go.
What Will You Need?
1. A blank CD/DVD
2. Windows Password Key
Windows Password Key is a simple yet efficient Windows password reset tool. With this tool, you can simply burn a boot Windows password reset CD/DVD on PC to bypass your forgotten local administrator, domain administrator and other user passwords for Windows 10/8.1/8/7/XP/Vista system.
How to Reset Password When Locked Out of Windows 10 and No Internet Access
First of all, free download Windows Password Key Professioal and install it to your PC.
Step 1: Launch the program and burn a bootable CD/DVD/USB with the default ISO image
Note: There are 2 options for you to create a bootable CD/DVD/USB as the Windows Password Reset Disk: default one and a new one. Here we take the default ISO image for example.
Step 2: Alternatively choose "CD/DVD/USB" and insert CD/DVD or USB drive. Click "Burn" button to move on. After that, eject your CD/DVD/USB when it completes.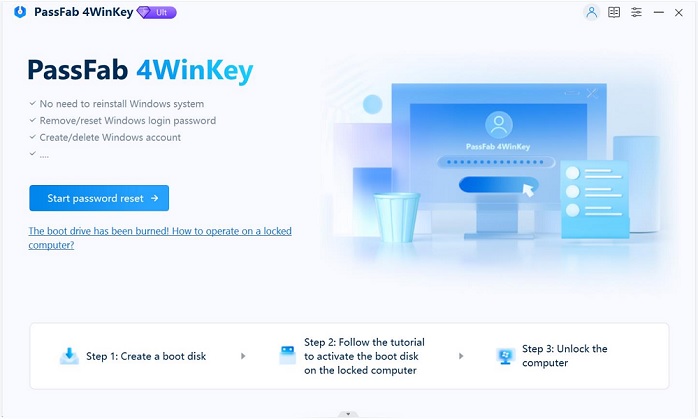 Step 3. Insert newly created CD into your PC and reboot. Later you are supposed to press "F12" to enter and set your BIOS setup. If you had problem with setting BIOS, you could visit BIOS Settings for CD/DVD.
Step 4. Type its number of protected account to choose the user whose password you want to reset and press "Enter".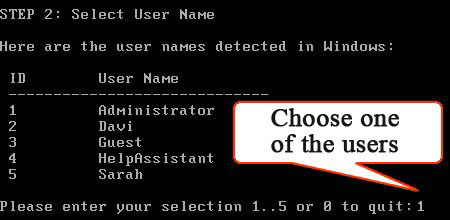 Step 5. Type "y" to confirm your operation. After that, you will be asked: 'Reset password for another account? (y/n)'. Type "y" to reset password for another account or type "n" to exit. Eject CD/DVD and restart your PC. Now you can log in your computer without new password.

Windows Password Key is really the best choice when you locked out of windows 10 with no internet to reset password. It allows you to recover or reset various passwords in an easy, fast and safe manner. Just get a free one and have a try!
Related Articles
comments powered by