Top 2 Options to Retrieve Windows 10 User Account Login Password
It is known that we always log in our Windows 10 computer by crossing Microsoft account or Admin account. If you forgot the login password, you will be unfortunately locked out of your Windows 10 desktop/laptop. Quite many of my friends complained they are not able to find some effective options to retrieve/reset Windows 10 user login password they forgot without disc/disk. So here I will provide top 2 options for those who get confused of how to change Windows 10 user account login password.
Option 1: Create a New User Account Login Password in Windows 10 with Command
Option 2: The Best Way for Windows 10 User Account Login Password Reset
Option 1: Create a New User Account Login Password in Windows 10 with Command
Wondering how to recover your forgotten login password for local user password and get access your Windows 10 computer? Just follow the steps below to bypass lost Windows 10 Admin password.
1. Burn a DVD/CD/USB in a normal computer and insert it into your attacked Windows 10 computer.
2. Disable UEFI in the computer and make it boot from DVD/CD/USB.
3. Press Shift + F10 to open Command Prompt.
4. Run commands to type cmd.exe to replace utilman.exe.

5. Extract DVD/CD/USB and restart your Windows 10. When the Windows 10 sign-in page comes out, move the mouse to the Utility Manager icon.
6. Create a new user account and add it to Windows 10 local administrator group by typing the following contents.

7. When you click the Windows login screen, you can break into your Windows 10 without password through the created account.
Option 2: The Best Way for Windows 10 User Account Login Password Reset
It's believed that you will think the first option is not really simple to conduct. No worries. Here will the best way for you to skip Windows login screen without password.
Windows Password Key is a World's leading Windows Password Recovery Tool, which will greatly help you reset lost Administrator passwords on any Windows 10/8.1/8/7/XP/Vista system without reformatting or reinstalling your system. Also, it fulfills your need to reset forgotten login password for Microsoft account in windows 10.
How to Reset Login Password for User Account in Windows 10
1.Download and install the Windows Password Key in any other computer you can get access to.
2.Launch it to burn a DVD/CD/USB with the default ISO image file or a new one.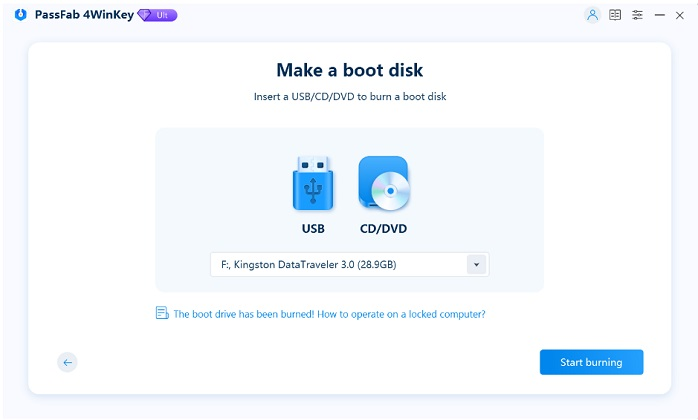 3.Insert newly created CD/DVD/USB into your locked computer and reboot your PC from CD/DVD/USB disk: press "F12" to enter "Boot Menu". Select CD/DVD/USB disk from the list and then hit "Enter".
Note:Please disable the UEFI in your Windows 10 firstly.
4.Select the user account which you want to recover password and click "Remove Windows Password". Then click "Next" to confirm and the original password will show. Now you can sign in computer without password.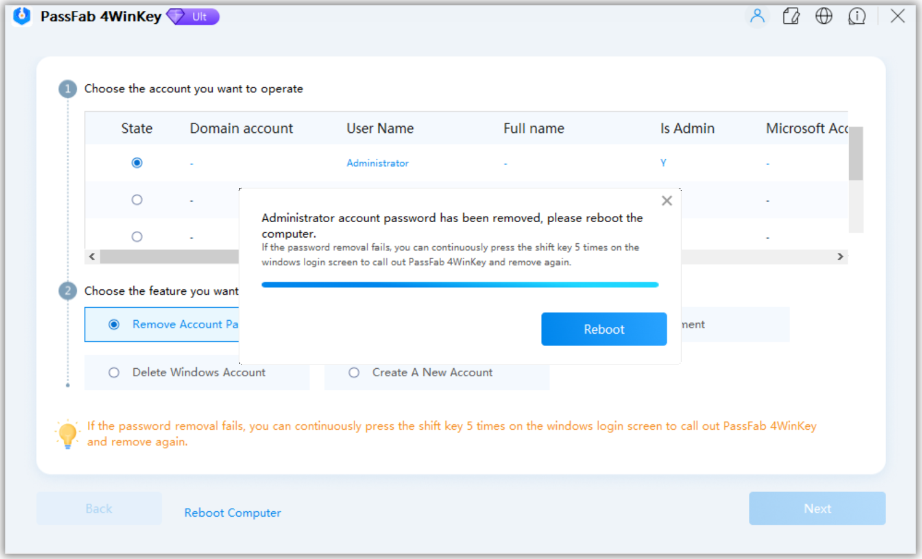 No matter which top option you choose above, both of them will support you to crack Windows 10 user login password as you hope. Just carefully follow the steps to retrieve or reset your login password.
Related Articles
comments powered by