Top 7 Ways to Fix Windows 10 Upgrade Assistant Stuck at 99%
If you are trying to upgrade to a newer version of Windows and you're getting the Windows 10 update assistant stuck issue, you are not alone. The issue has been faced by many users who have tried upgrading their Windows using the Update Assistant, but the utility always gets stuck at 99% and doesn't move forward.
Fortunately, there are multiple ways to fix the Windows 10 update assistant not working issue on your Windows based PC and here are some of those ways for you.
Method 1. Wait for A While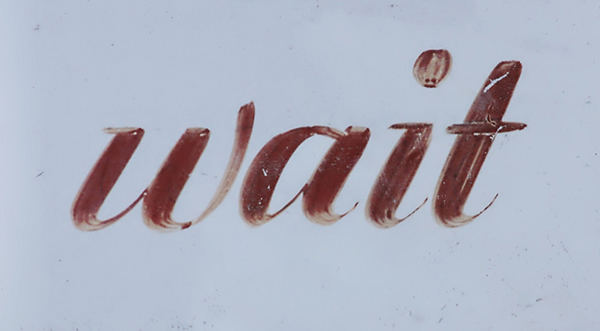 Patience is the key. Sometimes, all it needs to fix the issue is your patience as the utility may be workin on multiple things internally and it just needs a few more minutes from you to finish the task in hand. When you find the Windows 10 update assistant stuck at 99, just wait for a few minutes, 30 minutes is highly recommended, and it will eventually move and finish the process
If it stays the same even after waiting for half an hour, then you may move on to the other possible fixes as shown below.
Method 2. Disable Antivirus Software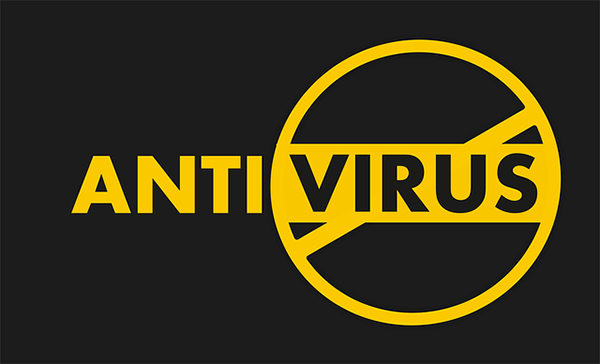 Antivirus software are known to cause issues with many kind of system updates and this one is no exception. If you use a third-party antivirus software on your system, it is likely causing the issue with the upgrade process. It may be thinking that some of the update files are threats to your system and thus it may have blocked them. It could be the reason why the upgrade process is stuck and is not moving forward.
The best way to overcome the issue is to just disable the antivirus software until the upgrade process has finished. It's as easy as just opening the antivirus software and selecting the quit option to close it down. Ensure that it is not running in the background or it will create issues for you.
Method 3. Unplug Any External Device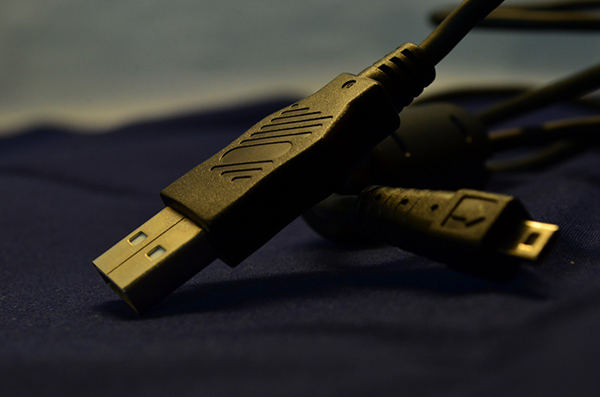 While upgrading your Windows, it's always recommended to remove any external devices from your computer. The reason you want to do that is because these devices often use different kind of drivers that may not be compatible with Windows 10.
Removing any external devices from your computer should be easy as all you need to do is just unplug their cables and you will be good to go.
Method 4. Disconnect to Internet Temporarily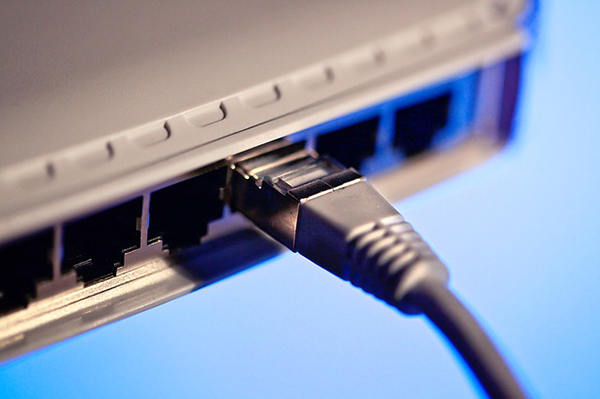 Some of the users who have been able to resolve the issue suggest disabling the Internet connection temporarily while the upgrade process is running on your computer. While the actual reason behind doing that is unknown, it has worked for some users and there's no harm in giving it a try on your computer.
Unplug the Ethernet cables from your PC and disable WiFi as well so you don't have an active Internet connection on your PC. This should get the Windows 10 update assistant stuck at 0 issue resolved on your PC.
Method 5. Re-upgrade Windows 10 Updates from Media Folder
Microsoft has an official guide to help you for when you face the Windows 10 upgrade assistant stuck at 99 installing error on your PC. It advises you to copy a folder to your desktop and follow a few other steps to resolve the issue.
The following is the complete guide with all the steps you need to do this method:
● Launch File Explorer on your PC and type in C:\$GetCurrent and hit the Enter key.
● Find the folder named Media and copy it and paste the folder on your desktop.
● Reboot your PC and copy the Media folder from your PC to the C:\$GetCurrent directory.
● Open the Media folder and double-click on Setup.
● When you are on the Get important updates screen, choose the option that says Not right now and move forward.
The above method should help you upgrade to Windows 10 without any stuck issues.
Method 6. Restart Windows Update service
Windows Update service is involved in the upgrade process of your PC and it makes sense to try restarting it to see if you can get out of the stuck mode on your computer.
Restarting the Windows Update service is as easy as clicking a few options and here's how you do it:
● Press the Windows + R key to open the Run dialog box and type in services.msc and hit Enter.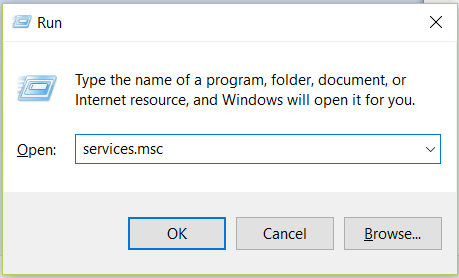 ● Find the service named Windows Update and right-click on it and select Stop.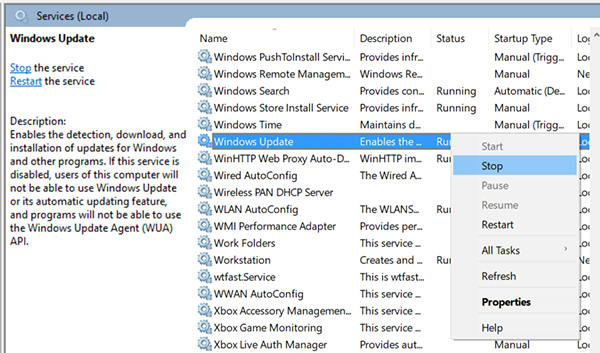 ● The service should be stopped now. Right-click on it again and this time select Start.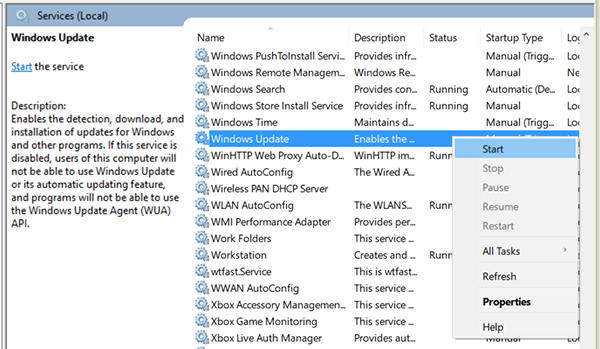 The service should start again and you may now launch the Upgrade Assistant to upgrade your computer.
Method 7. Use Windows 10 Media Creation Tool
There's another way of upgrading your machine and that is to use the Media Creation tool provided by Microsoft itself. What it does is it downloads the OS and helps you install it on your system for you.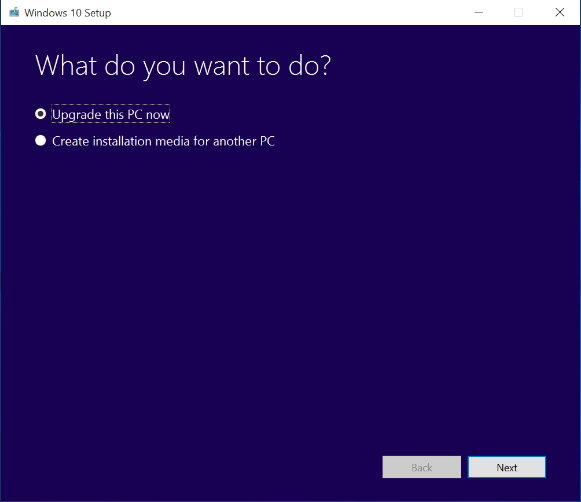 To use this method, download the Media Creation tool and install it on your PC. Then, choose Upgrade this PC when you launch it and it will do the needful for you. Keep in mind that this will take a bit longer to upgrade your PC so have some patience.
Additional Tips: How Fix Windows 10 Stuck on Blue/Black Screen or Won't Boot after Update?
If your Windows PC gets stuck at the black/blue screen or it doesn't boot at all after an update, you may want to fix the issue as soon as possible. Blue and black screen issues are two serious issues that need immediate attention. Fortunately, there's a tool that makes it easier to fix these issues on your computer.
EnterWindows Boot Genius, a tool that fixes almost all kind of issues on Windows computers. It's loaded with several features and the following should guide you on how you can start using the tool to fix issues on your machine:
Buy Now($19.95)
● Download and run the software on another PC. Insert a blank CD/DVD/USB into your disc drive and select the disc drive in the software. Then, click on the Burn option to start creating a recovery disk.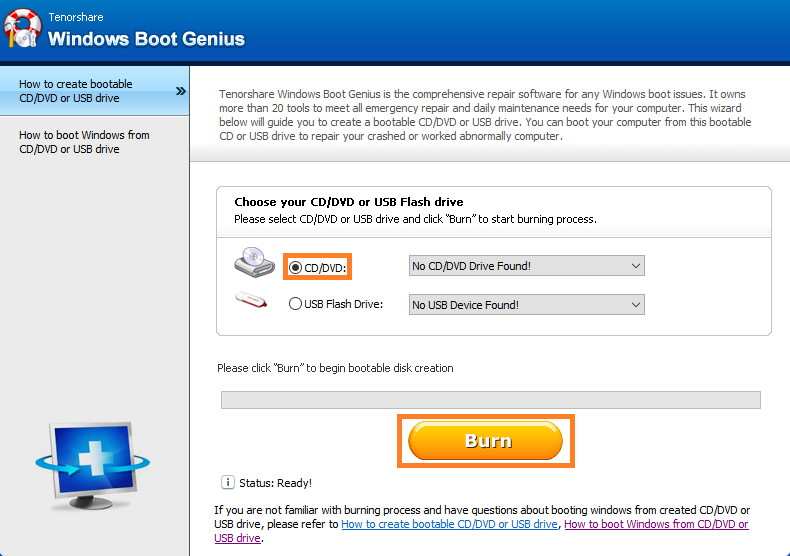 ● Boot your PC from the bootable drive you just created. When the software launches, click on Windows Rescue followed by Crash before loading bar from the left panel.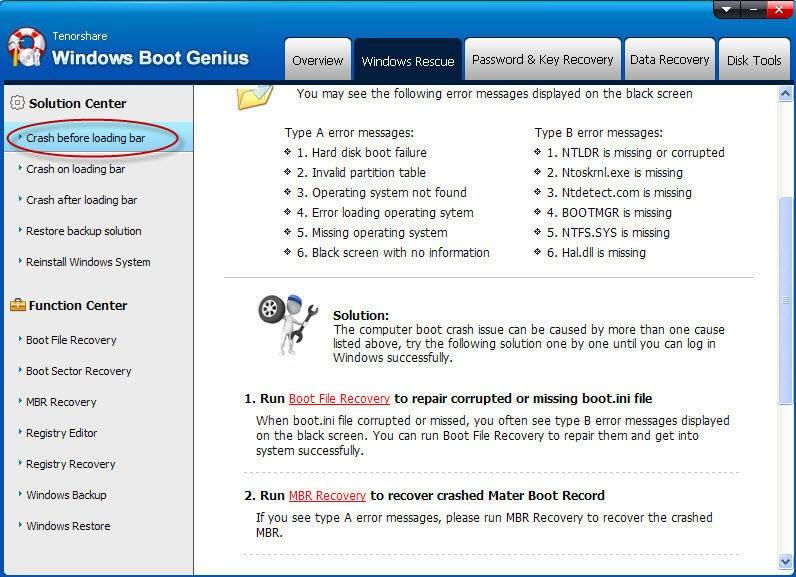 You will be shown instructions as to how you can fix the issue on your Windows PC.
With the seven methods mentioned above, you'll be able to get rid of the Windows 10 update assistant stuck issue on your computer. If you face any issues after upgrading your computer, Windows Boot Genius will help you fix all the issues.
Buy Now($19.95)
Related Articles
comments powered by