Can't Remember Windows 7 Password, How to Recover It?
"I can't remember Windows 7 password when I want to login my Windows computer to get access my wedding photos to share to my Gramma. I have tried many online tricks to do a Windows 7 login password recover, but none of them have worked. Any help?"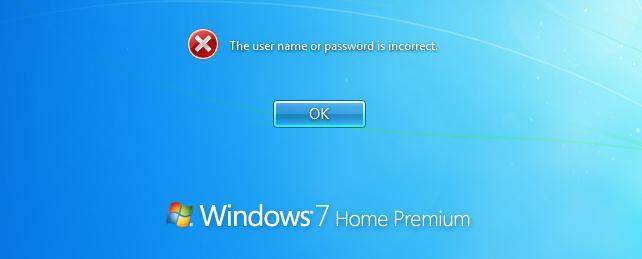 Many of us like to set a user login password, admin password or Microsoft account password to secure the protection for the access of the important files in our Windows 7 computer. This is a good habit. However, if you can't remember Window 7 login password, it becomes very frustrating. How to reset your forgotten Windows 7 password? The simplest way comes to your mind is to reinstall the system. But this is really risky to cause data loss. To do a feasible and effective Windows 7 password reset, here will be two solutions to help you solve your problem.
Solution 1: Recover Windows 7 Password with Reset Disk
Can't remember Windows 7 admin password? Forget your Microsoft account password for login screen? If you have a prepared Windows 7 password reset disk, luckily you can break into your computer right now! Go to click "Reset Password" button under password inserting box on failed logon screen and follow wizard to unlock Windows 7 password with installed disk/disc.
Step 1.When you enter the "remember" password to log in your PC, there will be a message saying the password is incorrect. Just click on OK to close the message box.
Step 2. Click Reset Password, and then insert Windows password reset disk.
Step 3. Follow the details in the Password Reset Wizard to reset a new password.
Step 4. Go back to log on with the new created password.
Solution 2: How to Reset Windows 7 Password without Reset Disk
If you unfortunately don't have a created reset disk or CD, how can you bypass Windows 7 user login/admin password? No worries. Windows Password Key is a professional Windows password recovery tool to help you reset lost administrator, Microsoft and user passwords on any Windows 10/8.1/8/7/XP/Vista system without reformatting or reinstalling your system.
What Can Windows Password Reset Do for You
Recover forgot Windows login password and there is no reset disk
Reset lost admin password for Windows PC
Recover lost password for Microsoft account
Step-by-step to Recover Your Forgotten Windows 7 Password
Download and install Windows Password Key in any accessible PC.
Burn a CD/DVD/USB drive with default ISO image or a new ISO image.



Insert newly created CD/DVD/USB into your password-protected computer and reboot your PC from CD/DVD/USB disk: press "F12" to enter "Boot Menu". Select CD/DVD/USB disk from the list and then hit "Enter".
Select the target to user account which you want to remove password, then click on "Change Windows Password" and click "Next" to confirm.



Click "Reboot" to restart your computer and login Windows system with new password.
Do you crack forgotten Windows 7 password successfully now? If you want to reset Windows 7 system to factory settings in free way, please navigate to 3 Free Ways to Reset Windows 7 System to Factory Settings get more details.
Related Articles
comments powered by