How to Fix Login Error Message: "The Referenced Account is Currently Locked out" in Windows 7
"Hi there, I have a weird problem. One of my account is getting this message 'The referenced account is currently locked out and may not be logged on to'. This happens every time I try logging into my administrator account on a laptop PC running Windows 7 Ultimate 64 bit. Is there any way we can stop that happening frequently? Please let me know"
-A User from Windows Seven Forum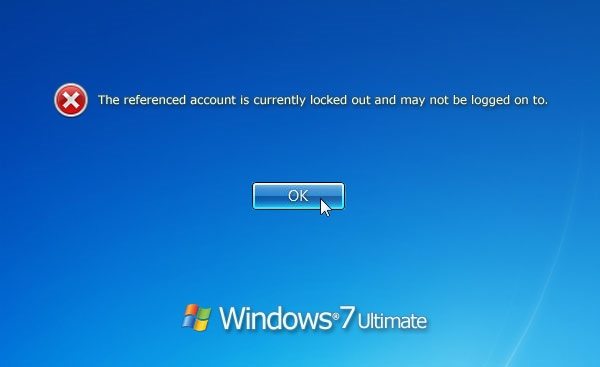 In some Windows 7 computers, if you have been entering a wrong password into the login screen for more than 5 times, it will show the message on "The referenced account is currently locked out and cannot not be logged on to". How to resolve this Windows error when you locked out of Windows 7? We will discuss it deeply in this article.
Possible Causes of "Referenced Account is Locked Out" on Windows 7
When you typed an incorrect password to log on your account for a particular number of times, Microsoft Windows will lock the account and stop you from logging in for a period of time, and display the message to you: "The referenced account is currently locked out and may not be logged on to". In other words, it is most likely that your password has reached Maximum Password Age. Below are the possible reasons for this Window s7 login error.
The account has had its password changed recently but there are still one or more services use the old password causing the account to be locked out.
Your Windows system is part of domain and domain controller has configured Account lockout threshold policy.
Your local machine has multiple account and system administrator has configured Account lockout threshold policy.
Recommended Fixes to "Referenced Account is Locked" Windows 7
There are some recommended fixes you can refer to handle with this Windows 7 error message. Go ahead and prepare to repair it.
Solution 1. Wait Until the Lockout is Reset
If you have set the account lockout threshold and type in wrong password, and you have enough time in using the Windows 7 computer, there is not much else you can do but to turn off the PC and wait for the lockout until it is time to try again with the correct password. The reset period isn't more than 1 day.
Solution 2. Use Another Windows 7 Account
If the data of the locked account are not a bit significant for you, and there are no less than one local account in the Windows 7 system, you can just ignore it and login with another account again. However, this is just for the special circumstance, especially for the new account that has been changed password recently but seldom access in.
Solution 3. Change Windows 7 System Date
Restart Windows 7 and press F12 quickly until you can access "BIOS Setup Utility". In the "Main" tab, change system date to others in the future. For instance, put the time forward a couple of months. Then press F10 to save and exit the screen. The computer will restart and ask to type for the password of account again. This method is appropriate for users who remember right password but type wrong one carelessly.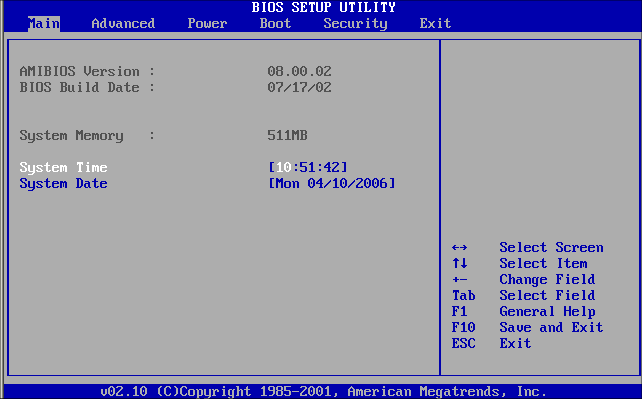 Solution 4. Enable Built-in Administrator Account
There is a built-in administrator account in every Windows operating system including Windows 7. The quickest way of repairing this error is to enable default administrator account and set a null password. This is a hidden account, however, you can activate it by booting a Windows 7 installation CD/DVD or flash drive. Check out this article about how to enable built-in administrator account in Windows 7.
Solution 5. Change the Account Lockout Threshold Policy
This issue may happen if you have mistaken the password several times and result in the system blocking the account for sign in. In this case, I suggest checking the following settings by using Local Security Policy Editor in Windows 7 system:
Restart PC and enable Windows 7 built-in administrator account.
Open Control Panel, then access "Administrative Tools" in the "Large icons"/" Small icons" view.





Note: If your computer view items in "Category", then just choose the "System and Security" and then enter "Administrative Tools".





In the Administrative Tools, choose "Local Security Policy" and continue the steps.




In the Local Security Policy, open "Security Settings" -> "Account Policies" -> "Password Policy".




Double click "Maximum password age" and then enter its properties. Set the number to 0 and click OK button.




Go back to Local Security Policy, select "Security Settings" -> "Account Policies" -> "Account Lockout Policy".




Double-click "Account lockout threshold" to access its properties. Then type "0" to make "Account will not lock out after" 0 valid logon attempts. Tap on "OK" button to close the window. Now restart the computer and login account as usual and won't see the error any more.


Solution 6. Utilize Windows 7 Password Key
Windows Password Key is a powerful yet professional program that is designed to unlock locked domain administrator, local account or Microsoft account password in Windows 10/8.1/8/7/Vista/XP computer by using a CD/DVD/USB. Needless to say, it also supports handling referenced account locked out problem. Now refer to the user guide to troubleshooting your issue:
Download Windows Password Key Enterprise from another PC then install and launch it.

Free Download

Buy Now($39.95)



Use a USB to burn the software by clicking Burn button.




Change BIOS settings of your locked Windows 7 to boot from USB. Insert USB to it and restart the locked computer.
After a while, you will see the main interface of this program, just select your locked admin account, click the target option and follow the instruction to reset it.


Watch the Video on How to Reset Windows 7 Password when You are Locked out
Well, that's all the materials I have known before. Hope you have learned a lot about how to fix the error "The referenced account is currently locked out and may not be log on to" and have accomplished to sign in your Windows 7 computer as usual. Alternatively, you are capable of getting more Windows 7 tips from here.
Free Download
Buy Now($39.95)
Related Articles
comments powered by