Top 3 Ways to Crack Windows 7 Password
Forgetting your Windows 7 password is never any fun, you may lost all files and programs if you reinstall the system. Fortunately, there are some really easy ways to hack Windows 7 password. This article will list top 3 ways to reset forgotten password for Windows 7 on any computers easily and safely, such as Dell, HP, Acer, Sony, Toshiba, Samsung, Lenovo etc.
Solution 1: Reinstall Your Windows 7 Operating System
Solution 2: Crack Windows 7 Password from Safe Mode
Solution 3: Break Windows 7 Password with a Windows Password Key
Solution 1: Reinstall Your Windows 7 Operating System
The most primitive method is to reinstall your Windows 7 operating system. If there are no important files in your C disk and you have no idea about how to get the lost password back or reset it. You can reinstall Windows 7 using Recovery in Control Panel, under Advanced recovery methods. This method reinstalls Windows 7, either from a recovery image provided by your computer manufacturer, or from your original Windows 7 installation files. You need to reinstall all of the programs that you added, and restore all of your files from a backup. If Windows 7 doesn't run at all, you can reinstall Windows using your original Windows 7 installation disc.
Solution 2: Crack Windows 7 Password from Safe Mode
Windows 7 users may want to get to Safe Mode due to various hardware or software problems. The procedure about how to access Safe Mode on Windows 7 is very easy.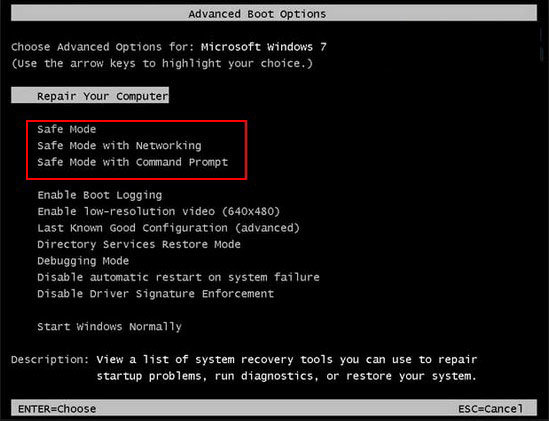 Step 1: Press "Win Key"+"R" and type "cmd" in the "Run" command box and hit "Enter" to open command prompt. And then type "net user" in the command prompt and hit "Enter". The Command Prompt will show you all accounts on the Windows 7 PC.
Step 2: Type net user and new password, then press "Enter". Then you will crack Windows 7 password successfully, restart your computer, you can enter that account with the new password.
Solution 3: Windows 7 Password with a Windows Password Key
Windows Password Key is best password cracker tool for Windows 7, which can crack or break forgotten or lost Windows 7 password, as well as other Windows versions like Windows 10/8.1/8/Vista/XP. Then you can create new password any time you need it.
Part 1: Download and Install the Program
Step 1: To get started, download free demo version of Windows password key software on another available computer.(not password protected) or buy full version online to reset an unknown password.
Step 2: Click Windows Password Key Enterprise.exe to install program on any PC you have access to.
Part 2: Burn Program to Vacant CD/DVD
Step 1: Click "Browse" to choose the existing Windows Password Key image file. The file is usually located as the default.
Step 2: Alternatively select "CD/DVD" or "USB flash Drive"and specify the CD burning drive from the pull-down list. Insert a blank CD/DVD/USB disk into the computer.
Step 3: Click "Burn" to start burning. After burning successfully completes, click "OK" and eject CD or USB .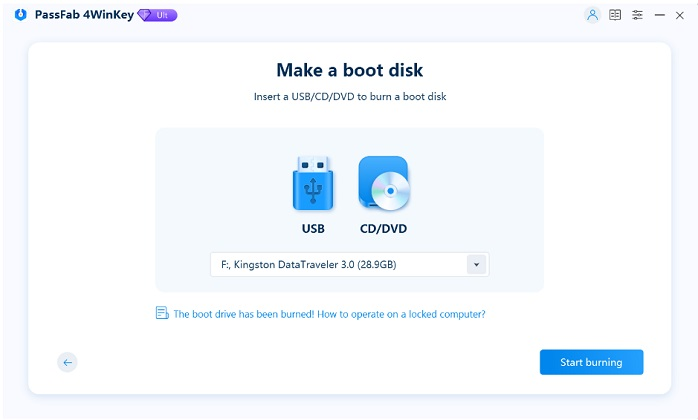 Part3: Reset Windows 7 Password with Bootable CD/DVD
Step1. Insert newly created CD/DVD/USB into your password-protected computer and reboot your PC from CD/DVD/USB. Later you are supposed to press "F12" to enter "Boot Menu". Select CD/DVD/USB disk from the list and then hit "Enter".
Step 2: Select the user account which you want to reset and select "change Windows Password". Then tick "change password" and type new password. After that, click "Next" and then click "Reboot" to restart your computer with new password.
If you have successfully recover Windows 7 password, don't forget to create your password reset disk or system restore disk in case next time you will use them. If you don't, Windows Password Key is your first choice for Windows 7 password recovery.
Related Articles
comments powered by