How to Enable Two-Step Verification with Microsoft Account
"How to turn on the two-step verification on Microsoft account on my Windows 8.1 computer?"
Microsoft is always trying to keep our Microsoft account safe. It rolled up two-factor authentication, which also calls two-step verification for its email service.
With two-step verification, you need to sign in to your Microsoft account with two ways: the correct Microsoft account password and an extra security code. In this article I will introduce how to enable two-step verification with Microsoft account for you.
Enable two-step verification for Microsoft account
If you enable this two-step verification for your Microsoft account, it will across all Microsoft services like Windows, Outlook.com, Office and OneDrive.
Step 1: Sign in to your Microsoft account https://account.live.com/proofs/Manage

Make sure you have added an associated email address and provided a phone number to your Microsoft account.
Step 2: Click on "Edit security info" on the logging page.
Step 3: Now click on "Set up two-step verification" link given on the page and follow the instructions.


Step 4: That's it. Now whenever you want to sign in using your Microsoft account, you'll be required to enter an extra security code.
Keep reading to solve this problem. Just create App password using the steps listed below.
Generate app password for your Microsoft account
Note that every Microsoft account which provides two-step verification feature, also allows you to create a special password for these mail app and device. Or you would always receive the incorrect password error message even if your password in correct.
Step 1: Sign in to your Microsoft account, open the security settings page.
Step 2: Under the "App passwords" header, click on "Create a new app password" link and it'll immediately provide you a new password.


Step 3: Here you can use the password to sign in to a mail app or device.


Use two-factor authentication to sign in to Microsoft account
After having enabled two-factor authentication on Microsoft account, you have to enter both the Microsoft account password and a security code for logging in.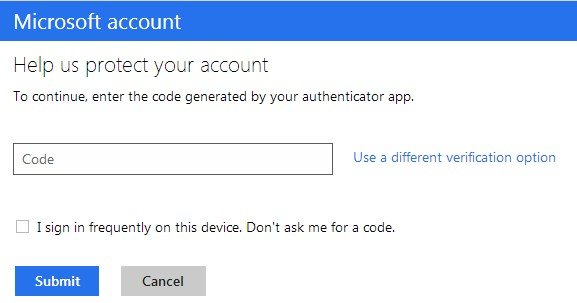 Keep these tips in mind of the two-step verification feature for Microsoft account. They can protect your Microsoft account more secure. But once if you forgot your Microsoft account password, move to know the top ways to recover the forgotten password here.
Related Articles
comments powered by