How to Reset Password for Windows 8 Computer with ISO Tool
When using our Window 8/8.1 computers, most of the users have met with the situation that their passwords are unavailable or they just forgot the password. And for users who want to reset password without a password reset disk, here we suggest users a professional Windows password recover tool – Windows Password Reset ISO, which will sure help you easily get password reset or back with password reset ISO for Windows 8.
Free Download
Key Features of Windows Password Key
Designed with user-friendly interface and easy for users to use.
Support all computer brands like Samsung/Dell/HP/Lenovo/Sony and so on.
Don't need to reinstall or format user's OS.
How to Use Windows Password Key to Reset Windows 8/8.1 Password
For users who cannot get access to admin account or don't have the password reset disk, then Windows 8 password reset tool ISO can be kind of important. And Windows Password Key can exactly help us to get this ISO file and help us to recover or reset password for Windows 8 computer without any data loss.
Step 1: Burn Password Reset Disk
Things will eventually sort themselves out, when we don't have a password reset disk in hand then we could burn it by ourselves.
Download Windows Password Key on an available computer and run the program.
Insert an empty CD/DVD/USB flash drive into the computer.
When you see the interface below, you are then required to choose a device to burn ISO file.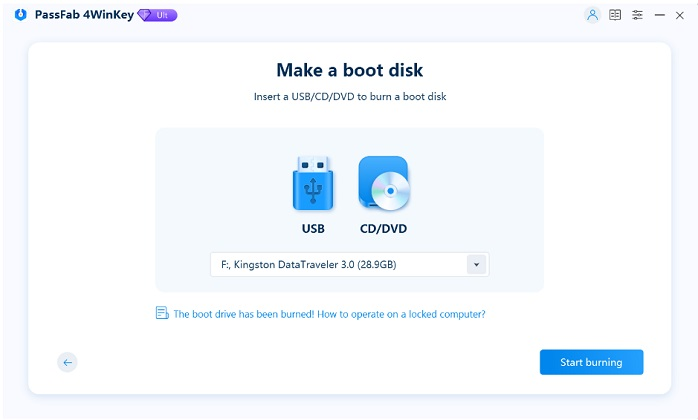 Step 2: Reset Windows 8/8.1 Password with ISO Tool – Password Reset Disk
After you have burnt the password reset disk, then you can inset this CD/DVD/USB into your password protected Windows 8/8.1 computer and get it restarted. As it starts, you are required to set BIOS settings for password reset disk, you can refer to the link to know the detail. Then you should follow the steps below.
Select the user account which locks you out and click "Remove Windows Password" and "Next" later. (You can also choose to change the password as you want.)




After seconds of waiting, your password will be wiped and then you can get into your Windows 8 computer without any password.


The whole process can be kind of easy for users to operate, and this software can not only help users remove and reset password of Windows 8, other version of Windows system like Windows 10/8.1//7/XP/Vista can also get benefit from this Windows Password Key.
And that's all about how to reset Windows password with ISO tool, if you have any other problem with your Window computer, you can also come to us and we will try our best to help you get solutions.
Free Download
Buy Now($29.95)
Related Articles
comments powered by