Windows Server 2008 Password Complexity Requirements
When we install Windows Server 2008, many people often meet this quite common problem: you weren't able to add a password that it would accept. It gives the following error:
"Unable to update the password. The value provided for the new password does not meet the length, complexity, or history requirements of the domain".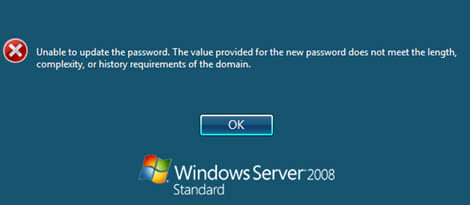 Actually, if you don't know the password complexity requirements for Windows Server 2008, it will completely ruin your days. Unlike the standard password required for other windows system, this one is a bit more complexity to secure your computer.
A default Windows Server 2008 installation has the "Password must meet complexity requirements" option enabled in the local policy. This will force the user to come up with a complex password. The new password must meet the following minimum requirements:
The password is at least six characters long.


The password contains characters from three of the following four categories:


English uppercase characters (from A through Z)


English lowercase characters (from a through z)


Base 10 digits (from 0 through 9)


Non-alphanumeric characters (for example: !, $, #, or %)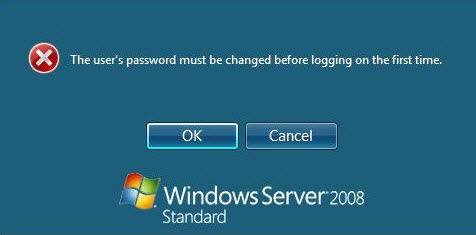 This complexity policy setting checks all new passwords to ensure that they meet basic requirements for strong passwords. By default, the value for this policy setting in Windows Server 2008 is configured to Disabled, but it is set to Enabled in a Windows server 2008 domain for both environments described in this guide
Some important tips for you:
1. The Complexity policy is disabled by default; you can configure the password policy settings in the following location in the Group Policy Object Editor:
Computer Configuration\ Windows Settings\ Security Settings\Accounts Policies\Password Policy
2.  The more complexity, the easier for us to lost Windows Server 2008 password. You should write it download in case you lost it. If your forgot Windows Server 2008 password, just take it easy, download Windows Password Key Enterprise to reset Windows password to blank without knowing the current one by making a bootable disc.
Related Articles
comments powered by