Best 3 Free System Rescue Disk 2017
When there is something wrong with your computer, like your PC has been seriously infected or it won't boot normally and even worse you cannot access to your system. At this time, you need a data recovery system restore disk to help you out. So, in this article, let's take a look at 3 effective and free rescue disks 2017 for a Windows system restore.
1. Hiren's BootCD
Probably the single best restore discs to have ever graced a failing system. Any IT technician or habitual technology tinkerer will have come across Hiren's BootCD and if so would sing its praises. Focused entirely on appeasing Windows systems.
Hiren's BootCD contains a wealth of utilities including malware and rootkit detection, antivirus scanning, temporary file cleaners, data and driver backups, hardware scanning, partition scanning, imaging and saving, and password crackers. It can even reflash your BIOS or wipe your CMOS if required. Hiren's BootCD is completely free.
Pro
Hiren's boot CD is completely free, always has been and always will be.
Hiren's Boot CD is very popular. Anyone who has ever worked in support or system administration probably has used it at least once. Because of this, it's extremely easy to find guides and tutorials on how to use it.
Con
Not cross-platform, this rescue disc is for Windows systems only.
Has not been updated in years, the last release was in 2012, which is quite old at this point. Not support latest Windows 10.
Official site: http://www.hirensbootcd.org/
Download link: http://www.hirensbootcd.org/download/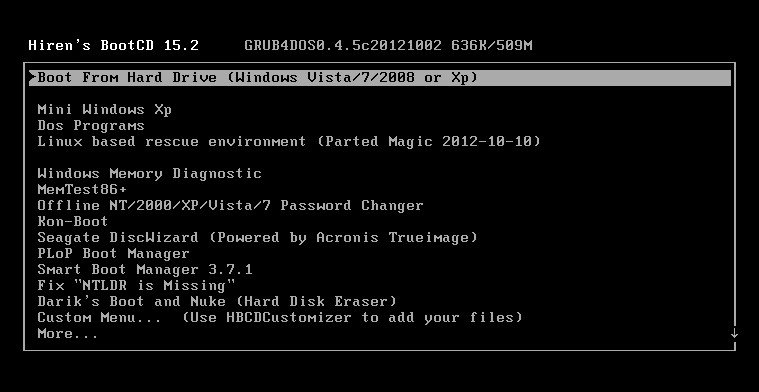 2. System Rescue CD
System Rescue CD is a Linux system rescue disk available as a bootable CD-ROM or USB stick for administrating or repairing your system and data after a crash. It aims to provide an easy way to carry out admin tasks on your computer, such as creating and editing the hard disk partitions. It comes with a lot of linux software.
The disk is packed with tools to help you manage or repair partitions, back up your data or clone your drives in case of a failure, and supports a wealth of file systems (even network file systems like NFS) so you can work with just about any file on any drive anywhere. The disc also comes with replacement bootloaders, system file editors, network troubleshooting and diagnostic tools, and disc burning tools so you can burn while you use the disc. There are also antivirus, anti-malware, and rootkit detection and removal tools. It's completely free.
Pro
It's UEFI compatible and often updated
Cross-platform. System Rescue CD can troubleshoot both Windows and Linux systems. supports a lot of file systems. System Rescue CD supports quite a lot of different file systems, including network file systems (like NFS).
Con
Not very user friendly. Sometimes graphically-challenged machines will force System Rescue CD into a text-only mode which can be a bit of a challenge to use.
Official site: https://www.system-rescue-cd.org/SystemRescueCd_Homepage
Download link: https://www.system-rescue-cd.org/Download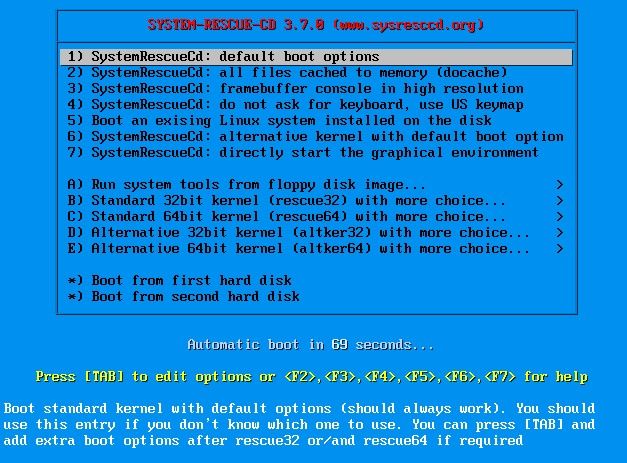 3. The Trinity Rescue Kit
The Trinity Rescue Kit is a customized Linux distribution that's designed specifically for troubleshooting and reviving ailing systems, whether you're running Windows or Linux.
It fits nicely on a CD (or a USB stick if you prefer) and once booted gives you tools to reset lost Windows passwords, scan hard drives for viruses and malware, clone drives, recover lost partitions, even open up the drives as network shares so you can get files off of them and to other computers on your network. It's completely free, although a donation to the developer behind it is always appreciated and keeps the project alive.
Pro
Can open drives as network shares.By opening drives as network shares you can get files off of them and other computers connected to your network.
Cross-platform. The Trinity rescue Kit is designed to troubleshoot and revive both Window and Linux systems.
Con
A bit hard to learn.Being initially designed for Linux users, it can be hard to use for people that are used to the way Windows programs are designed, especially because Trinity Rescue Kit has a command line interface.
Official site: http://trinityhome.org/Home
Download link: http://trinityhome.org/Home/index.php?content=TRINITY_RESCUE_KIT_DOWNLOAD&front_id=12&lang=en&locale=en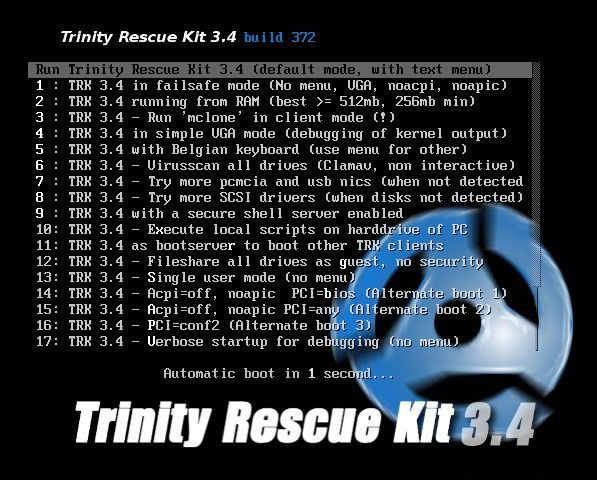 If you have any other recommendations on best system rescue disk 2017, share with us. Or if you have any questions about your Windows 10/8.1/8/7 operating system, like you forgot the login password, then we highly recommend you to use the Windows Password Key to help you out, which can burn bootable ISO to USB/DVD/CD drive in Windows 10/8/7 and recover lost/forgotten Windows password for login. Just download it and have a try.
Related Articles
comments powered by