How to Fix MSVCR120.dll Is Missing Error on Windows 10/8/7
When loading games or starting some programs on Windows computer, MSVCR120.dll is not found may occur sometimes. .dll files are essential for the proper working of C++ Redistributable Package and they are often shared by many programs. If the files are missing or corrupted, you won't be able to run any software in the C, C++ and C++/CLI programming languages. In this article, we'll share you 3 easy methods to fix Windows 10/8/7/XP MSVCR120.dll is missing probelm completely.
Way 1: Download and Reinstall C++ Redistributable Packages
msvcr120.dll file is one part of the Visual C++ Redistributable Packages. If it's disappearing, you can download the packages from Microsoft and install it again.
Go to Microsoft Download page and type "Redistributable Package" in the search box.
Now you can choose and then download the MSVCR120.dll redistributable package files.



After downloading, double click the ".exe" file and then follow the instructions to install the package.
Now restart your computer and check if the program works properly.
Way 2: Delete The Program and Install It Again
However, if the above method failed to fix "application failed to start because msvcr120.dll was not found" error, delete that program and install it again.
Press the "Windows" key and "R" key at the same time.
Type "appwiz.cpl" in the pop-out box and press "Enter" key.



Right click the program that gives the error message and click "Uninstall".



Then you can confirm the delete from the popup window.
Finally, restart your computer and install the program again to check if it works normally.
Tips: If you forgot the login password after restarting your computer, you can try Windows Password Key to remove the password and access your PC freely.
Way 3: Run the Windows System File Checker
Windows System File Checker is a useful program that is able to scan the corruptions in system and repair damaged files. When MSVCR120.dll file is missing from your Windows 7/8/8.1/10 computer, this method is also a good choice.
Type "cmd" in the search box and then right click "Command Prompt" to run as administrator.
Type "sfc/scannow" in the window and press "Enter".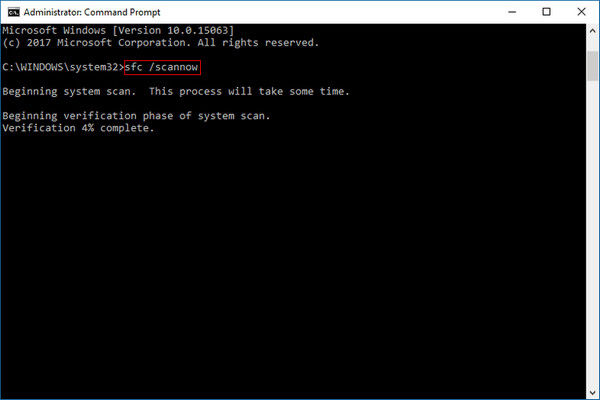 The program will start scaaning your system and repair some issues.
When the process completes, run the program that gaives the error to see if it works now.
Way 4: Scan Virus on Your Computer System
Another possible reason for the .dll file not working properly can be a virus or malware infection. Thus, you are also recommended to run an anti-virus program on your computer to check if there are trojans.
When the scaaning process completes, restart your computer and check the program again. If there are some viruses or malware detected, follow the instructions on the anti-virus program to clean them.
I hope you can fix the error on your computer after reading this post. If you have any furhter questions like MSVCR120.dll/MSVCR120_clr0400.dll is missing on Windows Server 2016/2012/2008, the fixes are similar.
Free Download
Buy Now($29.95)
Related Articles
comments powered by