Cannot Boot from Ubuntu Live CD, How to Fix
You may not know that Ubuntu is regarded as an extremely effective tool for repairing and working on computers, which is capable of loading completely from a Ubuntu Live CD, enable you gain access to your computer in ways Windows can't – or when Windows is completely broken. But what if noticed that, you cannot boot from Ubuntu Live CD, is there any way to help have this issue fixed? Now in this post we will show you how to resolve cannot boot from Ubuntu Live.
Part 1: Possible Solutions to Fix Ubuntu Live Not Booting
Solution 1: Change the Boot Order in BIOS
If you can't boot from Ubuntu Live CD or USB driver, you may need to configure the boot order in your BIOS. To change the boot order in BIOS, you can do the following:
Step 1: First of all, you have to restart your computer, then press F1 to enter the Setup program.
Step 2: Select the menu option or options to display the boot sequence.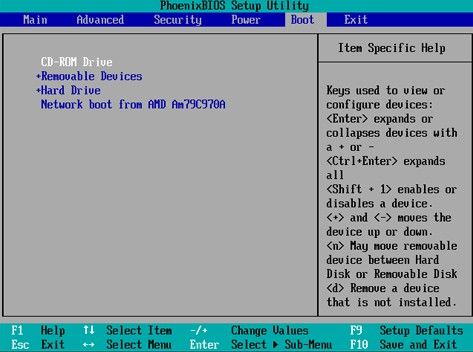 Step 3: Use whichever keys to set the sequence in which the hardware searches the storage devices.
Step 4: Save the changes and exit the Setup program. Then your computer will restart with the new settings.
If this doesn't help, then you can try to reinstall the Ubuntu.
Solution 2: Use a Boot Repair Disc
When the Ubuntu Live CD is not working, then the issue might lie with the GRUB boot loader. In such a case, you can take advantage of a dedicated Boot Repair disc to boot straight to the graphic Boot Repair tool. After the GRUB boot loader repaired, just try to reboot from Live CD again, it might be getting working now.
Solution 3: Reinstall Ubuntu
A simple reinstallation may be helpful in fixing a lot of issues. And this can be done without overwriting your existing files and folders.
Again, boot into the Live environment on your Ubuntu CD/DVD or USB drive, and Ubuntu should find your existing installation and you have a option to reinstall Ubuntu. When you perform the reinstall, find the option with the note "Documents, music, and other personal files will be kept…" In most cases, installed software will be retained too.
Once the reinstallation is complete, Ubuntu should back up and running.
Part 2: Use An Ubuntu Alternative Software to Change Windows Password
If the Utunbu Live CD not working, then you cannot reset your Windows password with it. Just choose an alternative to help you have the password changed. Based on what I know, Windows Password Key is a nice alternative to Ubuntu, which aims to help you burn a bootable ISO to USB/DVD/CD drive in Windows 10/8.1/8/7/XP/Vista and recover/remove the lost login password.
Step 1: Download Windows Password Key, install and launch it on another available PC. Then insert a USB flash drive into it. Click "Burn".
Free Download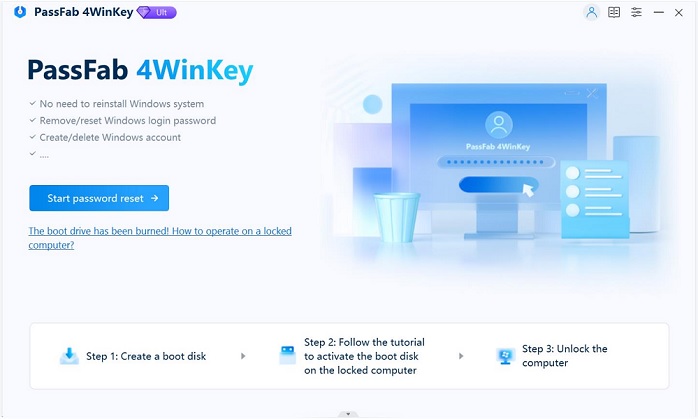 Step 2: Once burnt, insert the newly created USB drive to the locked Windows computer. Set USB drive as the first boot device in BIOS setup. This computer will reboot.
Step 3: Then select the account whose password you would like to reset, check the option Change Windows Password and hit Next to start password resetting.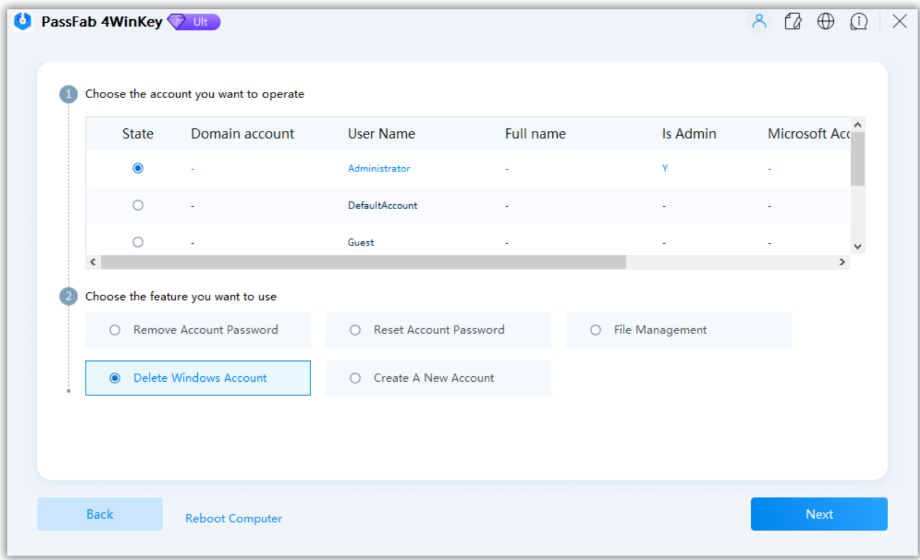 That's it! If you have any questions, please do not hesitate to let us know. Meanwhile, any feedback and suggestions are warmly welcomed.
Free Download
Buy Now($39.95)
Related Articles
comments powered by