4 Best Free Windows Password Reset Tools in 2019
When you search how to reset Windows password on Google, there will come many solutions which may confuse you. So, it is very important to filter out those complicated, useless methods. Generally, when it comes to resetting password, most of us will remember one way which is factory reset the computer. It does a way to reset password but, in some situation it's useless. Furthermore, some users don't want to lose their data. So here, in this article, I will recommend you the most popular 4 free Windows 7 password reset tools.
Top 1: Ophcrack
Ophcrack is by far the best free Windows password cracker based on rainbow tablets. To use this program, you simply have to visit the site, download the free ISO image, and burn the image file to a CD. Boot the locked PC from the CD, it will then automatically starts and locates the Windows user accounts and proceeds to recover the passwords. I tested it on a Windows 8 PC, Ophcrack recovered the password (10 characters) to my admin account in 5 minutes.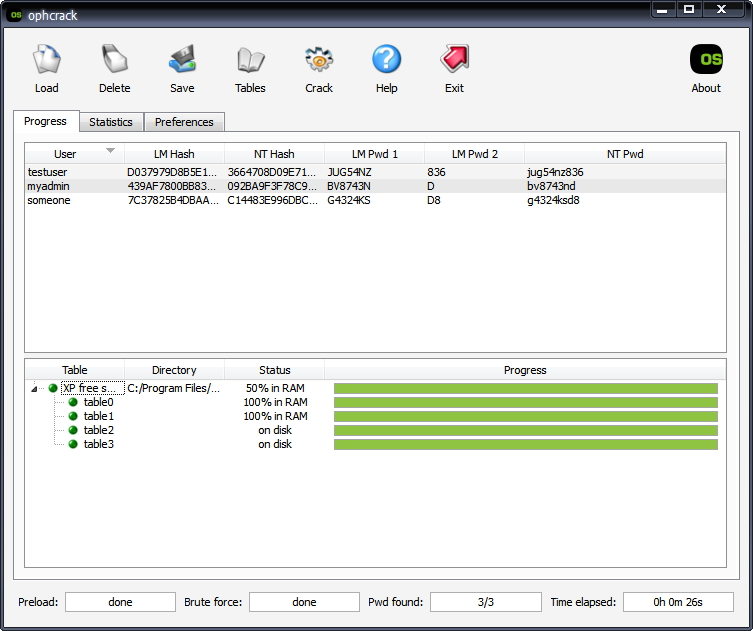 Though Ophcrack works fast and in high success rate, it still has some downsides. It supports to recover password with limited length of 14 characters, and it could get identified as malware mistakenly. Even worse, Ophcrack cannot find Windows 10 password by far. (Get Free Windows 10 password reset tool here.)
Top 2: Offline NT Password & Registry Editor
Offline NT Password & Registry Editor is a real Windows password reset tool. It works differently from than most password recovery software in that it erases your Windows password instead of recovering it.
Firstly, you need to create a bootable disc with the Offline NT Password & Registry Editor ISO file, and then boot password locked PC from the disc. After running the program, you can log in to your Windows account without entering a password at all. This Windows password reset program deletes the password with high efficiency.
Download Offline NT Password & Registry Editor
Top 3: Free Windows Password Key
This professional Windows password key finder is recommended in that it not only allows you to reset Windows password, but also allows you to create new admin account. To use it, you should create a bootable CD/DVD or USB flash drive on another PC, and then boot the locked PC from the disc.
It locates all accounts in your operating system, you can remove user account and admin account passwords, change a new password for current account, and you can even create a new admin account.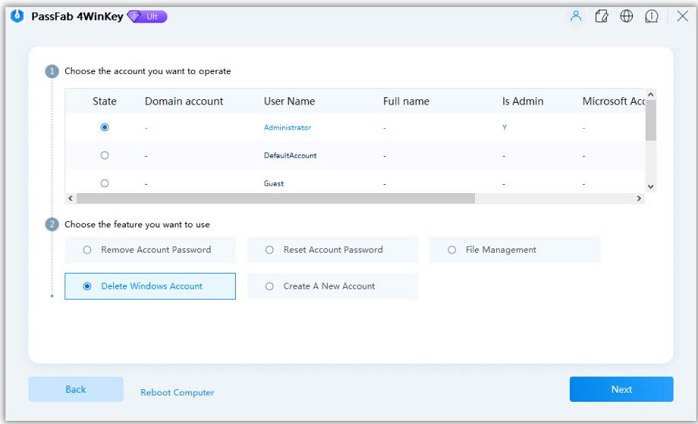 This program supports all Windows operating system including Windows 10/8.1/8/XP/Vista. Another outstanding feature of this program is that it supports to recover Microsoft account password.
Download Windows Password Reset Tool Free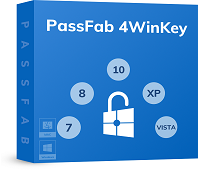 Reset/Remove Windows admin and other user password for local/domain account.
Create a new local/domain admin account to unlock your computer.
Change your Microsoft account password offline.
Fully support Windows 10/8.1/8/7/Vista/XP, Windows Server 2012 (R2)/2008 (R2)/2003 (R2).
Free Download
Top 4: LCP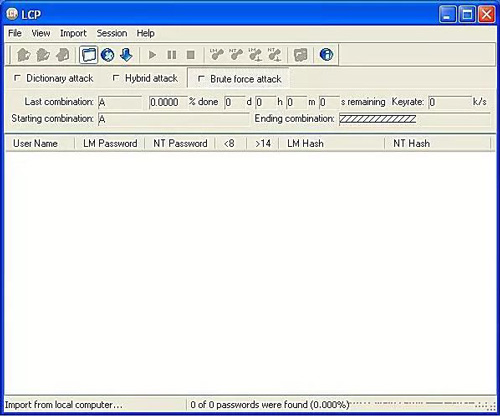 The advantage of LCP program is easy to use. Most users are not willing to use the complicated product, even is free tools. So, this program is a wonderful choice. You can download it on LCPSoft's website. But, the disadvantage is it can be only used in Windows 7. Sometimes, can be used in Windows XP.
Do not miss these trustworthy Windows 7 password reset programs when you lost a Windows login password. Want to reset Windows 10 password? Windows password Key will be your first choice. In the end, any response and feedback is welcome.
Related Articles
comments powered by