How to Use ERD Commander Locksmith to Reset Windows Password
Did you get tiresome when you could not log in your Windows System? You might have lost the local administrator password or the password has been locked out. There are many ways to recover or change a lost Windows password such as reinstall system. Obviously, it is unwise because of data loss. Here you will learn how to use the ERD Commander Locksmith to reset Windows password.
Locksmith is one of the useful utilities inside ERD Commander bootable CD, which allows you to reset and recover Windows login password easily. Before you do that, you have to get and install DaRT( ERD Commander is part of the DaRT) on an alternative computer. Then run program and create a recovery CD/DVD from Start Menu to with it. Try to follow these steps to finish it.
How to Use ERD Commander Locksmith/DaRT to Reset Windows Password?
Step1. Insert the ERD Commander boot CD into the computer you want to reset password.
Step2. Open the computer using ERD Commander boot CD and set the boot order first.
Step3. Here select your Windows 7 installation from the list. Then click Next to go on.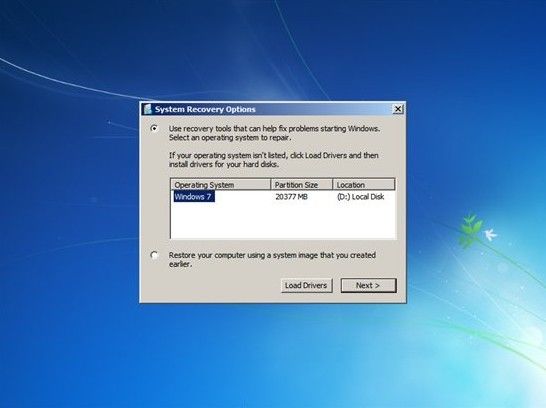 Step4. In this page, click Microsoft Diagnostics and Recovery Toolset. Then you will see Locksmith and click it.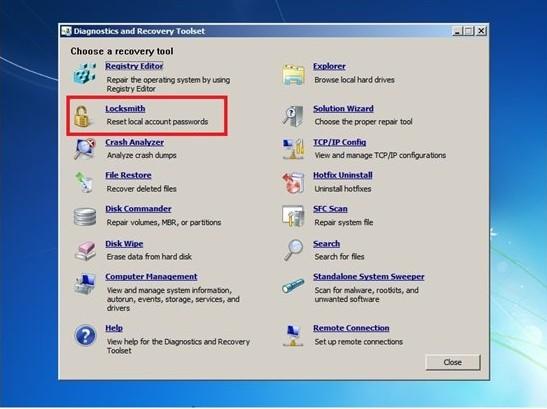 Step5. In the welcome page, click on Next to select the administrator account from the drop-down list which you want to reset Windows password. Type you new password and confirm it in both the boxes. Click on Next and Finish to complete.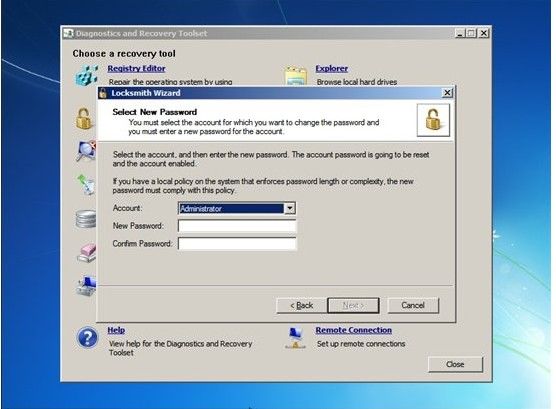 Step6. Remove the CD/DVD DaRT and wait for Windows to load and log in using the new password set.
How to Reset Windows Password with ERD Commander Locksmith/DaRT Alternative?
Even ERD Commander Locksmith is useful, actually it is not easy for us to reset the password. If you also have difficulty in using Locksmith and recovering password, here we truly introduce a powerful tool to you. Windows Password Key, the world's leading tool to reset lost administrator and user password on Windows 10/8.1/8/7/XP/Vista system without reformatting or reinstalling system, can help you to make it effortlessly.
Free Download
Step1. Download and install Windows Password Key from another any available computer that you can access.
Step2. Burn a password reset disk using the program. Then insert the created disk to computer you want to reset. Reset the Bios Setup by pressing F2 to make sure your computer can boot from this disk.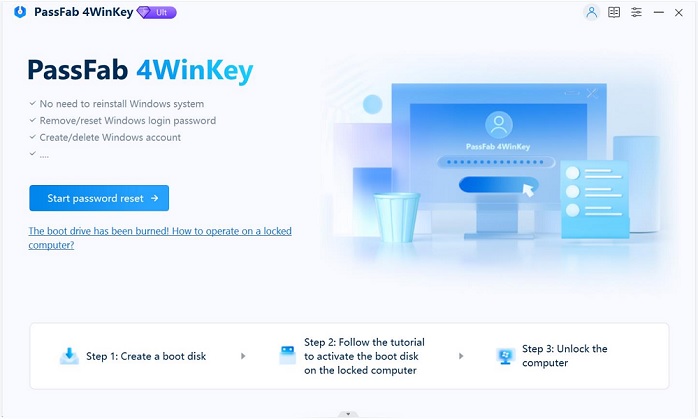 Step3. Choose the account which you want to reset to finish.
If you have any questions, please leave your comments in the comment section.
Related Articles
comments powered by