Windows XP Password Key – Find Your Lost Windows XP Password
You can't believe you did this, but you did: you forgot your Windows password. Another hour of guessing may result in you figuring it out, but sometimes it doesn't works. And it is absolutely unnecessary to come to that. Instead, try using the power of Windows XP Password Key to reveal that password so you can get back to work. It's a lot simpler than you think, and you'll be using your Windows computer again fast.
Windows XP Password Key is introduced by hundreds of thousands of users around the world who lost Windows XP password. It can instantly recover or change both Windows administrator and user password on Windows XP computer. This method is easy enough for newbie to follow - it doesn't require using the Recovery Console or any complicated commands.
Following you can find a detailed guide on how to retrieve forgotten, lost password to your Windows XP logon account by using Windows XP password reset key.
How to Use Windows XP Password Key to Perform Windows Password Recovery?
What you Need to Prepare:
Time Required: Less than a few minutes
Difficulty: Quite easy
Here's how:
Step 1: Create a Windows XP Password Reset USB Key
Download and install Windows XP Password Key on the accessible computer, and insert CD/DVD or USB into this computer. Launch this software, and you will get the interface as following. Normally, this program will check every option automatically. You can select them manually if changes are needed. Click "Burn" to start burn a Windows XP password reset disk.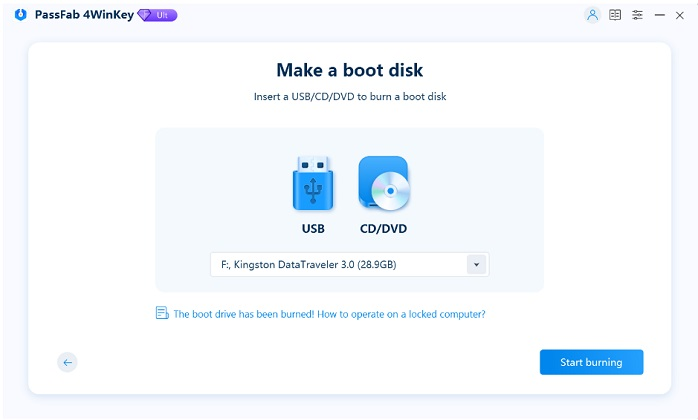 Step 2: Boot Windows XP Computer from CD/DVD/USB
Reboot the locked computer and press "F2" or "Delete" or "F10" to enter your BIOS setup. Using the tab and/or arrow key, highlight the word "BOOT"- > hit "Enter" -> select "Hard Disk Drives" -> hit "Enter" -> select the "1st Drive" -> hit "Enter" -> select the "USB: your USB brand" -> press "F10" key ( it will save, exit, and reboot in one step).

Step 3: Windows XP Password Key Reset
1). After initializing, choose the target system you lost Windows XP login password to.

2). Choose the Windows account whose password forgot. You can define a new password to this account. Click "Reset". And then click "Reboot" to restart your computer.
learn more detail from Windows Password Recovery Key guidem, Click Here >>
Related Articles
comments powered by